Celtic: Domestic success does little for Neil Lennon's ambition

By Tom English
BBC Scotland
Last updated on .From the section Football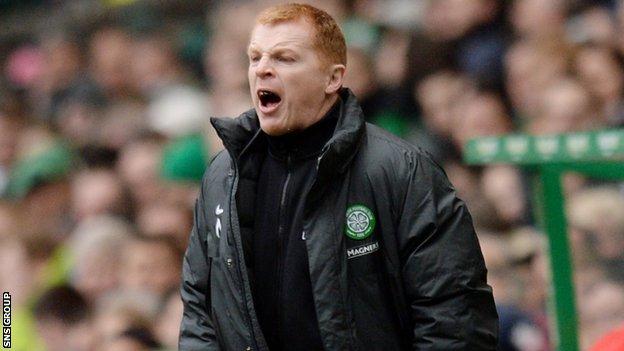 Every time Neil Lennon is asked about his future in management he has to walk a fine line between appreciation for the great job that he has and ambition for the big job he would love to get in the English Premier League.
On Saturday, Lennon was on the back page of a tabloid talking about how he feels snubbed by English clubs in the elite league.
When it comes to them appointing a new manager, which they do with increasing and hair-raising regularity, Lennon feels that people of his ilk are not on the radar.
He was asked about it again on BBC Radio Scotland before Celtic's match against St Mirren, a day that brought another comprehensive victory and one that puts them within sniffing distance of another title. The championship might well be secured in the coming days.
"People ask me would I like to manage in the Premier League one day," said Lennon. "I think eventually, yeah. But it's still quite a way off.
"I was asked if I was disappointed I got overlooked. And I didn't say me personally, but I do think a lot of young British managers do tend to get overlooked in terms of foreign managers.
"If you look at the chopping and changing in the Premier League this year. I think there's a lot of bright young British managers out there who would have done a better job."
The point Lennon makes about his own future is clear. He is in no rush to leave Celtic, but he wants a shot at the Premier League in due course. And he feels he may not get it because the default setting among the chairmen and chief executives down south is to go foreign rather than to go British.
There are exceptions, of course. Garry Monk replaced Michael Laudrup at Swansea. Tim Sherwood replaced Andre Villas-Boas at Tottenham. But for every Monk and Sherwood there is a Pepe Mel and a Felix Magath - men plucked from abroad.
It is not true to say that young British managers are locked out, but their opportunities are few in the Premier League.
In the four divisions down south, 30 managers have lost their jobs since September. Some have resigned but most have been sacked.
Clubs in the lower leagues have no compunction about promoting British managers, but Lennon will not want to go to the lower leagues.
Why swap all that Celtic can offer - trophies, Europe, big crowds and fantastic intensity - for a Championship toiler? Probably because that is the way of things for Old Firm managers heading south. Gordon Strachan was dripping with SPL gold (not to mention back-to-back success in the Champions League) but was forced to make his managerial comeback with Middlesbrough.
After his seismic Celtic achievements, the best Martin O'Neill could do in England was a lowly Aston Villa. It was the same for Walter Smith. When he went south it was to Everton. The Everton of that era was very different to the Everton of today. They had no money and no ambition beyond survival.
Lennon's Premier League wish is becoming more and more obvious and more and more understandable. The problem is that there is no sign of it becoming more and more likely.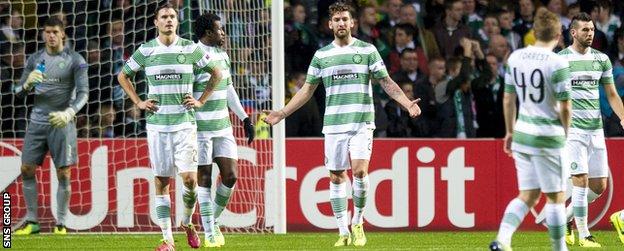 During the course of Celtic's Champions League season of 2012-13, Peter Lawwell, the chief executive, reckoned that he would probably get one more campaign out of Lennon before he was lured to the Premier League. Lawwell reckoned that his manager was a hot property and that he might not be able to hold on to him for much longer.
A little of the heat has gone out of the property since then.
There was fanciful talk of him being in the reckoning at Everton before Roberto Martinez got the job. Most recently there has been mention of him being in the frame at Norwich City should Chris Hughton succumb to the burden he has had placed upon him by some in his boardroom.
The reality for Lennon is that he has a tiny window in which to impress influential people in the Premier League. That window is Europe. Or Champions League to be exact.
Domestic titles do not really cut it. No chairman or chief executive down south is going to have his head turned just because Celtic have out-done themselves in the league this season compared to last. They do not care.
Champions League success is different. That's why Lawwell reckoned his manager was hot in the wake of qualification for the last 16 a season ago. And it is why the Lennon brand has now cooled.
Trying to repeat the heroics of the Barcelona night and the qualification for the last 16 was an almighty ask on many different fronts. Celtic's group was tougher this time and their own team was weaker, stripped as it was of Victor Wanyama, its great buffer in midfield, and Gary Hooper, its best goalscorer.
Chairmen and chief executives down south see Celtic failing in the group and they wonder if Lennon has gone off the boil.
Staying at Celtic will be no hardship for Lennon. Far from it. He made that plain. "It's a privilege doing this job," he said. And he means it, no question.
He gave the team a mark of seven out of 10 for the season, adding: "We've done okay. It's not been a brilliant season but we've done okay. Under the circumstances, we can be satisfied rather than ecstatic about things."
The newspaper on Saturday stated that Lennon was baffled by the snub from England. Frankly, it is hard to see how he could be. Lennon is a sharp operator who will not have any confusion whatsoever about his footballing reality.