Was Wayne Rooney lob better than David Beckham's?
Last updated on .From the section Football
After scoring a sensational goal on Saturday that had pundits struggling to find enough superlatives, Wayne Rooney's modest response was simply: "I wouldn't say it's my favourite."
But when asked if his was better than Beckham's, Rooney quipped: "Of course."
BBC Sport takes a look at both goals, plus four other stunning lobs, and asks which is the best?
Have your say via #bbcfootball and let us know what the best goal you ever scored was.
Wayne Rooney (Manchester United)
West Ham 0-2 Manchester United, Premier League - 22 March, 2014
On a day when 30 goals had already been scored in the Premier League, it might have been easy to believe that the late game between West Ham and Manchester United would be a case of after the Lord Mayor's show.
Evidently, Wayne Rooney had other ideas.
Barely 10 minutes into the game, the England striker outmuscled James Tomkins on the halfway line and let the ball bounce in front of him before launching a pin-point lob from well over 40 yards into the back of the net. Hammers keeper Adrian, who had strayed off his line, was left scrambling back in vain, his face sporting a look of stunned disbelief.
Cue photographers pointing their cameras up to the boxes where a watching David Beckham smiled wryly.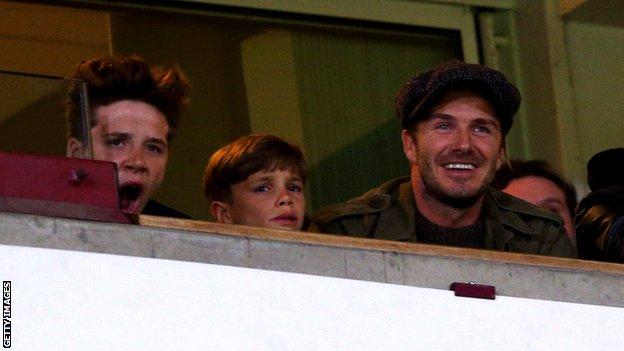 What they said: "What a goal by Wayne Rooney!!! Everyone in the stadium was looking at each other in disbelief!! How...what the...no way....wow!!!" - Manchester United defender Rio Ferdinand.
Hull manager Steve Bruce was conducting his post-match media conference when he saw the goal on a monitor: "What a goal. You've gotta see that. Wow. Wow. Wow. Wow. Wow. You're never gonna see anything like it again.
Wait till you see this. That's more important than me. Wait till you see this. Wow. It's a Beckham. It's another Beckham one. [Long pause] Awwww, no! Look at the goalie! He's run the wrong way.
Wow Wazza. Wow. Wow. Wow. Jesus! Jesus!
David Beckham (Manchester United)
Wimbledon 0-3 Manchester United, Premier League - 17 August, 1996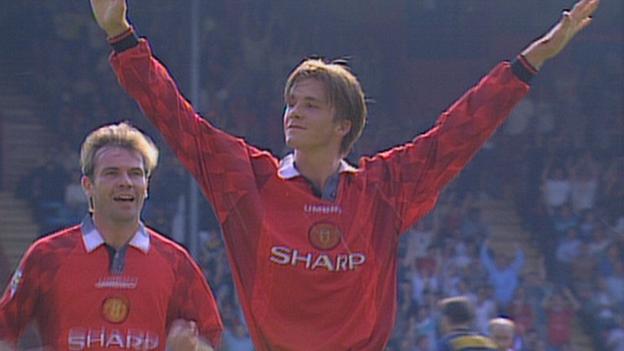 In United's opening match of the 1996-97 season at Selhurst Park, Beckham spotted goalkeeper Neil Sullivan off his line to score a famous goal in United's 3-0 victory.
His response was to raise both hands in the air and understandably, smile smugly.
It was a goal that would instantly turn the young, floppy-haired midfielder into a household name.
What they said: "He just picked it up and hit it. I just realised it was going beyond me and it dropped under the crossbar and that was it. The whole Manchester United team at the time were special but but I didn't expect anything like that. I made that boy, but I still think he would have done all right without me!" - former Wimbledon goalkeeper Sullivan.
Zlatan Ibrahimovic (Sweden)
Sweden 4-2 England, international friendly - 14 November, 2012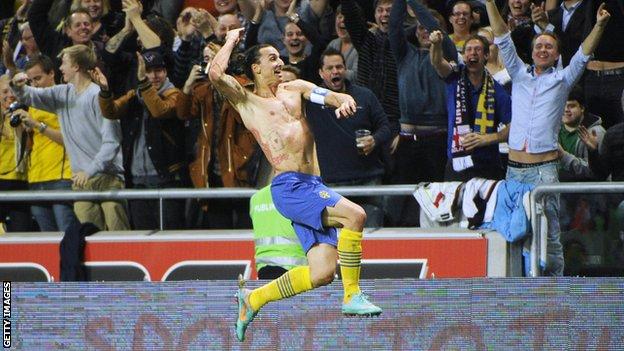 Zlatan Ibrahimovic is the scorer of many stunning goals but perhaps none more so than his fantastic overhead lob against England in November 2012.
With the game against Sweden entering the closing stages, goalkeeper Joe Hart headed away a long ball on the edge of his own area but was caught out as Ibrahimovic reacted instinctively.
Turning his back on goal, Ibrahimovic tracked the descent of the ball before executing a perfectly-timed overhead volley, sending it into the unguarded net from over 30 yards to round off a 4-2 win for Sweden.
What they said: "I shouldn't begrudge Zlatan a fantastic goal. It was masterful, a work of art. I'd go as far as to say if Zlatan had not played in the game we would have won it." - England manager Roy Hodgson.
Nayim (Real Zaragoza)
Arsenal 1-2 Real Zaragoza, Uefa Cup Winners' Cup final - 10 May, 1995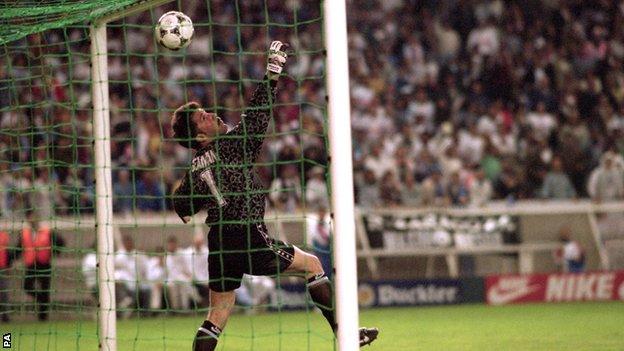 Few goals will be both as spectacular and decisive as Nayim's for Real Zaragoza against Arsenal in the final of the 1995 European Cup Winners' Cup.
With the score 1-1 and the game drifting into the final stages of extra time, Nayim, 45 yards from goal and out on the right touchline, hit a swirling, looped effort that dipped under the Arsenal crossbar as goalkeeper David Seaman backpeddled helplessly.
The goal was all the more special for Nayim, who had spent five years at Arsenal's local rivals Tottenham before joining Zaragoza in 1995.
What they said: "I was going to pass to a team-mate but I looked up and I saw David Seaman coming out so I just kicked it. I was very lucky. It's my first goal against Arsenal after playing against them half a dozen times. For me it's something special as a former Tottenham player." - Nayim.
Xabi Alonso (Liverpool)
Luton 3-5 Liverpool, FA Cup third round - 7 January, 2006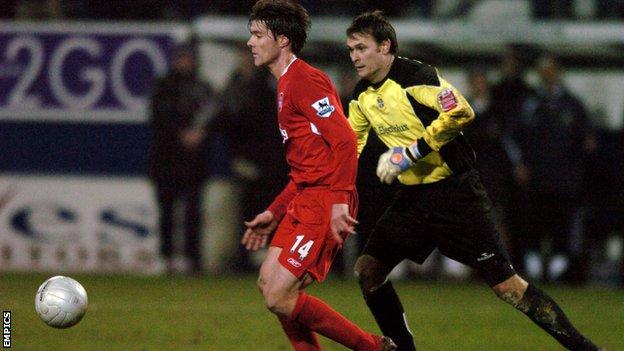 With Luton trailing 4-3 in an FA Cup tie and with their goalkeeper in Liverpool's half, Xabi Alonso took the ball past the keeper and shot from 65 yards, inside his own half.
The ball trickled in to seal a 5-3 win for Liverpool, who went on to win the FA Cup later that season.
What they said: "I was watching the Luton match on TV with my family and I saw the keeper off his line. I was shouting 'Shoot!' and he did. It seemed to take an age to hit the net but when it did, I just went berserk." - Adrian Hayward, a football fan who won £25,000 on a bet that Alonso would score a goal from his own half.
Matthew Taylor (Portsmouth)
Portsmouth 2-0 Everton, Premier League - 9 December, 2006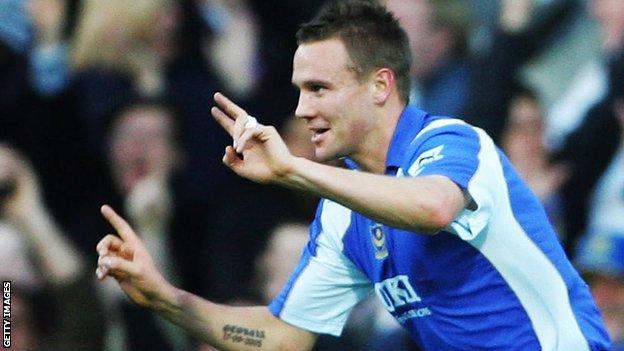 Matthew Taylor struck a first-time volley high over Everton keeper Tim Howard from 45 yards at Fratton Park.
The ball sat up perfectly for Taylor, but no-one expected a left-foot volley from near the halfway line that left Howard motionless as it dipped into the net.
What they said: "It was a fantastic, individual strike and I don't think the goalkeeper saw it. It was just instinctive. Matty has confidence in his ability and a lot of power, you need confidence to attempt that from that distance." - Portsmouth assistant manager Joe Jordan.