Real Madrid v Barcelona: Gerardo Martino admits 'last chance'
Last updated on .From the section European Football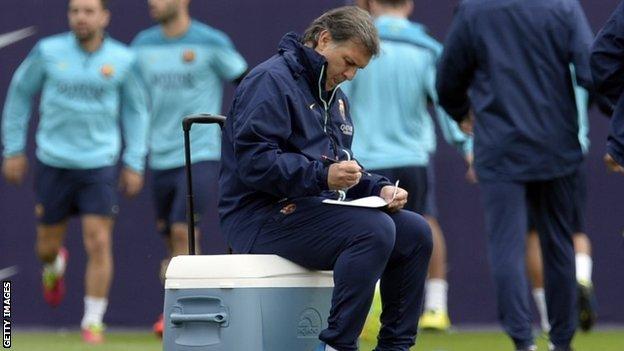 Barcelona boss Gerardo Martino admits that Sunday's El Clasico at Real Madrid is their "last chance" in the title race.
The defending champions, in Martino's first season in charge, trail Real by four points with 10 games left.
"A draw isn't a good result though that depends on how the game goes," he said. "We're convinced we can win the Clasico.
"It's probably our last chance to win the league."
Real Madrid will not face any more title contenders in their final nine games, while Barcelona host second-placed Atletico Madrid on the final day.
"There are nine games left after this Sunday's game and it's not the same to catch up one point than four or seven," Argentine Martino, in his first European coaching job, said.
"It'd be really tough to make up seven points. Or even four. Not because we're not capable of doing it but because there are very few points left to play for and teams don't tend to slip up so much at this stage of the season."
He insists the club will not change their strategy against Carlo Ancelotti's side.
"We don't have to do anything differently from usual," Martino said. "We try to win every match. The key is to play well, keep possession, play our own game, try not to lose the ball to prevent counter-attacks and minimise the one-to-ones with Gareth Bale and Cristiano Ronaldo.
"Both teams have a very clear idea of how they play. The difference is that Real Madrid have been more consistent than us.
"Lionel Messi is our star player and makes his mark in decisive matches. If he has a great game we know that will be good for the team. Neymar is one of the best five players in the world. I'll try and make him feel special, because he is."