Manchester United: The tortured psychology of football fans
Last updated on .From the section Football549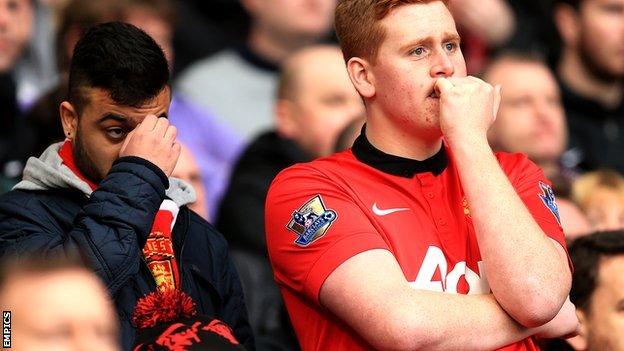 Manchester United fans should look upon this season as an opportunity.
It sounds horribly patronising, doesn't it? The sort of advice that might be imparted with a soppy smile, a ruffle of the hair and a tweak of the cheeks.
For United fan Ray, who went viral on the internet last week with a full-frontal video attack on beleaguered manager David Moyes, this season has been less an opportunity than a series of bloody nightmares.
"He [Moyes] has ripped the heart out of the team, he's ripped the soul out of it, he's ripped the passion out of it," said Ray following United's 3-0 defeat by Liverpool. Ray's overall assessment of Moyes's tactics? "Bobbins."
If United get thumped by cross-town rivals Manchester City at Old Trafford on Tuesday, Ray might end up becoming a fuming blob on his expensive seat, having spontaneously combusted.
But for others, the Reds' disappointing form this season is a chance to re-evaluate and remind those fellow supporters who have grown cosily accustomed to winning over the last 25 years what it is to be an authentic football fan.
"A lot of the younger supporters have known nothing but success," says Sean Bones, vice-chairman of the Manchester United Supporters' Trust. "It's become part of our identity, part of our ego. They have certain expectations and when the team doesn't live up to those expectations, people get upset.
"But I'm old enough to remember when we got relegated [in 1973-74]. And while at the time it felt like the world had ended, the season we had in the Second Division was one of my favourite seasons of all time."
"It's not a young and old thing," says season-ticket holder Denis Breen. "It's a divide between people who have a brain and those who haven't. Look at what some United fans are saying on Twitter and it's as if the world is going to end. But being a fan is about supporting the club through thick and thin.
"Maybe you do have to remind some of the crackpots out there that you're not always going to be winning league titles and European Cups. It's about remembering that, whatever is happening at the moment, we're still a great football club and it's been a privilege to watch them for all these years."
John Williams of Leicester University is an expert in football fan behaviour and is not surprised to see different factions of United's fanbase turning on each other in times of perceived turmoil. With the emphasis on 'perceived'.
"There is a tension between those United fans who describe themselves as 'authentic' and those people who are constantly venting their spleens on radio phone-ins and internet forums," says Williams.
"People who actually attend matches will be circling the wagons and telling themselves: 'We're not like those people, saying we're rubbish and the manager must go - these are the sort of knee-jerk fans we need to steer clear of.'
"The singing at the end of the Liverpool match wasn't in support of the manager, it was about celebrating the memory of a great club, celebrating who they are as fans, celebrating their resilience. It was those fans in the ground saying: 'We are better than those so-called fans spouting all kinds of bile.'"
Eric Simons, who studied the psychological and neuroscientific implications of fandom for his book The Secret Lives of Sports Fans, believes some hardcore supporters take a perverse pleasure in following their team during leaner times.
"To be a Man Utd fan through the hard times is a way of celebrating your own purity, getting real meaning from being identified as a fan," says Simons.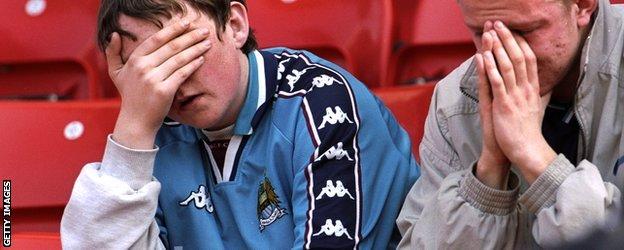 "It's deep in our psychology, this need to establish a commitment to a team. And for Man Utd fans, this is an opportunity to prove it - to step back and not only appreciate what the club has achieved over the last 25 years but also to say: 'I'm a real fan, somebody who is there for the team through good and bad.'"
But for fans who were never really interested in celebrating the glory of Manchester and were only ever interested in winning - what the hardcore refer to as 'Johnny-Come-Latelys' - it will not be as easy to recalibrate their identity.
"Many fans will only remember success because that's the only reason they started supporting them in the first place," says Nottingham Trent University's Phil Banyard, who has studied the psychological effects of failure among fans.
"So it's naturally going to come as a bit of a shock when they suddenly start losing to teams such as West Brom and Stoke. That wasn't in the script.
"It's not much different to watching the Harlem Globetrotters - you go to be entertained every week and expect them to win at the end of it. You're paying to watch a formulaic movie, where you know what the outcome is going to be."
While The Theatre of Dreams, as Old Trafford came to be known during Sir Alex Ferguson's glorious reign, specialised in happy endings, Manchester City's Maine Road was more Ken Loach - gritty realism rather than escapism.
And Simons says it is natural that some City supporters have found their new-found success in a spanking new stadium difficult to adapt to.
"Some of the happiest fans will be those who have come to expect not winning," says Simons. "Winning has challenged some City fans because for 30-odd years they had a clear idea of who they were. They weren't that down if they lost because that's just what they did. And if they did win, it was great."
Ask a City fan whether their recent success makes them happier than in the so-called bad old days and you would expect the answer to be instantaneous and affirmative.
But Karolyn Judge, who has been a City season ticket holder for 14 years, wrestles with the question for a few seconds before replying, almost apologetically: "It's complicated. But, to be honest, I don't think it does."
Judge, who saw her beloved team lose to York City in the old Second Division in 1998, says acceptance of failure was quickly replaced by impatient expectation at the City of Manchester Stadium, as well as complacency fanned by the billions of pounds of cash pumped into the club by owner Sheikh Mansour.
"Neuroscientists at Cambridge have studied how you get rewards to your brain and how it is processed," says Simons. "The amount of the chemical dopamine, which makes us feel happy, that is released is linked to how expected the reward was. If you expect to win and you do, you don't get much reward."
But personal experience suggests modification of expectations works more slowly the other way. Speak to Liverpool fans old enough to remember their rise to greatness in the 1970s and they will tell you how dispiriting the downturn was in the 1990s and how long it took for some fans to come to terms with.
"I remember going to Notts County in 1984, when we won the league for the third year in a row," says Chris Carey, who saw Liverpool win 11 First Division titles. "People were booing at the end because it was only 0-0.
"We'd got so used to winning, we'd become blase. But when we stopped winning, there was a lot of frustration. For the first two seasons, I thought we'd turn it around but after four or five I started thinking: 'I don't think we'll ever see it again.' But some fans haven't modified their expectations to this day."
"It took a while," says John Harper, who has been watching Liverpool since the 1970s. "When the end came, there was a sense of trauma, anger and shock.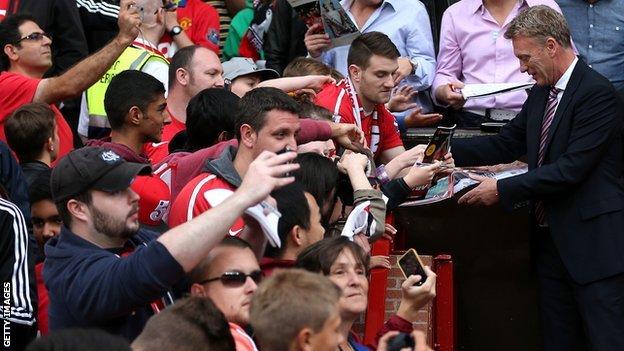 "But eventually I found myself looking at the fixture list and thinking: 'I'd be happy with a point away to Fulham.' And before I knew it, Kevin Lisbie was scoring a hat-trick against us at Charlton. Now, that was depressing."
But without the fall, Liverpool fans would not now be experiencing the rush of happiness that comes with seeing their side challenging for the title again.
And without their poor form this season, United fans would not have been treated to a double drop of dopamine last Wednesday, on seeing their team beat Olympiakos and unexpectedly reach the last eight of the Champions League.
Indeed, you could argue that if you want to educate a child in what it really means to be a fan, you should have them supporting a lower-league team.
A push for promotion one season, a relegation battle the next, a comprehensive emotional experience. Better to be stoical little Charlie Bucket than spoilt little Veruca Salt.
"It doesn't necessarily follow that because Man Utd were the most successful team for the last 25 years, they had the happiest fans," says John Williams.
"The older Man Utd fans might be saying to younger fans: 'It's a good thing for you to experience a bit of failure, because in order to enjoy the real fruits of success you have to invest in the club over time and suffer.
"Which is why, for Man City and Liverpool fans, it will feel so good now. They went through the bad times, felt that humility that comes with failure, but stuck with them.
"Man Utd fans will be better for this run of poor form, although it's not easy to get that message across. During their glory years, Liverpool were never defined by wealth. But fans now spend lots of money for the right to see their club win things, which produces more resentment and anger when they don't."
For the moment, that resentment and anger is largely confined to pubs, phone-ins and internet forums. But even measured United fans concede that if the blip becomes a decline next season, it will inevitably spill over and start seeping into Old Trafford.
"The reaction in the ground has been less vehement," says Denis Breen. "Even up until Christmas, people were willing to back Moyes. But over the last couple of months, there has been a change in mood, a build-up of defiance.
"But it could just be that United have to take a back seat for a little bit. I'm not resigned to that happening but if that does happen, it won't bother me as such. This club has given me some of the best days ever.
"Supporting a team shouldn't be about winning or losing, it should be about the whole experience: meeting your mates, having a beer, watching the game. That's what being a fan is. Isn't it?"