Arsene Wenger: Arsenal boss faces criticism after 1,000th game
Last updated on .From the section Football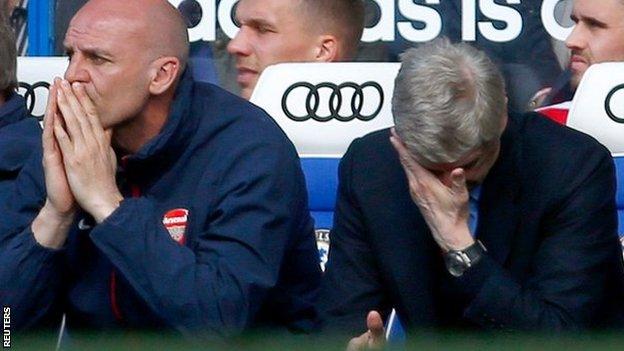 Arsene Wenger's 1,000th game as Arsenal manager was supposed to be an occasion to savour.
Instead the 64-year-old Frenchman described it as a "nightmare" as a 6-0 humiliation by Chelsea raised more questions about Wenger's team selection, tactics and poor record against his title rivals.
So why did it go so horribly wrong for the Gunners at Stamford Bridge, a game Wenger had described as Arsenal's biggest of the season? Why has Wenger's team capitulated against their title rivals? What now for Wenger?
Here, we examine if the magic has gone for Wenger at Arsenal after 18 years, three Premier League titles and four FA Cup triumphs.
Five results that have shaped Arsenal's season
10 November 2013: 0-1 away v Man Utd: Having won eight of their first 10 league games, the Gunners arrived at Old Trafford with a two-point cushion at the top, but lost to a goal by former Arsenal striker Robin van Persie. "We were just too nervous in the first half," said Wenger.
14 December 2013: 3-6 away v Man City: Wenger's side were five points clear at the top by the time they returned to Manchester. But they were blown away. Wenger said: "Whenever we got a goal back we conceded another soon afterwards, and always through bad mistakes."
08 February 2014: 1-5 away v Liverpool: Liverpool made a mockery of Arsenal's status as Premier League leaders by handing out an emphatic beating at Anfield. "The result raises questions, but I still think we can win the league," said Wenger.
19 February 2014: 0-2 home v Bayern Munich: Wenger's chances of winning the Champions League vanished as Mesut Ozil's early penalty was saved and Wojciech Szczesny was sent off for fouling Arjen Robben. Wenger said: "The referee made a decision that killed the game."
22 March 2014: 0-6 away v Chelsea: Wenger described his 1,000th game in charge of Arsenal as a "nightmare" as his 10-man team were crushed by ruthless Chelsea. "I take full responsibility for it," said the Frenchman.
2013-14 record versus Premier League top seven

Played

Won

Drawn

Lost

For

Against

Points

10

3

3

4

9

19

12
What the pundits said about Wenger's tactics against Chelsea
"He should have brought Mathieu Flamini on to add to his defence after the red card, but he waited until half-time," said former Chelsea and Scotland winger Pat Nevin. "Look at the man in the other dugout. If things are going very wrong for Jose Mourinho's team he will change it after just 20 minutes.
Former Arsenal midfielder Stewart Robson told BBC Sport that the Gunners performance was "embarrassing". "It was obvious two years ago that Mikel Arteta was too slow," Robson added. "You cannot play him as a holding player and expect to beat the best teams. Flamini was a better bet."
Frank McLintock, an FA Cup and title winner with Arsenal in 1971, told BBC Radio 5 live's Sportsweek: "For the first goal two Arsenal players were stretched between three Chelsea players and I thought 'where are the full backs'? Bacary Sagna was particularly guilty - always bombing forward - he is very often 25 yards as if he's a right winger and I don't think you can play like that."
Wenger's record against Jose Mourinho

Played

Won

Drawn

Lost

For

Against

11

0

5

6

6

19
Can Wenger still inspire Arsenal to win the title?
"They've no chance," added Robson. "They've shown again when pressure is put on them by big teams that they are not tactically or physically up for it."
"In the last few weeks it looks as though they have run out of fuel and energy," said former Manchester United goalkeeper Peter Schmeichel on MOTD2 Extra. "Arsenal don't have a Plan B or a Plan C."
Speaking on the same programme, ex-West Brom, Wigan and Blackburn striker Jason Roberts added:"Both Chelsea and Manchester City are too far ahead of Arsenal."

Is it time for a change?
"In my view it was enough four or five years ago," added Robson. "The same mistakes happen time and time again."
Actually, Wenger is set to extend his contract with the Gunners. As recently as January, chief executive Ivan Gazidis said the Premier League's longest-serving manager, who is in the final 12 months of his current deal, would be staying.
"Arsene will be extending [his stay] with us and at the right time we will make that announcement," added Gazidis.
Wenger at Arsenal (Source: Opta)

Played

Won

Drawn

Lost

Win % for 1st 500

Win % for 2nd 500

1,000

572

235

193

57.8%

56.6%
Robson continued: "Arsenal are good against bad sides, play good football and he lets players expand their football, but to be a top side you have to get both sides of game right.
"If you are a good coach mistakes don't keep happening."
In defence of Wenger
"Arsene will not be a difficult act to follow - he will be an impossible act to follow," former Gunners vice-chairman David Dein, the man who brought Wenger to England, told Sportsweek.
"He has done extraordinarily well for Arsenal and Arsenal has been good for him too - it has been a two-way relationship. But he has done a fantastic job, he has transformed the club.
"If they don't win a trophy it won't be for want of trying, nobody works harder at the job than Arsene.
"He has assembled a good squad. Obviously they can be improved, everyone knows that and Arsene himself knows that and will try and improve it again.
"But it's not that easy and he will be disappointed if they don't win a trophy, but they have a good chance this year."