Newport County midfielder Michael Flynn optimistic over play-off bid
Last updated on .From the section Football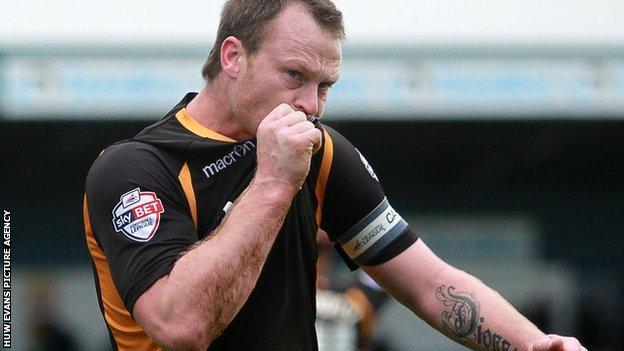 Midfielder Michael Flynn believes Newport can still reach the League Two play-offs after a 1-0 win at Torquay.
It was County's first win in nine games and they are seven points off the play-offs.
Flynn said he was not getting carried away but wins over Bury and Portsmouth would put them back in the play-off race.
"I've been around long enough to know there's a lot of twists and turns left," he said.
"Just because we won here we're not going to get carried away just as if we would have lost we wouldn't have been panic stations.
"[We're] seven points off the play-offs with a game in hand.
"A lot of people there's pressure on the bottom teams but trust me there's a lot of pressure on the top teams who have spent a lot of money.
"They've got to be up there otherwise there are managers jobs on the line.
"We'll take every game now one by one and see how we get on, on Tuesday against Bury and we won't look past that."
Flynn was captain for the game at Torquay but the former Blackpool and Wigan player will leave the Exiles at the end of the season.
Manager Justin Edinburgh has decided not to offer new deals to Flynn and defender David Pipe and has insisted he will not go back on that decision.
Despite the disappointment of not being offered a new contract, Flynn remains committed to the Newport cause.
"I'm Newport through and through and will always give 100% and it was a very proud moment to be captain," Flynn said.
"I'll never let them down whether it's my first game or last game. I always want them to win.
"I know I can do a job next season, I've said this to him [Edinburgh]. Just because he's made the decision doesn't mean I have to agree with it.
"But I respect his decision because he's the manager of the club.
"All I can do is go out, give my all and hopefully make him realise that I've got something to offer next season."