Angel Rangel: Europa League has taken its toll on Swansea
Last updated on .From the section Football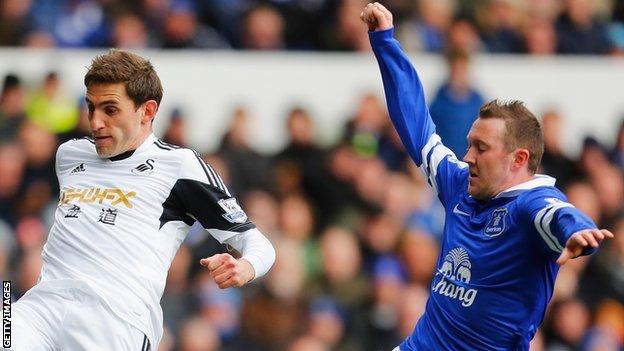 Defender Angel Rangel says Swansea City's Europa League campaign has affected their Premier League form.
The Swans are 15th in the top flight, just four points above the relegation zone, after Saturday's 3-2 defeat at Everton.
But with the Swans out of Europe, Rangel is confident they can survive.
"We've got eight games until the end and every game is going to be like a cup final," he said.
"The first two seasons in the Premier League have been fantastic, finishing 11th and in the top 10, so obviously the expectations this season were high.
"With the Europa League and all the games we've played, it has affected us in the Premier League.
"So we are not in the position we would like to be, but now is the moment to work hard for each other, to scrap for everything. There is nothing else.
"And if you get sloppy you know what is going to happen - you are going to get in trouble."
Swansea played 12 matches in this season's Europa League before bowing out at the last-32 stage against Napoli.
The Swans have won only two Premier League games in six since Garry Monk was appointed head coach in early February.
Rangel was disappointed not to have secured any points on Merseyside on Saturday, but said the performance would give Swansea belief ahead of the final eight games of the season.
"The belief is there. The performance was good - we know that - but at this stage the result is everything that matters, really, and we're very disappointed we didn't get anything out of the game," Rangel added.
"I thought we deserved to because it's a great effort and the performance for 60-70 minutes was good, but it wasn't enough. We know that we're fighting for our lives."
Swansea travel to Arsenal for a rearranged game on Tuesday to face a side who were thrashed 6-0 by Chelsea on Saturday.
The Swans under Michael Laudrup won 2-0 at Emirates Stadium last season, with Spanish striker Michu scoring two late goals.
Rangel believes a similar result would go a long way in securing Swansea's top-flight status.
"At this stage three points could make a massive difference for us," Rangel said. "Hopefully we can repeat the performance we put in there last season, where we won in a great manner.
"If we win there, everything will change for the good."