World Cup 2014: Barcelona's Alexis Sanchez leads Chile hopes
By Tim Vickery
South American football writer
Last updated on .From the section 2014 Fifa World Cup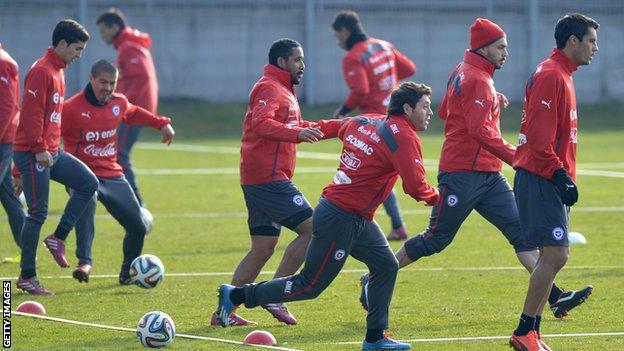 Chile's most popular club, Colo Colo, played at home on Sunday in front of a big crowd.
Before the game, the stadium's giant screen showed the Real Madrid v Barcelona game. Interest level was high, and got higher still when Alexis Sanchez came on for the last few minutes.
Sanchez is one of their own - he had a successful spell with Colo Colo before heading to Europe. And he also carries plenty of their hopes for this June and July. For the national team, Sanchez is no second-half substitute. He is the most dangerous attacking weapon of an exhilarating side.
Earlier this month in Berlin, Chile played Germany in a friendly and were probably even more impressive than in their 2-0 win against England at Wembley last November. The final score - 1-0 to Germany - does not begin to tell the story of the game.
The home side were whistled by their crowd, and captain Philipp Lahm said: "I understand the fans. It was a lucky victory."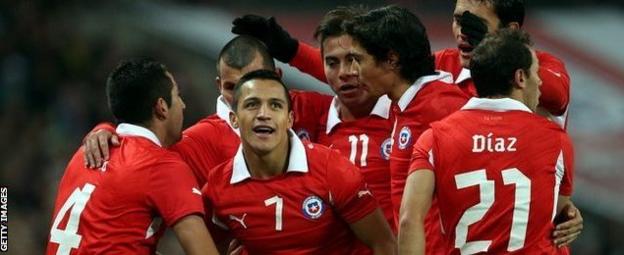 Germany coach Joachim Low admitted: "We couldn't dominate like a home side. We had a lot of problems finding space, and we kept losing possession. Chile are a team who play incredibly well. They showed a lot of dynamism and very good football."
All of this bore out the words of Chile coach Jorge Sampaoli, who after the Wembley win had announced that Chile would look to take the initiative against any opponent, on any pitch.
This column has noted before the huge strides made by the Chilean national team in recent years, underpinned by the observation that they now have a firm footballing identity, a clear idea of what they want to do on the field.
The seeds were planted by Marcelo Bielsa, who took the team to the last World Cup. His distinctive recipe is high-tempo attacking football, pressing the opponents high up the pitch and using plenty of width.
Sampaoli, a self-confessed Bielsa disciple, is quick to pay tribute to his master. "What Bielsa did [with the Chile team] was more valuable," he said recently. "We've been able to follow a path that's already been laid down. With similar characteristics and with more mature players, we have taken things further, but it has been easier for us."
But in one respect it is about to get more difficult. The performances of Sampaoli's team, and those of Sanchez and Juventus midfielder Arturo Vidal with their club sides, have generated expectations that were not present when Bielsa was in charge.
When Bielsa took the team to South Africa 2010, Chile had not won a World Cup match for 48 years. And aside from the 1962 campaign, when they hosted the competition and came third, their previous victory had been in 1950. It was not so hard for the Bielsa team to do better. Capturing the hearts of the neutrals with their swashbuckling style was a bonus.
It is now expected. Some have identified Chile as potential semi-finalists. There is, though, the prospect of a second-round meeting with Brazil, who ended Chile's 2010 campaign at the same stage. This time, however, Brazil openly acknowledge that they would rather face another opponent, which could be Spain or Netherlands - both drawn with Chile in Group B.
To make it to the knock-out stages, merely to equal what they did in the last World Cup, Chile will have to get past one of the 2010 finalists.
Perhaps the order of the matches, such an important feature in tournament play, has come to their aid. Before taking on Spain and Netherlands, Chile open their campaign against Australia on the second day of the tournament.
Assumptions are always dangerous in World Cup matches, but it would seem fair to believe that Australia will be the weakest team in the group, and that they have defensive problems which Chile should be able to exploit.
An alternative view is that Chile might suffer from playing the Australians first. It is a scenario that will be familiar to Scotland fans of a certain age; back in 1974 they played Zaire first, before drawing with both Brazil and Yugoslavia, who also drew with each other.
Qualification, then, hinged on the goal difference achieved against Zaire. Yugoslavia and Brazil knew how many goals they needed - a margin bigger than Scotland's 2-0 victory. Brazil clinched second place in the group by one goal - a calamitous keeping error - and, unbeaten, the Scots went home.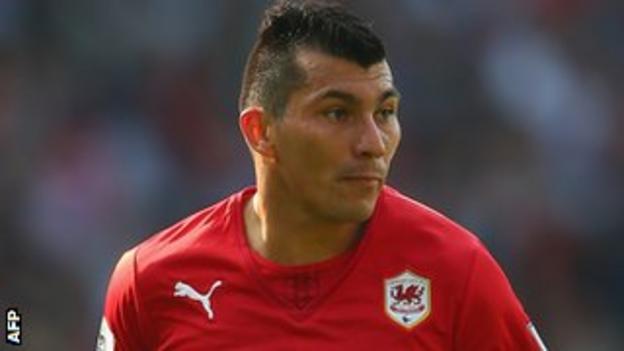 To guard against such an eventuality, then, Chile will have to come out of the blocks quickly. When they kick off their campaign on 13 June, the stakes will be higher than they have ever been for this group of players. Their finishing will have to be more clinical than it was against the Germans, when they could have scored six or seven but failed to get one.
Can they cope with the expectations? Santiago airport is full of advertising billboards of Alexis Sanchez talking into his mobile phone. At the end of the group phase, he will not want to be dialling home in disappointment.
Send your questions on South American football to vickerycolumn@hotmail.com, and I'll pick out a couple for next week.
From last week's postbag:
For a few years, a lot of people have been singing the praises of Brazilian forward Leandro Damiao - he was linked with a move to Tottenham last summer. But suddenly no-one is talking about him - what's happening? Tom Martin
Timing can be such an important part in football history. Leandro Damiao was named in Brazil's Confederations Cup squad, but he suffered an injury a few days before the tournament and was replaced by Jo, who did well enough to stay in.
At club level, he was then part of an Internacional side where everyone was failing together. He then joined Santos, where bureaucratic problems delayed his debut. Injuries aside, there would seem to be little chance of a World Cup place for him, but he's young enough to come again, and the Santos move is based on the understanding that he will be heading to Europe.