Premier League: Garth Crooks's Team of the Week

By Garth Crooks
Football Analyst
Last updated on .From the section Football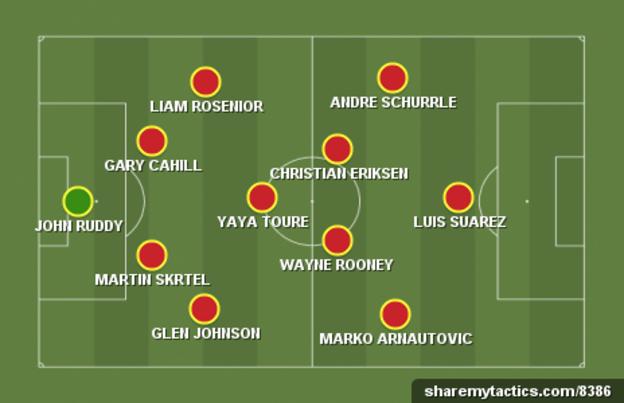 It was goals galore in the Premier League this weekend as the teams at the top re-affirmed their power, except poor Arsenal.
Arsene Wenger's 1,000th game turned into a nightmare as the Gunners were thrashed 6-0 by Chelsea, but Manchester City matched them by thumping Fulham 5-0 while Liverpool re-enforced their title credentials in a nine-goal thriller at Cardiff.
If that wasn't enough, Wayne Rooney scored a goal-of-the-season contender with a wonderful piece of improvisation against West Ham.
It was a breathless weekend with plenty of debate but here's who I thought excelled:
GOALKEEPER - John Ruddy (Norwich)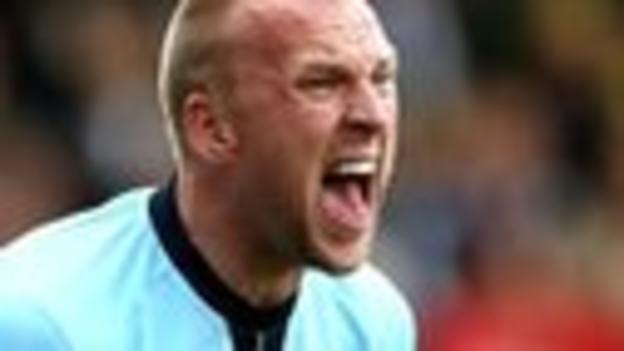 A first clean sheet in four Premier League games and the Canaries are singing again. John Ruddy's save from Sunderland's Wes Brown during Saturday's 2-0 win removed any chance of the Wearsiders getting anything from the game and pushes them nearer the trap door. The manner in which Norwich performed for manager Chris Hughton and Alex Tettey's sensational goal gave me the distinct impression that if they are in danger of going down they won't go quietly.
Did you know? Ruddy's total of 96 Premier League saves is only bettered by Cardiff's David Marshall this season.
DEFENDER - Liam Rosenior (Hull)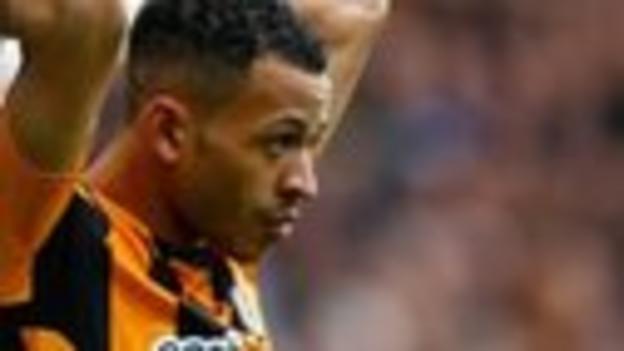 Anyone who takes 157 attempts to score a goal deserves a mention when they finally achieve it. I didn't think it was a penalty on Shane Long in the first place but when Nikica Jelavic had his spot kick saved the speed and intelligence from Liam Rosenior to bury the rebound was superb. He made my team after Hull's impressive victory over Sunderland in the FA Cup. His goal and performance against a struggling West Brom on Saturday was equally impressive.
Did you know? Hull have not won any of the nine Premier League games that Rosenior has missed this season.
DEFENDER - Gary Cahill (Chelsea)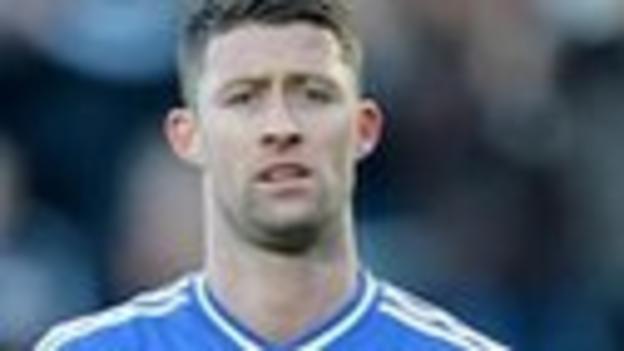 I don't think Gary Cahill will get an easier 90 minutes all season than the one he had against Arsenal in the 6-0 win on Saturday. There was a point in the second half where he could have conducted a conversation with the Chelsea fans and it wouldn't have made a blind bit of difference to the outcome of the match, such was Arsenal's dismal display. What is becoming very evident, however, is that Cahill no longer looks like the junior partner next to John Terry. He is a fully-fledged England international now and appears to be displaying all the confidence that goes with it.
Did you know? Chelsea have a 71% win rate when Cahill plays this season, compared to 57% when he hasn't.
DEFENDER - Martin Skrtel (Liverpool)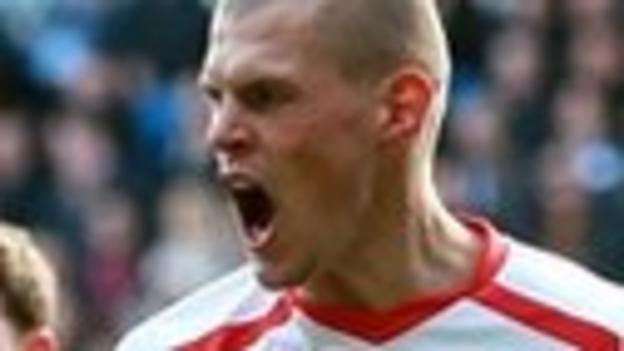 Even manager Brendan Rodgers had to concede that Liverpool's defending could have been better this season but when you have a centre-back who is as competitive in the opposition box as he is in his own you can forgive the occasional lapse in defence. Two more goals by Martin Skrtel in the win over Cardiff is further evidence that Liverpool's strategy for Premier League success is to outscore the opposition - and they are.
Did you know? The joint top-scoring defender in the Premier League this season, Skrtel has scored six goals from seven shots on target.
DEFENDER - Glen Johnson (Liverpool)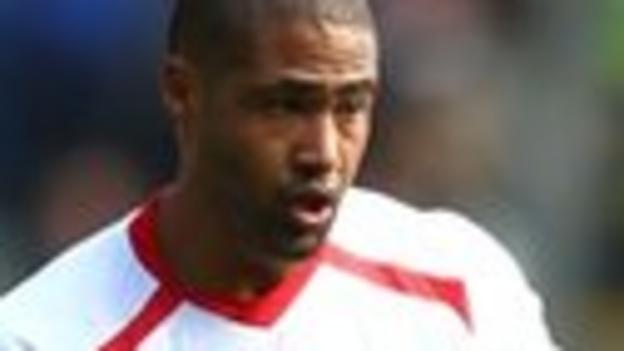 Everyone knows how much I enjoy seeing attacking full-backs, especially those who can deliver good service into the box for their strikers. I remember in the 1970s Liverpool full-back Alec Lindsay providing excellent service for Kevin Keegan during their heyday. Glen Johnson is producing a similar service for Luis Suarez. The big question is: can the Reds emulate the legends of yesteryear and bring the title back to Anfield?
Did you know? Since Johnson returned from injury, Liverpool have scored 16 goals in four games.
MIDFIELDER - Yaya Toure (Man City)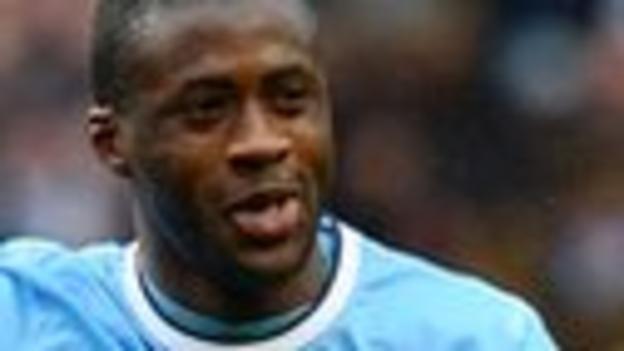 I said in December that Yaya Toure was having the kind of season that made him a prime candidate for footballer of the year. With 10 games left to play I have not changed my position - particularly if Manchester City were to lift the title. However, in light of Toure's hat-trick against Fulham I was fascinated by Leonardo's comments on Match of the Day when he said that he thought that Toure was now one of the best midfield players in the world. I suppose 20 goals from midfield in all competitions this season would support that position.
Did you know? Toure has now scored 16 goals in the Premier League this season, three more than 2012-13 and 2011-12 combined (13).
MIDFIELDER - Andre Schurrle (Chelsea)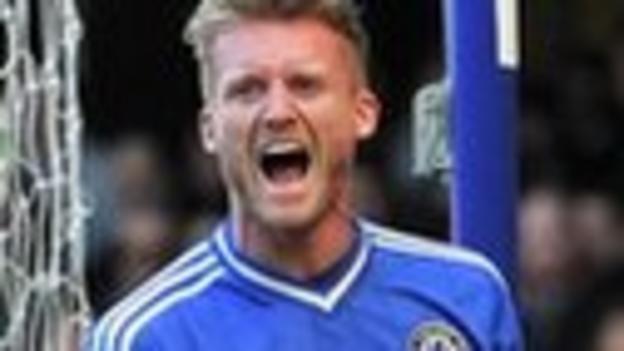 He made the first and scored the second in what can only be described as a first half horror show for Arsenal. Andre Schurrle didn't just run the Gunners ragged but nailed their feet to the floor. Everything that could have gone wrong in Arsene Wenger's 1,000th game did and it was not helped by Schurrle's willingness to run at the Arsenal defence at any given opportunity. He deserved his goal for his sheer endeavour and it was brilliantly taken.
Did you know? Schurrle has scored seven goals in 10 Premier League starts for Chelsea.
MIDFIELDER - Christian Eriksen (Tottenham)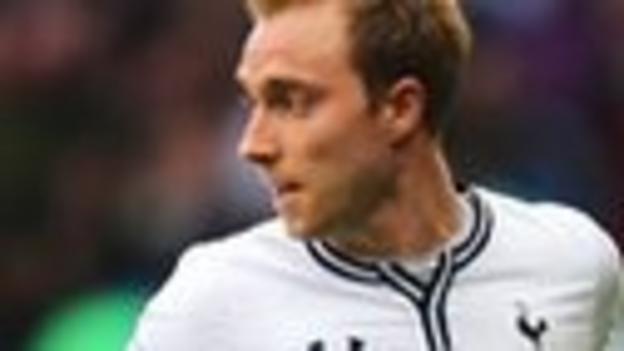 Whatever you may think of Spurs manager Tim Sherwood's method of persuasion, he certainly gets a reaction from his players. He's got Emmanuel Adebayor playing again and if Tottenham's comeback performance against Southampton is anything to go by he's now got Christian Eriksen playing out of his skin and scoring goals. Whatever next, a Roberto Soldado hat-trick?
Did you know? Eriksen's brace against Southampton was the first time he'd scored more than once in a league game for Ajax or Spurs.
MIDFIELDER - Wayne Rooney (Man Utd)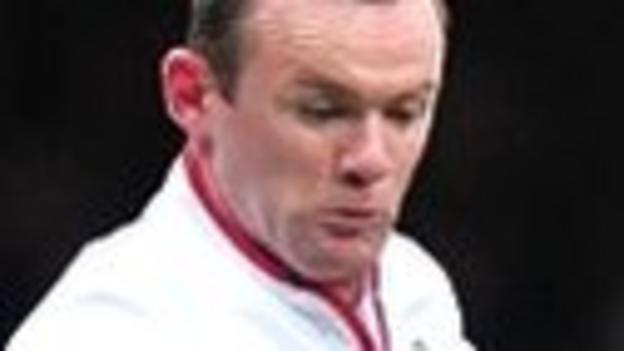 What a goal and what improvisation. The England striker then went on to start the move for his second goal against West Ham before putting the finishing touches to it. And while the discussion will rage on about whether his first goal was better than David Beckham's against Wimbledon, I thought Rooney's speed of thought to capitalise on the situation was sensational. Whichever goal you prefer, rest assured they were two wonderful goals from two fabulous footballers.
Did you know? Scored the longest-range goal by an outfield player since Maynor Figueroa for Wigan v Stoke in December 2009.
MIDFIELDER - Marko Arnautovic (Stoke)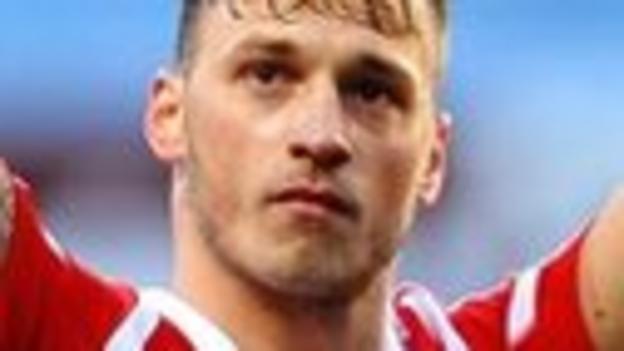 I couldn't have picked my team without reflecting the excellent display by Stoke City at Villa Park. Their quality of football was a delight to watch with notable performances from Peter Crouch and Peter Odemwingie. But my man of the match was Marko Arnautovic. This lad has a lot to offer and he tortured Villa. It's great to see the Potters playing attractive football again.
Did you know? Stoke have hit nine shots per game when Arnautovic has played, compared to seven per game when he hasn't featured.
FORWARD - Luis Suarez (Liverpool)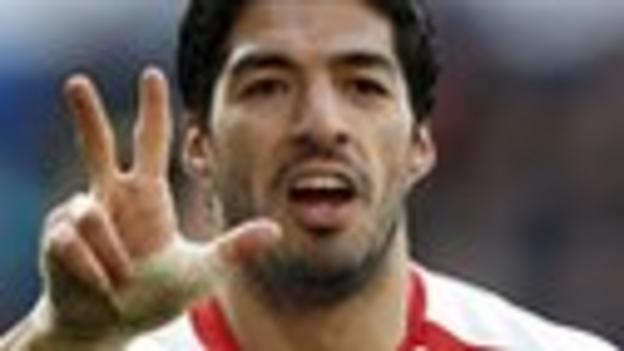 Six Premier League wins in a row tells you that Liverpool have their eyes firmly set on the prize. The fact I am even contemplating the notion of a Premier League title for the Reds is because of one man - Luis Suarez. This is no reflection on the likes of Steven Gerrard, Daniel Sturridge or Jordan Henderson, all of whom have had excellent seasons, but with Suarez in the team and in this form anything is possible.
Did you know? Suarez has scored or assisted 39 Premier League goals this season; only three players have produced more in a Premier League campaign - Alan Shearer, Andy Cole and Thierry Henry.