Real Madrid v Barcelona: Cristiano Ronaldo criticises Clasico referee
Last updated on .From the section European Football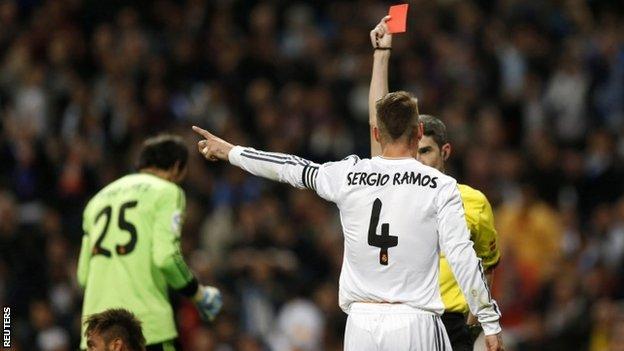 Real Madrid forward Cristiano Ronaldo says "unbelievable decisions" cost them in the 4-3 home defeat by Barcelona.
Lionel Messi scored two disputed penalties as part of a hat-trick as Barca came from 3-2 down to revive their title hopes.
"It is difficult because a lot of people did not want us to win and Barcelona would have been out of it," he said.
"Maybe they don't want Real Madrid to win this Liga."
Ronaldo had put Real Madrid 3-2 ahead in the 55th minute with a controversial penalty of his own after Dani Alves had fouled him outside the box.

But the match swung in the visitors' favour when referee Alberto Undiano Mallenco sent off Sergio Ramos for clipping Neymar on the edge of the box, with Messi levelling.
And with six minutes to go, Messi scored the winner after Andres Iniesta was sandwiched by Xabi Alonso and Dani Carvajal - another decision that infuriated the hosts.
"We are sad because we knew we deserved more, but the fight goes on," Ronaldo said.
"We were 3-2 up and controlling the game. The referee made some unbelievable decisions, but you have to carry on.
"There were a lot of errors in one match. In a Real Madrid-Barcelona game you have to have a referee who is up to the game. In my opinion he was not up to a match of this stature.
"I looked at him and he was pale, that's because he was so nervous and he was unable to make the right decisions. A referee has to be relaxed in order to do as well as possible.
"It makes me think that matches are not only won on the pitch, but also with a little help off of it."
The win means that Barcelona, who would have been seven points off top spot had they lost, trail second-placed Real Madrid by one point. Atletico Madrid top the table with nine games left and lead Real by virtue of their head-to-head record.
"We were unlucky with everything that happened, but we are still ahead of them [Barcelona] and the Liga goes on," Ronaldo said. "We have only lost one game. It is all open and I think the team is fine."