Roberto Martinez: Premier League referees 'as good as they get'
Last updated on .From the section Football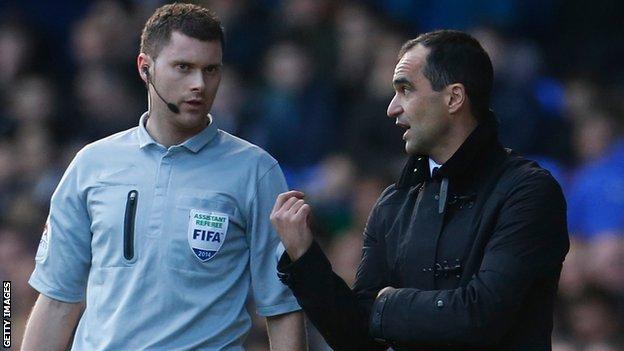 Everton manager Roberto Martinez says he thinks referees in England are "as good as they get" and that they should be left to do their jobs.
Referee Andre Marriner has been criticised for sending off the wrong player in Chelsea's 6-0 win against Arsenal at Stamford Bridge on Saturday.
Chelsea boss Jose Mourinho argued that more video technology might have helped prevent the error.
But Martinez said: "I think we need to rely on the referees."
He continued: "In this country they are as good as they get.
"Errors are part of the game and there will be errors, misjudgements and mistakes but that is part of football and you need to accept it because that is what makes football what it is."
Marriner awarded a penalty after Arsenal's Alex Oxlade-Chamberlain handled the ball in the area - but sent off team-mate Kieran Gibbs.
He later apologised, expressing disappointment at his error, and is set to learn on Monday whether he will be refereeing a Premier League game this weekend.
Martinez said that because it was such a rare occurrence, a move to involve more technology would be irrelevant.
"I wouldn't think you should put something in place if that happens again because it is so rare and I think at that moment the referee was completely sure," he added.
"We have an elite group of referees in our league and for me it is one of the best in world football.
"We need to increase that group and help them have good training and development but we need to let them get on with their job."