Leeds United: Massimo Cellino's takeover vetoed
Last updated on .From the section Football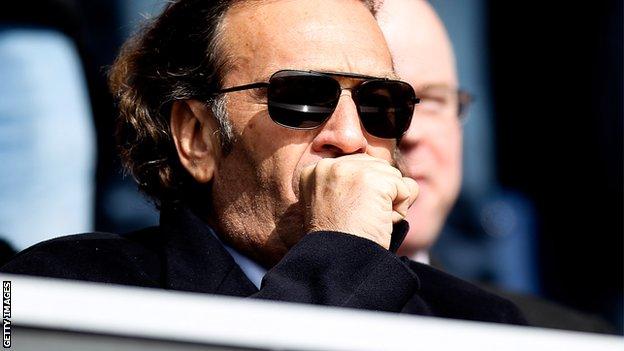 The Football League has disqualified Italian businessman Massimo Cellino from buying a majority stake in Championship club Leeds United.
However, the takeover was put in doubt last week when he was found guilty of failing to pay import duty on a yacht.
In a statement the League said they had voted "unanimously" to disqualify the 57-year-old Cagliari owner's bid.
The Football League said: "The board considered detailed legal advice with regard to the application of its regulations within the context of a decision made under Italian law.
"Having fully considered the matter, the board agreed unanimously that the decision of the Italian Court does constitute a disqualifying condition under its owners' and directors' test.
"The relevant disqualifying condition being that Massimo Cellino has been convicted of an offence involving acts that would reasonably be considered to be dishonest."
In response to the Football League's ruling, Leeds said in a statement: "The club and its shareholders are disappointed at the decision of the Football League not to approve Massimo Cellino as a director of Leeds United FC.
"However, the board and executive management of the club will continue discussions with the Football League and Eleonora Sport to find a solution that is suitable to all parties.
"Our shareholders continue to support the club directly or through additional investments as has always been the case."
Cellino agreed a deal to buy a majority stake in the Elland Road club on 31 January and later that day his lawyer sacked Leeds boss Brian McDermott.
The former Reading manager was reinstated within 24 hours, with GFH claiming it still owned and controlled the club.
On 7 February, GFH confirmed they had exchanged contracts with Cellino but the takeover always looked uncertain with the businessman having two previous criminal convictions.
It is understood that Cellino, who can appeal against the Football League's decision, invested around £6m into the club in two months.
Leeds United managing director David Haigh previously moved to allay fears that the club could go into administration if Cellino's takeover was turned down, but with the club currently losing around £1m per month, it is known that current owners GFH are keen to sell.
McDermott told BBC Radio Leeds: "There is nothing for me to say about the issue really. The only thing that matters for me is Leeds United and where we go from here.
"We have uncertainty here and it is not easy and it has been going on for an awfully long time.
"It is concerning and it is difficult but I am concentrating solely on tomorrow's game."
Leeds are currently 13th in the Championship and face a trip to Bournemouth on Tuesday.