BBC Sport - Orlando Engelaar scores wonder goal to rival Wayne Rooney's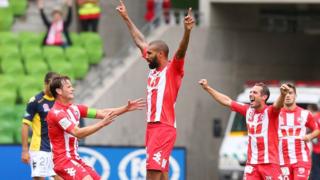 Does this wonder goal rival Rooney's?
Melbourne Heart's Orlando Engelaar scores from the halfway line in Sunday's Australian A-League match against Central Coast Mariners.
The strike came just hours after Manchester United striker Wayne Rooney scored a stunning long-range volley at West Ham.
Available to UK users only.