Bayern Munich: Bundesliga champions in numbers
Last updated on .From the section European Football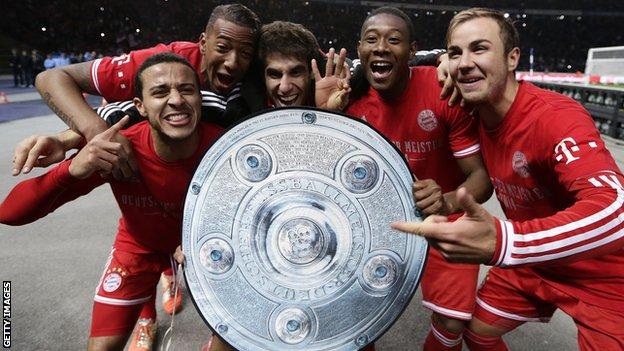 European and German champions Bayern Munich have continued their dominance over everyone in their path this season.
Pep Guardiola has yet to lose a league match since taking over in the summer - in fact, Bayern have not suffered a Bundesliga defeat in 18 months.
Here BBC Sport, with the help of Opta, takes a look at the records they have broken - and the ones they are still chasing.
Bayern's records:
7 - Bayern have won the Bundesliga title with a record seven games to spare. The previous record was the six games left that Bayern won the title with last year.
10 - Bayern have won their last 10 away matches in the league. The old record was nine - again, set by them last season.
19 - Bayern Munich have won their last 19 games - a Bundesliga record. The previous record was 15, set by Bayern in 2005.
Bayern's 2013-14 Bundesliga record

Played

Won

Drawn

Lost

For

Against

Points

27

25

2

0

79

13

77
19 - They have scored two goals or more in each of their last 19 wins - also a league record.
24 -This is Bayern Munich's 24th German (and West German) title, another record.
25 - Bayern have won 25 matches in the Bundesliga this season. The record is 29, set by them last year.

25 March - Bayern Munich have clinched the earliest league title in Bundesliga history. They took until 6 April to do it last year - the previous record.
27 - Bayern's 27-game unbeaten run to start a Bundesliga season is also a record. Bayer Leverkusen's 24 at the start of 2009-10 was the old landmark. If they see the season out unbeaten, they will break AC Milan's record of 58 games (1991 to 1993) for Europe's top-five leagues.
27 - Bayern manager Pep Guardiola, appointed in the summer, has not lost in his first 27 matches in the Bundesliga. Kaiserslautern's Karl-Heinz Feldkamp (1978-79) had the old record with 14.
52 - Bayern Munich have not lost in 52 Bundesliga matches, a run going back to October 2012. Hamburg had the old record of 36 games unbeaten in 1982 and 1983.
77 - Bayern are on 77 points. The record for a Bundesliga season is 91 (set by Bayern last year). They can finish on 98 if they win their remaining seven games.
79 - Bayern have scored 79 goals in the league this season. They need another 23 to set a new goal-scoring record in the Bundesliga. Their 101-goal haul in 1971-72 is still the record.
Games that shaped Bayern's season:
19 October 2013: Bayern 4-1 Mainz Having been held at Bayer Leverkusen the previous league game, Pep Guardiola's side came roaring back to crush Mainz. Little did their title rivals know at the time that this would be the start of a 19-match winning run that would catapult them to the title.
Pep Guardiola's Bayern Munich record (including Champions League, German Cup, Super Cup, Club World Cup)

Played

Won

Drawn

Lost

For

Against

42

38

3

1

122

22

2 November 2013: Hoffenheim 1-2 Bayern: Bayern arrived at the Rhein-Neckar Arena trailing leaders Borussia Dortmund by two points in the table. They came from behind to win 2-1 to go one point clear. Bayern have stayed top ever since.
29 January 2014: Stuttgart 1-2 Bayern: It looked like two points dropped for Bayern as they entered stoppage time with the score 1-1. But Thiago Alcantara's last-gasp goal made it 10 straight league wins for the leaders.
They said what?
"There's never a good time to play this Bayern Munich team because - and I remember thinking this last year - they are truly a team without a weakness." - Former Benfica and Newcastle manager Graeme Souness.
"Pep Guardiola is another thing entirely; living football becomes contagious." - Barcelona's ex-Liverpool player Javier Mascherano.
"Joining Bayern was the best decision of my life. I'm certain this team can enjoy a lot more fun and success in the years to come." - Bayern's Brazilian defender Dante.
"It's still a bit cold outdoors in March, but everyone can see we're on fire and determined to win every match," Bayern's goalkeeper Manuel Neuer.