Manchester derby: United the support act in title race

By Phil McNulty
Chief football writer
Last updated on .From the section Football912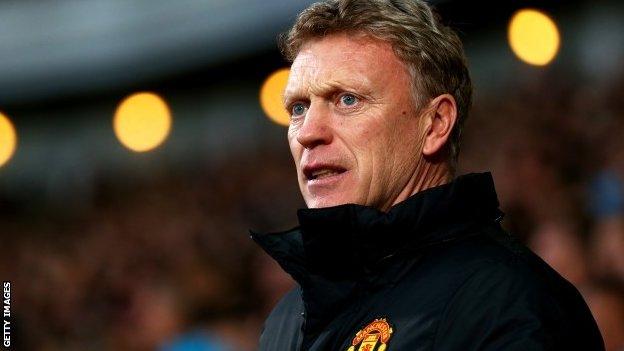 Manchester United can still have a say in the Premier League title race - but it is a measure of their decline that they will be speaking on behalf of Chelsea and Liverpool when they meet Manchester City at Old Trafford.
At a time of the season when talk usually turns to championships, United's only relevance is whether they can inflict a blow on City that will further encourage Jose Mourinho and Brendan Rodgers.
United were cast in a similar role when resurgent Liverpool visited Old Trafford 10 days ago - and performed it with such ineptitude that a 3-0 defeat flattered David Moyes' side and prompted questions about the manager's long-term future.
The response has been heartening with a comeback against Olympiakos to reach the Champions League quarter-final, and a 2-0 victory at West Ham. Moyes, however, knows he will face further scrutiny should United produce another no-show against a City side that are now much more than "the noisy neighbours" of Sir Alex Ferguson vintage.
For the second time inside a fortnight, a challenger arrives at Old Trafford classed as favourites - a sign of the times in this season of transition for Moyes and United.

But amid the disappointment, United can at least give their supporters some pleasure by derailing City's own attempts to reclaim the Premier League crown as they stand six points behind leaders Chelsea with three games in hand.
And Moyes believes that, after successive victories, United go into the derby in better heart than they did against Liverpool - although he admitted he felt the mood in the camp was good before that embarrassment.
"We go in after a better showing," he said. "If we play as well as we did at West Ham we will create opportunities. If we play with the same heartbeat we showed against Olympiakos, we'll be very hard to play against.
"I thought we played really well against West Ham on the back of a good result in midweek and hope we can keep that going. Hopefully we are starting to pick up and play better."
Midfielder Michael Carrick insisted United's approach would be no different and admitted even a win would not repair the damage of a season that now looks unlikely to end with Champions League football - unless they overcome holders Bayern Munich in the quarter-final and go on to win the tournament.
He said: "It is a big game but it's not going to repair any of the damage that's been done in recent months by us losing games. Beating City would keep our run going. We understand the fans and the result they want and, for us as players, it is the same."
Another big incentive for United is to avenge a 4-1 humiliation at The Etihad in September, a game that was nowhere near as close as the scoreline suggests with City almost declaring after going four up inside 50 minutes.
It was the clearest early sign of United's vulnerability under Moyes this season.
This means more than local pride will be the inspiration for Moyes as he tries to prove to any Old Trafford sceptics that there are grounds for optimism for the future.
He will also want to prove he can win the big games after Liverpool completed the league double over United, Chelsea drew at Old Trafford before winning at Stamford Bridge and City handed out a thrashing in the first derby.
For City it is simple. If they can secure two wins from tough visits to United and Arsenal this week, they will start to believe that they can haul in Chelsea's points advantage - even with games at Liverpool and Everton still to come.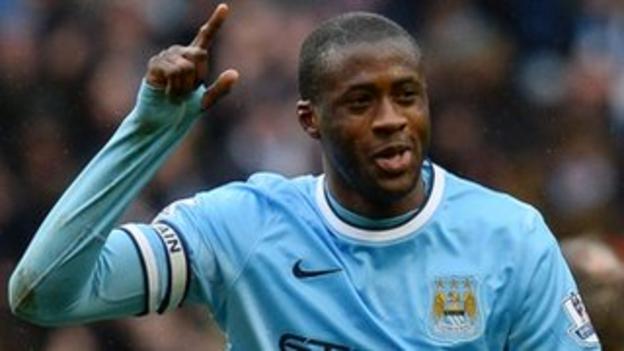 The Old Trafford spectacle will be the poorer for the absence of two world-class strikers. He may have had a dip in form and injury troubles but Robin van Persie's decisive hat-trick against Olympiakos was a reminder of his quality and Moyes may struggle to have him in his side again this season after a knee injury.
And it is no coincidence that City, while still capable of ruthlessly dismantling opponents as they did in their 5-0 win against Fulham at the weekend, miss an added X Factor when Sergio Aguero is out. Pellegrini will be desperate to have the Argentine fit for the run-in after a hamstring injury.
Moyes will look to Wayne Rooney to fill the gap, as he did capably with two goals at Upton Park, with Juan Mata at last able to slot into his favoured role behind the striker. Pellegrini, in another indication of City's strength and an area of United frailty, can look to central midfield for his regular goal supply in Aguero's absence.
Yaya Toure, who watched United's win against former club Olympiakos, took his season's tally to 20 goals with a hat-trick against Fulham. He will be vital in a midfield department in which Moyes desperately needs reinforcements in the summer.
Toure has become the focal point for City and Pellegrini said: "He is a very important player and scoring 20 goals from midfield is not easy. I think that we can do damage to any team with midfielders who are so good technically."
Team-mate Pablo Zabaleta agreed, adding: "Yaya is a world-class player and does everything well. To get 20 goals this season in fantastic for a midfielder."
The talk of a shift in Manchester's balance of power was silenced when United swiftly reclaimed the title from City last season.
But another emphatic win for Pellegrini's men would add renewed weight to that argument - and will be something Moyes is desperate to avoid.