Wayne Rooney is Manchester United legend, says David Moyes
Last updated on .From the section Man Utd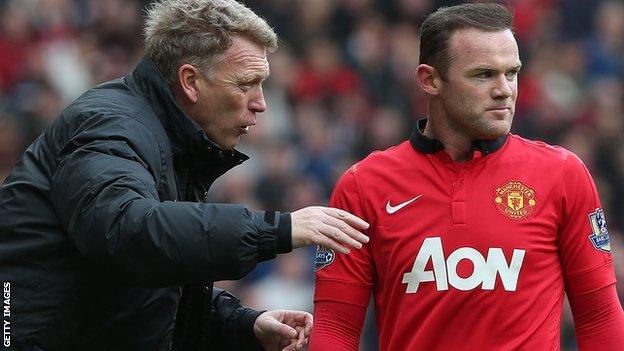 David Moyes says Wayne Rooney has already established himself as a Manchester United legend and backed him to go on and become the club's highest scorer.
Rooney, 28, scored twice in a 2-0 win at West Ham on Saturday to take his United tally to 212 goals, the third highest total in the club's history.
"If you are the third top scorer of a club like this, you already are a legend," said Moyes.
"He has a real appetite back again."
Rooney's first goal against the Hammers was particularly impressive as the England forward scored from over 40 yards.
He then finished from close range just before the break to take his season's total to 15 goals.
Rooney trails Denis Law by 25 goals and is 37 behind highest-ever scorer Sir Bobby Charlton.
"As long as he doesn't pick up any serious injuries, he has a real good chance of breaking Denis Law's and Sir Bobby Charlton's records and that would be some feat," added Moyes.
"He has a big energy back again. Everyone who knew Wayne Rooney from old in his early days would say one of the biggest things was that he had big energy, a big heart and his effort. And if you get Wayne playing like that, the rest of his football takes care of itself."
United head into Tuesday's derby with Manchester City at Old Trafford looking to record their third successive victory in all competitions, the win at West Ham having followed a 3-0 defeat of Olympiakos last week that sent them into the Champions League quarter-finals.
The reigning Premier League champions are seventh, 11 points off the top four, but Moyes says his side are improving and challenged his players to come out fighting against City.
"We are not as far away as many people would have us," he said. "I have no doubt it will improve and I want us to show we're still in there fighting."