Rangers must close spending gap on Celtic quickly - Dave King

By Alasdair Lamont
Senior football reporter, BBC Scotland
Last updated on .From the section Football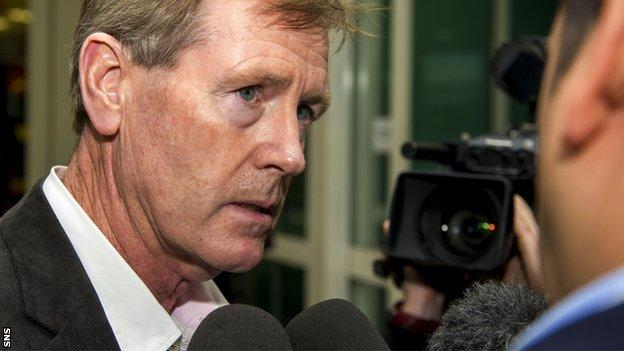 Dave King believes it is important for Rangers to rival Celtic's spending power as quickly as possible.
"The problem is that if it is done incrementally then Celtic will continue to own the major share of the Scottish European revenue," said King.
"The gap would become larger and larger to bridge. Rangers must compete with Celtic immediately."
King was responding to comments made by Celtic manager Neil Lennon, who said he did not think Rangers or Aberdeen would spend big in a bid to catch his team.
Celtic could wrap up a third successive title this week and Lennon is confident that the champions have cash in reserve to see off any would-be challengers.
King wants to lead a fresh round of fundraising at Rangers and says he is prepared to put in as much as £30m of his own cash.
And Aberdeen chairman Stewart Milne, celebrating the Dons' Scottish League Cup final victory parade in the Granite City, told fans that he would "do everything in our powers" to get closer to Celtic in the league.
"I can't imagine clubs like Aberdeen or Rangers at this stage, will start throwing millions of pounds at it to chase it," said Lennon.
"I think the owners of clubs are far too astute for spending big money.
"I think they will build brick by brick over maybe the course of two, three, four seasons and really try to close the gap.
"We haven't spent an amazing amount of money over the last couple of years so we still have some stock in the bank if we need it."
Earlier this month, King, who put £20m into Rangers while Sir David Murray was chairman, set the board a four-week deadline to reveal how they intend to revitalise the club.
This came after the South Africa-based businessman held talks with the board of the League One champions, shareholders and fans' groups.
Asked why Rangers supporters should believe his promises of significant investment when previous owners Craig Whyte and Charles Green had made similar pledges only for them to be unfulfilled King told BBC Scotland: "The difference is that neither of Charles Green or Craig Whyte had the money.
"They relied on other people's money so couldn't commit. Plus, I already have a track record of investment."
King welcomed the transfer of a £1m loan from Laxey Partners to George Letham at a lesser interest rate, but added: "It doesn't change the board's perception of the club as a risk. That is vital for season ticket renewal."
The Union of Fans organisation, which represents all of the main Rangers fans' groups, is enthused by King's vision.
"The club has been neglected, that cannot continue," read a statement from UoF. "Only once this investment has been made will Rangers be able to live within its means, something we all want for the longer term future.
"We would now ask the board to indicate publicly, as a matter of urgency, whether they are prepared to accept Dave King's offer of massive investment. The ball is firmly with the Rangers PLC board, in particular with chief executive officer Graham Wallace and chairman David Somers.
"Dave King has put a figure on what Rangers need and has shown his commitment to, and ambition for, the club he has supported all his life. Do Mr Wallace and Mr Somers agree with his figures and if they do, how do they propose to raise this large sum of money without Dave King?"