David Beckham unveils MLS stadium plans in Port of Miami
Last updated on .From the section Football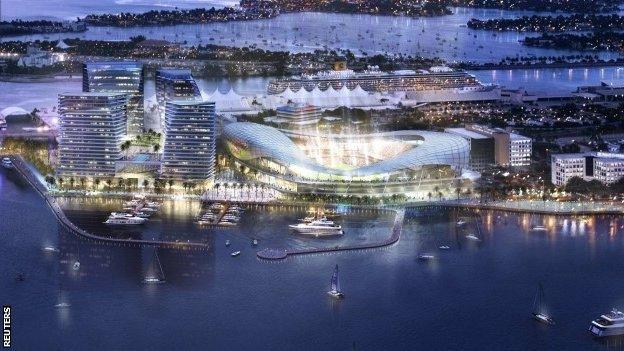 Former England captain David Beckham has announced plans to base his Major League Soccer team in a 25,000-seat stadium on Miami's waterfront.
"When people think of Miami, they immediately think about being near or on the water," said Beckham.
The open-air stadium would sit next to the Miami Heat basketball team's arena.
Beckham's option to purchase a franchise is believed to have been part of the financial package he negotiated when he joined LA Galaxy in 2007. He played for the MLS club until 2012.
He flew to Miami to drum up support for the stadium, which will feature steep grandstands to give fans the feeling of being on top of the action.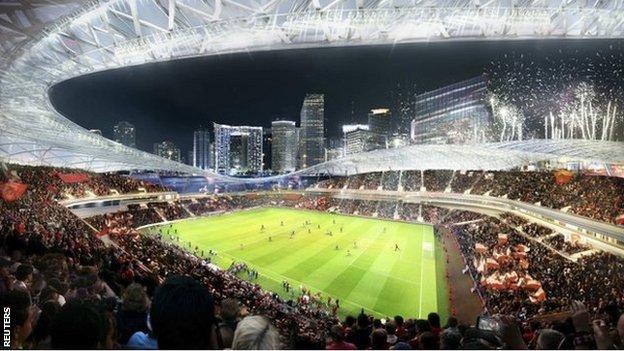 "So far, everything is very positive," said Beckham. "There'll be criticism. There'll be certain things that come up, but we're ready to handle everything that'll be thrown at us."
The former Manchester United, Real Madrid and Paris St-German player added: "The important part for us is getting everybody on side, getting everybody to realise why we want to bring the team here, and why we want to have the stadium in a certain place."
Beckham's property advisor said: "The funding is in place. The goal is to have a team playing by 2016."
Should the Port of Miami site fall through, Beckham's investor group has other areas under consideration, including one near the Miami International Airport and another at Florida International University.