Afriyie Acquah: Streets of Ghana to the World Cup - via Glentoran
By Patrick Nathanson
BBC Sport
Last updated on .From the section Football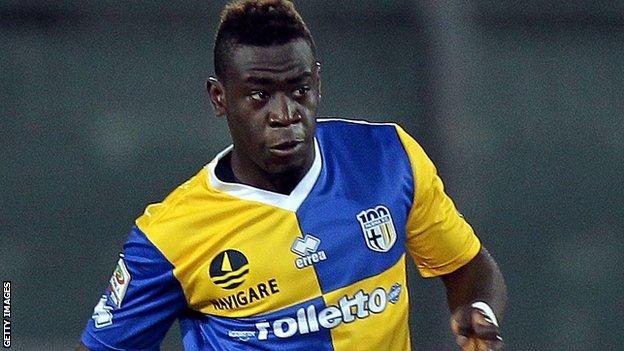 Of all the potential journeys to this summer's World Cup in Brazil, Afriyie Acquah's is arguably the most unlikely: a footballing odyssey that stretches from the streets of West Africa to Italy's Serie A via Glentoran's dilapidated Oval Stadium in East Belfast.
Taken in as a boy by an academy project that the Northern Irish club had set up in Ghana, then 'adopted' by a Belfast family who treated him as one of their own, the 22-year-old is currently excelling in a new temporary home at Italian Serie A side Parma, where he is on loan from German club Hoffenheim.
On Wednesday he faced league leaders Juventus as an emerging force, drawing comparisons with compatriot Michael Essien, who in turn has tipped Acquah to play a key role in Ghana's World Cup campaign.
It is a far cry from 10 years ago, when at "12 or 13" and without a permanent home, his path to sporting salvation began at the Glentoran Academy in the southern Ghanaian city of Sunyani.
"Acquah was not the talking type," remembers Christopher Antoh Forsythe, the academy's founder. "He was always quiet and respectful and didn't want to do anything apart from his football. He was born with football in him."
Forsythe, who grew up in poverty in Ghana before being adopted by a Belfast school teacher, established the academy in 2001 to help underprivileged children in the Sunyani area "so they can use football to better their lives". There was only one club he wanted to associate the project with.
As a regular at Glentoran, the semi-professional club that launched the careers of Northern Irish legends such as Danny Blanchflower, Billy Bingham and Jimmy McIlroy, Forsythe obtained the club's blessing to use their name for the academy.
He approached the Glentoran Community Trust, newly founded by supporters, for funding to provide accommodation - "a ramshackle building with the most basic of facilities" - and football training for homeless children, with fans sponsoring individual kids and the club's teams sending over spare kit.
"We even went to the local transport company in Belfast and asked if they'd provide us with a bus for the kids so they could travel to play other teams," explains Sam Robinson of the Trust. "Remarkably, they gave us one that had just passed its mileage date, so we repainted it in the Glentoran colours of red, green and black and shipped it out to [Ghanaian capital] Accra."
As part of the scheme, supporters arranged a two-week trip to Belfast for the youngster who showed the most promise at the academy.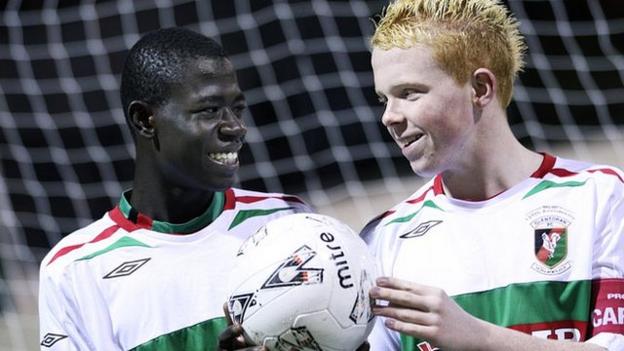 "That was when we first met Acquah," remembers Robinson. "He seemed to be the shining star. It was November 2007 and he was a very timid, quiet 15-year-old who arrived at Belfast International Airport and could hardly speak a word of English."
As Acquah settled into life as a guest in the Robinson family home, bonding with Sam's sons over the PlayStation and a shared love of football, his natural ability was already clear for all to see.
"On the first night, we decided to throw him in at the deep end and let him train with the first team. From the outset his touch was sublime. He had the build of a normal 15-year-old but he made really experienced players look average," says Robinson.
"I recollect being on the sidelines and our scout was there and everybody was just looking at each other going 'Goodness me!' At the end of the session our chief scout said he was the brightest star he'd ever seen throwing on a Glentoran shirt.
"Naively we thought he might want to see some of the city or the countryside, but all he wanted to do every day was go to the stadium. I spent my days crossing balls over to him in an empty stadium in east Belfast!"
The player still treasures those memories.
"I remember everything," Acquah tells BBC Sport. "When I was there I was very happy - it was the first time I had travelled somewhere. It was a big thing for me as a child and it helped me of course that everybody was happy with the way I played. They told me to keep it up and continue what I was doing and that I had a future."
There was one distraction that kept Acquah entertained off the pitch.
"At that time in Ghana you couldn't get ice cream unless your family was rich," he recalls. "Sam asked me if I liked ice cream and then took me out."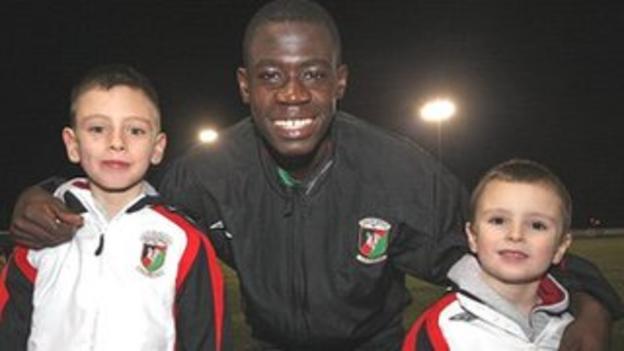 "He licked the bowl!" laughs Robinson. "We took him to a local and filled him with Belfast food. He was eating chicken and chips, ice cream, whatever. We maintain that the success he has had is due to his diet in Belfast."
Such was the kinship forged between the Robinson family and Acquah, Sam even looked into adopting him.
"Early on we realised what sort of background he'd be going back to. My two youngest sons adored him and begged us to see if he could stay with us permanently. I think we would have done it had it been feasible."
After returning to Sunyani, Acquah continued at the academy before being picked up by local team DC United. While playing for them in a tournament in Italy, he was spotted by Palermo and signed by the Italian club.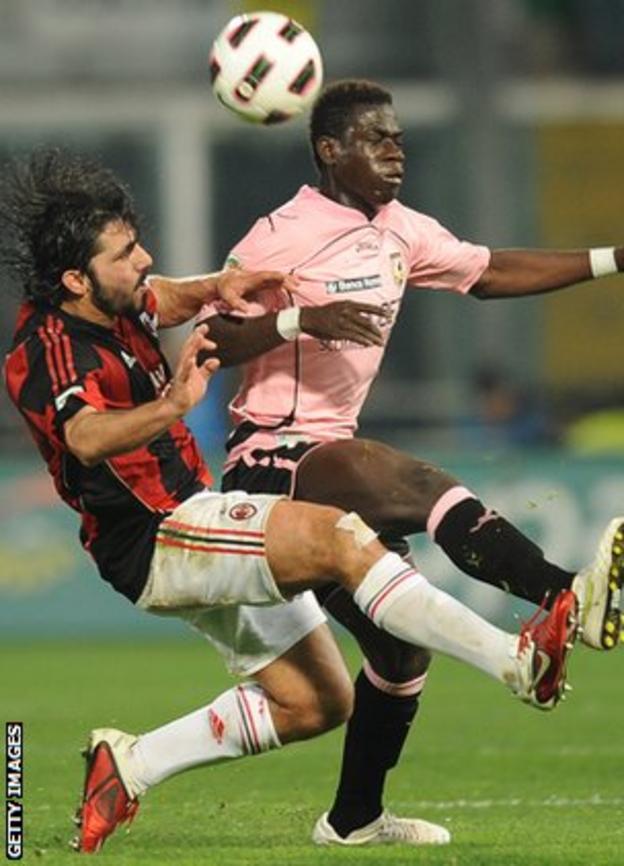 Frederic Massara was chief scout at Palermo at the time and immediately recognised Acquah's potential.
"He is similar to Michael Essien as a player - a central midfielder with great dynamism and strength and a good touch," says Massara, who now works at Roma.
"From a personality perspective, he is a wonderful kid. He's committed and extremely professional. At Palermo he used to stay behind at the end of training to do extra work on his technique."
Acquah's diligence paid off when he was called up to the Ghana squad in 2012, making his debut in a friendly against Chile. Later that year he scored his first goal for the Black Stars in an Africa Cup of Nations qualifier against Malawi.
"It was an indescribable emotion," says Acquah. "I was so happy, I couldn't believe it. They had to tell me [I had actually scored]!"
Acquah is now hoping to make the World Cup squad, having established himself as a holding midfielder with Parma - initially on loan from Palermo, and since last year on loan from Hoffenheim.
"It has always been my dream to go to the World Cup," says Acquah. "Right now I am playing well. I'm working hard to prove that I am doing well and get a chance to go."
Acquah will gain encouragement from the glowing endorsement of his childhood hero Essien.
"I had the opportunity to get to know Acquah during one of the recent national team training camps," the former Chelsea and Real Madrid midfielder, now at AC Milan, told BBC Sport.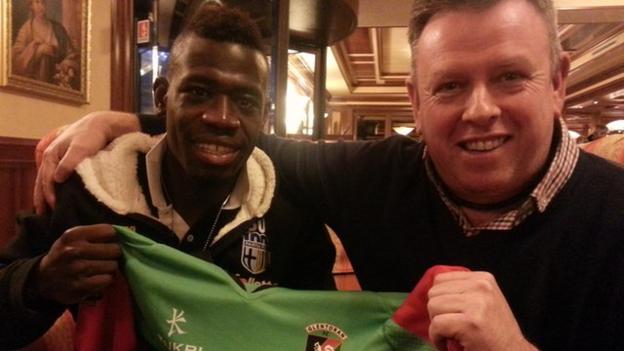 "He is a player with great talent and has his head firmly on his shoulders. If he can maintain his desire to work hard and keep developing, he could become one of the future pillars of the Ghana team. I believe that already in Brazil he will be able to play an important role in helping us get as far as possible in the tournament."
Ghana find themselves in a daunting World Cup group alongside Germany, Portugal and the USA. But Acquah is relishing the possibility of lining up against the likes of Bastian Schweinsteiger and Cristiano Ronaldo.
"Ronaldo is the world's best right now. I hope that I can play against him - that would be a dream for me," says Acquah.
"The group is tough but certainly we will do our best to go to the next round. If you look at the team we have, you'll see that it is full of good players."
Regardless of the outcome, if Acquah is selected for the Black Stars a corner of Belfast will be cheering him on from afar.
"I can guarantee you the whole of east Belfast will be glued to the TV screens if there's the slightest chance of Acquah being involved," says Robinson, who still keeps in regular contact and recently went over to Italy to watch him play for Parma against Chievo.
"When I saw him last, he told me that after we had brought him out onto the Glentoran pitch [before one game] and he got a standing ovation, he cried himself to sleep that night out of happiness. Now he's on the cusp of going to a World Cup. It's Roy of the Rovers stuff."