Shaky Hibernian need urgent win to arrest slide

By Tom English
BBC Scotland
Last updated on .From the section Football66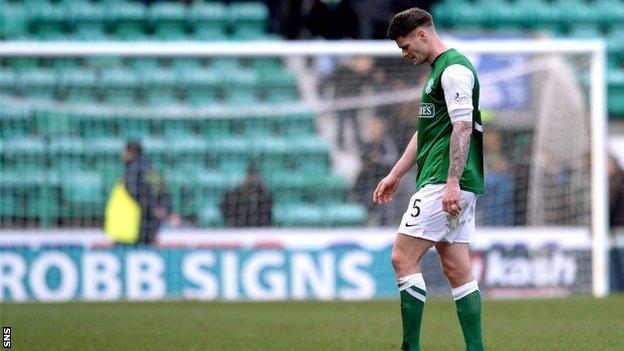 It's a pitiful reflection of Hibs' season that the only thing they have to look forward to in the coming months is the possibility of becoming the team that finally lands the knockout blow to Hearts.
This is what passes for glory at the moment at Easter Road.
The Edinburgh derby takes place on Sunday at Tynecastle. Hearts could be relegated that day.
Black Sabbath, as some Hibs fans might want it to be known.
Of course, the blackness is not the sole preserve of Hearts. Hibs are in a frightening state themselves. One win in their last 11 games and 26 goals conceded in that stretch. They are now condemned to a bottom-six slugfest.
The chances are that they will be spared the trauma of a play-off for their Premiership survival, but the way they are going you wouldn't put your mortgage on it.
Terry Butcher's team are in freefall. into better performances but nothing is working. Stick and carrot produce the same lamentable results.
His defence remains porous and prone to slapstick. His midfield has little bite and creativity. His attack is lacking pace and goal threat. The optimism that greeted Butcher's arrival from Inverness is such a distant memory now.
The manager is noted for his sense of humour, but black comedy is all we hear nowadays.
Butcher is doing no better than his predecessor, Pat Fenlon. In fact, Hibs are going to need a storming finish to their season to get close to their points total from last year which was a disappointing 51.
At the moment, Hibs are rooted on 34 with no chance of a cup final to soften the blow. Last season they won 36% of their matches in all competitions. This time that number has fallen to 28%.
Grim, no matter how you slice it.
Coming up, they have games against Hearts at Tynecastle and Aberdeen at Easter Road. For very different reasons, both of these teams will be motivated to the high heavens. After that, Hibs have the post-split dogfight.
Their most recent results against the teams looking to haul them into trouble do not bode well. The last time they played St Mirren they lost 3-2. The last time they played Partick Thistle they lost 3-1. When they last played Kilmarnock they drew 1-1. In fairness to them, they beat Ross County 2-1.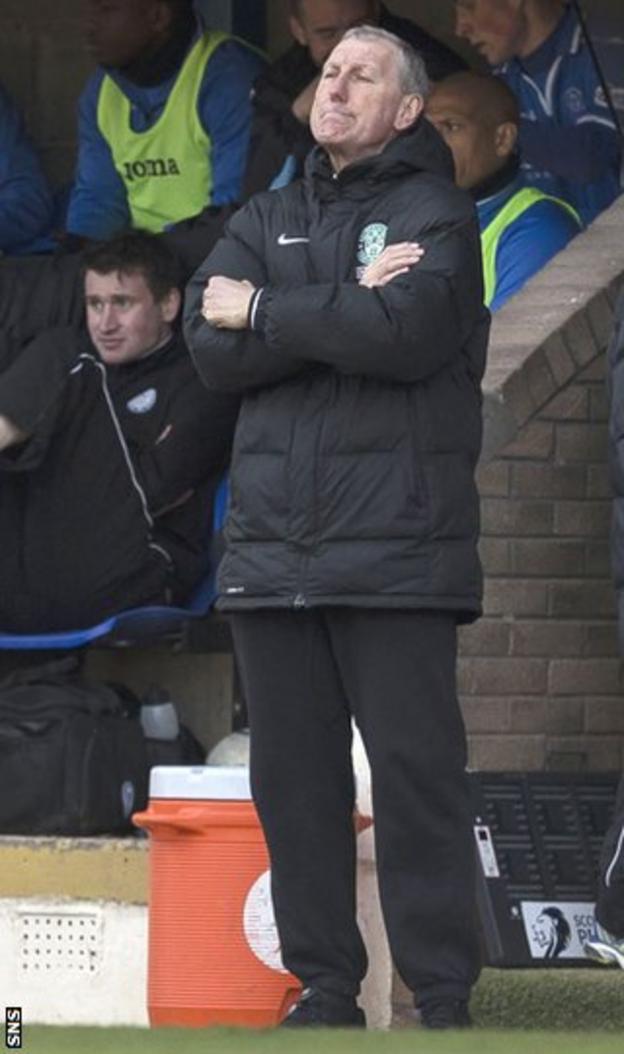 All of these teams have drastic weaknesses but, equally, they have all done something that Hibs have not done of late. The four of them have won a league match in March. At various times they have all shown signs of a competitive pulse. Hibs haven't won since mid-February.
In their last 11 games they have conceded three goals against Partick Thistle, Motherwell, Dundee United, St Mirren and Raith Rovers (in their exit from the Scottish Cup). They shipped four against Celtic. At the back they are like sitting ducks.
St Mirren are in the play-off spot right now. They are seven points behind Hibs, but with a game in hand. Too much work to do, you suspect. If Hibs win just one game then they are surely clear of any torment, but where is that win coming from? There is no sign of it.
Tynecastle, maybe? For all Hearts' travails, the one thing you cannot accuse them of is a lack of fight. Nobody would be too surprised if spirit was enough to see them through in the Edinburgh derby.
Presuming Hibs can gather themselves sufficiently to avoid an end-of-season horror show, they have to face another battle. Butcher does, at any rate.
If Butcher cannot make profound changes to his team for next season, then Hibs will face the same old nonsense. At a conservative estimate, they need six new first-team players.
Unless chairman Rod Petrie has been hiding behind his sofa all this time (and you wouldn't discount it), then he will know what needs to be done. The question is whether he will give Butcher the funds to do it.
With Petrie, every penny is a prisoner. He has created a fantastic infrastructure but the simple truth is that he has a team that's not worthy of it. Successive Hibs sides have resembled squatters in a mansion.
The question for Petrie is not whether he accepts that things are feeble at Easter Road (it's surely undeniable), but rather what does he intend to do about it.
The Butcher Bounce was hardly air-borne before the club came panting and wheezing back to where Fenlon left it. Butcher showed in Inverness that he can build a team. Petrie and his board now need to show that they intend to help him do it again.