Swansea boss Garry Monk unhappy at timing of final whistle
Last updated on .From the section Football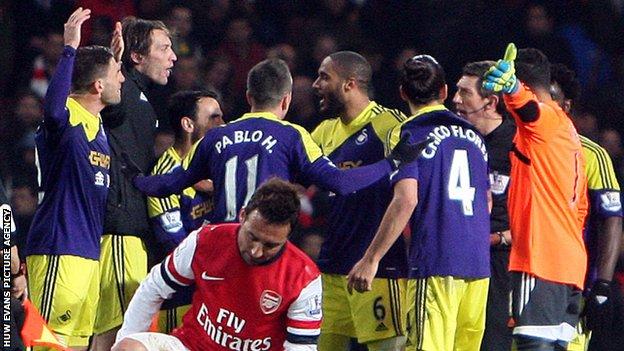 Garry Monk was unhappy with referee Lee Probert despite Swansea City gaining a valuable point in a 2-2 draw with Arsenal at Emirates Stadium.
The Swans were denied a chance to win the game as Probert blew for full-time with Jonathan De Guzman bearing down on goal.
Head coach Monk said the decision was "bizarre" and claimed the referee ended the game 30 seconds early.
"I think it's hard. I think it's a poor decision," Monk told BBC Radio Wales.
The official was surrounded by angry Swansea players after blowing the final whistle.
However, the draw was still a positive result for Swansea, who opened a five-point gap over the teams in the Premier League relegation zone.
Monk, who was appointed coach "for the foreseeable future" following the dismissal of manager Michael Laudrup in January, nonetheless felt his team were denied a clear scoring opportunity.
"We were told [there were] four minutes [of added time] at the end of the game," he said.
"We scored in that period so they added another minute - so it should be five minutes - and they re-set the clock.
"So to blow up on four minutes 30-something seconds, 30 seconds short of what should be five minutes minimum [and] when we're through on goal, it's hard to take.
"It's bizarre to be honest, and I don't think I've ever seen that."
The incident was reminiscent of a controversial moment in the 1978 World Cup, when Welsh referee Clive Thomas blew the final whistle just as Zico scored what would have been a winning goal for Brazil in a group match against Sweden.
Swansea led for much of the match thanks to striker Wilfried Bony's 20th goal of the season.
But two goals in 66 seconds changed the mood as Lukas Podolski poked in and Olivier Giroud scored from close range.
The game had entered added time when the ball ricocheted into the Arsenal goal off Mathieu Flamini following a burst into the box by Leon Britton.
And the Swans were threatening an unlikely win as De Guzman ran on to Pablo Hernandez's pass and had a clear run on goal before Probert called time.
"I think it's a poor decision - he's blown up early," added Monk.
"We're through on goal, it's a clear goal-scoring opportunity and it gets blown up.
"Very, very, very strange."
However, Monk was full of praise for his team, who have won only once in the League since he took over.
"I thought to a man we were magnificent apart from a two minute period where we just lost a little bit of concentration," said Monk.
"There have been a number of games when we've put that sort of effort in and haven't come away with anything, so it was important we got a result.
"Now every point is vital and we need to scrap and fight and show that same attitude for every game now."
De Guzman was also baffled with the timing of the final whistle but says he is happy with the point.
"I was through pretty much one on one with the keeper," he said.
"I thought I was through and he just blew his whistle and it was game over.
"I guess he just decided the game was finished at that point. Very unlucky.
"But we are pretty happy with the result."