Man Utd fans losing patience after Man City embarrassment

By Phil McNulty
Chief football writer
Last updated on .From the section Football1151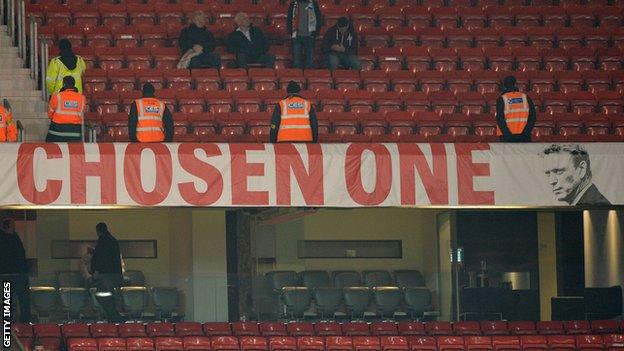 The sight of a line of Old Trafford stewards guarding "The Chosen One" banner draped over the Stretford End since the appointment of David Moyes as Manchester United manager suggested the mood has started to sour.
And the sound of loud and mutinous voices - not too many but enough to be noticed - raised against Moyes and even in the direction of Sir Alex Ferguson, the man who did the choosing, in the directors' box as Manchester City inflicted the latest embarrassment on the fallen Premier League champions carried even greater significance.
Liverpool winning 3-0 at Old Trafford less than a fortnight ago was arguably a greater shock to the system than City winning by the same margin on Tuesday as the Merseysiders have barely appeared in United's rear view mirror in title terms in recent years.
But there was a difference. United's supporters stayed in place in a noisy show of defiance as Liverpool fans taunted them, but here thousands left long before Yaya Toure added to Edin Dzeko's two goals to deliver a scoreline that still failed to accurately reflect City's overwhelming superiority.
For the second home league game in succession, Old Trafford echoed to the elation of opposing fans as the chasm in class once more highlighted the alarming decline that has engulfed United since Ferguson went into retirement.
It was not a vintage United squad last season but they still won the title by 11 points. There is more than Ferguson's departure behind the current position, which sees them trailing 18 points behind leaders Chelsea and struggling to claim the questionable consolation of a place in the Europa League.
Put simply, United were a mess against City.
They looked and played like a team in disarray, led by a manager struggling horribly to get to grips with his task. Old Trafford's inhabitants have shown great patience but there were signs that the latest demonstration of their current reduced circumstances was starting to eat away at this precious commodity.
The fact that United were fortunate to survive the first 43 seconds before Edin Dzeko put City ahead illustrated that any fear factor at Old Trafford has disappeared.
Manuel Pellegrini's City side opened with the confidence and menace of a team knowing they were so much better than their opponents and determined to prove it very quickly.
United's position on the future of Moyes has remained steadfast but his performance will surely come under greater scrutiny as the season moves to its close - and defeats on the scale of those against Liverpool and now City pointed up the size of the rebuilding job.
It will take huge investment to even start to move United back towards City. It will be a considerable show of faith in Moyes if he is handed the cash to do it and it would be a huge embarrassment to Ferguson and the rest of United's hierarchy should they even think about a change of manager 12 months after awarding him a six-year deal.
A run through the numbers makes depressing reading for United. This is the first time they have lost 10 matches in a season in the Premier League era. It was also their sixth home league defeat.
Few connected with United emerged with much credit here. Goalkeeper David De Gea was blameless and Wayne Rooney tireless, although his shifts in position - tackling at left-back one minute then challenging at inside-right the next - perhaps reflected Moyes's tactical bankruptcy.

Tom Cleverley is hardly Old Trafford's favourite son but deserved some sympathy, thrust into his first start for a month. Occasionally drifting out to the right flank when he was not being overrun by Yaya Toure, it was a mercy when he was removed at half-time.
Moyes was also guilty of muddled thinking when he did not play a winger, namely Antonio Valencia, to attack the left-side of City's defence, which has been vulnerable this season. It smacked of the caution that has often been levelled at Moyes as his default position.
Ferguson's teams were renowned for the pace and power that accompanied their quality. Not on this night. No pace. No power. Little quality. Pedestrian and predictable came in their place.
In Moyes's defence, there was undoubtedly work to be done post-Ferguson but he cannot escape responsibility - and he made no attempt to in his post-match briefing - for a season that is making a mockery of United's standing as defending champions.
Moyes praised the performance of Juan Mata but it was a judgement at odds with plenty of other observers, while Marouane Fellaini is emerging as the symbol for the ills of United under the Scot.
Fellaini looks a poor fit and hugely over-priced at £27.5m. There were ironic cheers from many United fans when he was replaced by Valencia after 66 minutes.
He was very lucky to even be around to hear the irony as it is a mystery how he escaped a red card in the first half. In a moment of utter senselessness, Fellaini took time out from actually being in possession to deliberately thrust his arm into the face of Pablo Zabaleta, felling the City defender.
It was unprompted, unprovoked and appeared to be premeditated. It summed up Fellaini's performance. Quite what referee Michael Oliver saw that persuaded him to give the hapless Belgian only a yellow card takes some understanding.
United must now summon up a way of closing the gap that has opened up, not just with City but with Liverpool and Chelsea. Moyes insists there is no quick fix - one assessment that he got spot on.
A complete new defence must be assembled this summer and Rio Ferdinand's struggles to cope with Dzeko were another example of why the credits must now surely be rolling on his outstanding United career. Time has caught up with Ferdinand. There is no shame in that but he was exposed by City's movement and creation.
Moyes will hope to be the manager entrusted with this mammoth undertaking but he looked as badly beaten as his players in the closing moments, sitting disconsolately in Old Trafford's elevated manager's seat while assistant Steve Round gave out orders on the touchline.
United still have the Champions League quarter-final to clutch at, but who can make a serious case to suggest they will offer holders and new Bundesliga champions Bayern Munich any trouble?
Moyes had hoped wins against Olympiakos and West Ham United might offer some late-season optimism, but once again United were found wanting against the quality opposition they used to relish facing.
It was enough to provoke the first signs of public revolt and acrimony among some United fans. The position inside Old Trafford's boardroom may not have changed, but the deterioration this season has been alarming and Moyes simply cannot afford too many more nights like this.