Man City's Zabaleta 'lucky' to escape injury after Welbeck tackle
Last updated on .From the section Football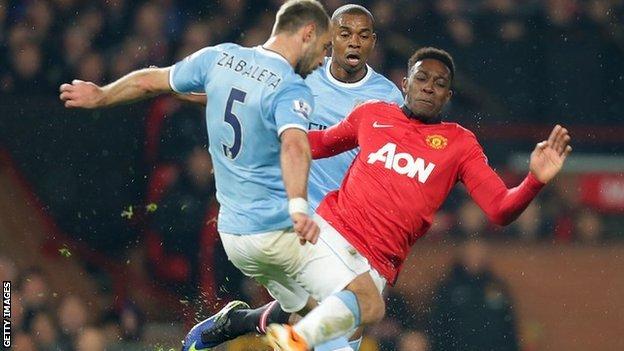 Manchester City defender Pablo Zabaleta says he was fortunate to come away from Tuesday night's Manchester derby at Old Trafford without serious injury.
The full-back claimed that a first-half tackle on him by Danny Welbeck, for which the Manchester United forward was booked, was "very dangerous".
"I was very lucky because I could have broken my leg," said the Argentine.
Zabaleta also claimed Marouane Fellaini was lucky to receive only a yellow card for an elbow on him.
"They were two bad challenges," the 29-year-old said after City's 3-0 victory.
"I saw them on TV in the dressing room. The first one was a very dangerous tackle by Welbeck,
"The second one was an elbow by Fellaini. It was also a red card but at the end of the day we should respect the referee's decision."