Matt Bloomfield column: Referees and players must communicate
By Matt Bloomfield
Wycombe Wanderers midfielder
Last updated on .From the section Football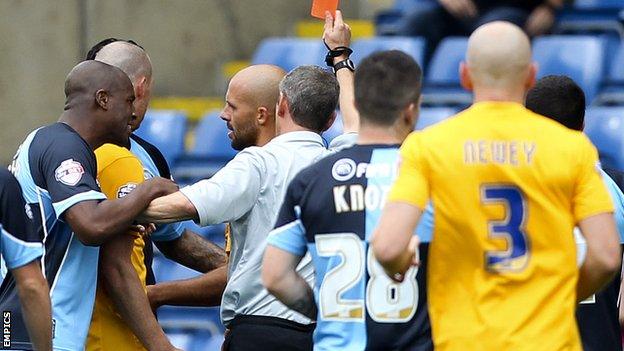 I have recently had a spell as captain at Wycombe and the extra interaction with the referees got me thinking about the player-referee relationship.
I have always found it easier to understand what I perceive to be a poor decision from a referee if he is willing to talk about and explain his decision.
The respect needs to go both ways, and when it does I find the working relationship is always better.
The referees I have found harder to work with are the ones who aren't willing to engage with players and put the shutters up.
I know everyone will have their own style and they are concentrating on doing their job, but we are all there to co-operate as fully and as professionally as possible.
Referees are there to do an honest job. Like players, they don't make mistakes on purpose.
The exchanging of team sheets an hour before kick-off in the referee's room is a good way for captains and managers to meet the officials, and they can introduce themselves and point out what they expect of the players.
There will always be players who seek to gain an unfair advantage by diving or with other gamesmanship. But what I have seen is that the short-term gain is often far outweighed by the long-term loss.
A player can quickly gain a reputation and not get many subsequent decisions in their favour. I have heard from a referee before when appealing for a free-kick or penalty: "No Matt, you know what he's like, always looking for free-kicks."
Professional football is a pressurised environment and I'm sure I have got on a referee's nerves from time to time, getting my point of view across or not agreeing with a decision they have made.
The best comeback I have had from a ref is when we weren't given a penalty one day and, as I was running back asking why it wasn't given, the ref said: "Come on Matt, don't make me book you. I read your column and I really enjoy it." The perfect way to defuse the situation.
The recent example of fair play by Aaron Hunt of Werder Bremen, who told the referee he dived for a penalty to get the decision reversed, is obviously very rare.
The fact that they were 2-0 ahead at the time may have helped him in his decision, but this kind of behaviour will enhance his and football's reputation.
The conduct of footballers gets compared to rugby players a lot. The system they have in rugby where the captain gets called over and decisions are explained without argument is obviously an example that football needs to follow.
However, I would say that in football a lot of the interaction between player and referee happens when the ball is in play, so there isn't always time to stop and explain everything.
During my 10 years of playing League football, the standard of refereeing has definitely improved. So too has the respect from players towards referees.
There is still room for improvement and it is essential that we strive for improvement. Without referees there is no football.