Bayern Munich: How Champions League winners got even better
By Patrick Strasser
German football writer
Last updated on .From the section European Football
It is a measure of current expectations at Bayern Munich that defeat by Manchester United in their Champions League quarter-final would ruin their whole season - even if they add the German Cup to a Bundesliga title won in record time.
"We all know United are not having the best year in the Premier League," he said, after a 3-1 victory at Hertha Berlin wrapped up the league title with seven games still to play.
"But I am sure they want to beat us. We will prepare as well as possible."
While getting past United should not be the hardest task, Real Madrid, Barcelona, Paris St-Germain and Chelsea potentially lie in wait later on in the competition.
In the Champions League era, no team has successfully defended the crown and, in his debut season at the club, former Barcelona boss Guardiola knows the real test is still to come.
So far, however, he has not put a foot wrong.
In 2012-13, the final season of veteran German coach Jupp Heynckes's third spell in charge, Bayern won the Bundesliga title with six games still to play, the fastest it had ever been secured. At his first attempt, Guardiola led his team to the finish line one match sooner.
His side wrapped things up on 25 March (last year they had to wait until 6 April) without having lost a single match: 25 wins, two draws.
In fact, Bayern are now unbeaten in a record 53 Bundesliga games.
Furthermore, they have scored at least two goals in their last 20 Bundesliga matches - 19 of them wins, a run only ended by Saturday's 3-3 draw with Hoffenheim.
The record is, on the face of it, out of this world. But perhaps, for Bayern, it is also only what was expected.
That is why the man feted for his 14 trophies with Barcelona between 2008 and 2012 still faced such a daunting challenge in his new role. He was taking over at a club that had just won an unprecedented treble and handed the task of making them even better.
How has Guardiola pulled it off? While it is obviously far from the whole story, language has had a lot to do with it.
It is worth remembering that Bayern's first experiment with a foreign manager, back in the 1990s, went badly wrong.
Giovanni Trapattoni arrived in the summer of 1994 and departed after one season, without a trophy and, worse, a laughing stock.
The Italian returned in 1996 and won the title, but after his first spell fans and media mocked his very special way of mixing German and Italian, and his most famous speech is frequently quoted to this day. People made money by printing it on t-shirts and cups, souvenirs that listed the mistakes he made.
Nobody laughs when Pep Guardiola talks.
Nobody makes fun of his German. They wait for explanations, not for mistakes. They want to learn about the way he leads his teams, they don't want him to learn better German. People listen to him.
Guardiola was fully accepted in Munich from day one.
The Bayern job is considered the toughest in Germany, requiring the manager to deal with giants of German football such as chairman Karl-Heinz Rummenigge, honorary president Franz Beckenbauer, and former president Uli Hoeness, recently sentenced to three and a half years in jail for tax evasion.
Guardiola impressed immediately by holding a news conference in German - not all of it, to be fair, and nor was it perfect German.
But during six months spent with his family in New York he had hired a private tutor - a Dortmund fan, as it turned out - to make him competent in a language that was as unfamiliar to him as the Bundesliga, his new club and the players in his charge.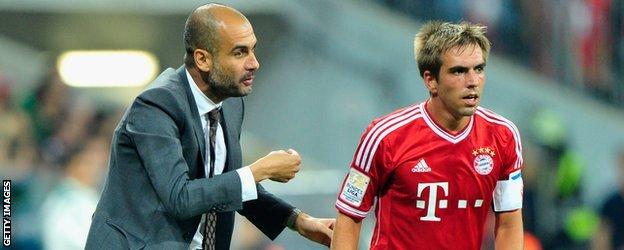 Nor was language the only alien aspect. There were also cultural differences to overcome in the transition from Spain to Germany. There are the open training sessions, for example - at least one a week, something totally new to Guardiola. And then there are the friendlies against supporters' teams for charity. But he adapted well.
He also, for all his accomplishments elsewhere, struck a gratifyingly humble note.
"The club brought this team together. And the coach is good when he has good players. I'm honoured to be the coach," he said.
That was the easiest aspect, he has always reminded people - dealing with the players. "They are all world-class players," Guardiola pointed out, using his favourite attributes "super-super" or "top-top-top" when speaking about them.
Even so, the squad he inherited when he first took training in June 2013 was not quite top-top-top enough for him.
He was not too concerned to see Mario Gomez leave for Fiorentina and Luiz Gustavo go to Wolfsburg, neither having been regulars during the treble season. But one key player was missing. "I want Thiago Alcantara from Barcelona," he told the bosses and the media. "Thiago or nothing!"
(They have not appeared on t-shirts yet, but those three words turned out to be the most quoted thing Guardiola has said all season.)
What Guardiola changed, more than the personnel, was the system. His preferred style is more attacking than Heynckes's and therefore more risky - 4-1-4-1, with one defensive midfield player instead of last season's two in a 4-2-3-1 formation.
It was also the coach's idea to make his captain Philipp Lahm pivotal in that system, moving the 30-year-old German national skipper from a right-back role to the centre of midfield.
Like Heynckes, Guardiola wants his luxury players to have time to rest. And, as at Barcelona, he recognises that an abundance of talent comes with risks attached - or, as the Catalan has put it, "diversity can be destructive".
"Everyone wants to play, but I can only put 11 players on the pitch at any one time," he said.
"The ones left on the substitutes' bench are most likely to be the ones who aren't happy with my decision. And then there's the pressure from the press and the fans to select particular players."
But Guardiola's stars accept being on the bench - even if they only get to know the line-up two hours before kick-off, generally in the bus heading to the stadium.
"Pep has unbelievable ideas," says vice-captain Bastian Schweinsteiger, a man with seven Bundesliga titles to his name. "As a coach, he knows very well what his players feel and think about."
The upshot of Guardiola's tactical acumen and man-management has been a Bayern side who have looked even more dominant and classy than last year, breaking all Bundesliga records.
And what does Pep say? "We can do even better."
He works hard every day, is one of the first on the training ground, and only leaves his office late in the evening.
It is an attitude that has not escaped the attention of those club greats. "I have never seen such a brilliant and hard-working coach," said Rummenigge, whose association with the club goes back to 1974.
Guardiola says he has already learned that "at Bayern you have to win all the time - everybody wants more, more, more all the time".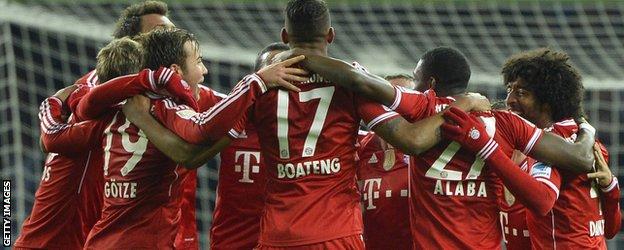 He began to provide it immediately, beating Jose Mourinho's Chelsea in the Uefa Super Cup in August, and added a second trophy, the Fifa Club World Cup, in December. With the league title added and a German Cup semi-final against Kaiserslautern next month, the 43-year-old could end his first season in Bavaria with five prizes - if he can win the Champions League.
The pressure on Guardiola even extends to his domestic life - as, apparently, does his good humour about it.
"My wife Cristina sometimes complains about my game tactics," he says. "She tells me I should start with the same team that won last time.
"Trying to explain my principle of squad rotation to her is harder than telling Arjen Robben, 'You'll be sitting on the bench today'."