Wales chief Jonathan Ford backs new international tournament
Last updated on .From the section Football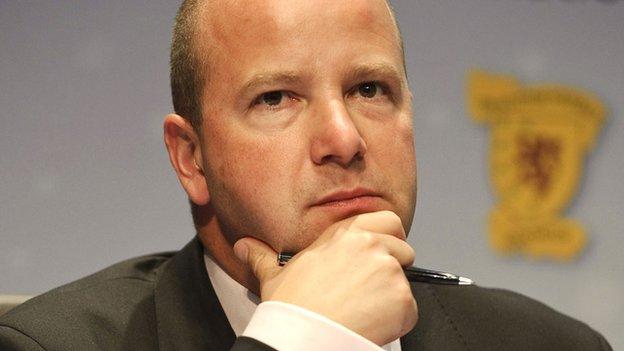 Football Association of Wales chief Jonathan Ford is backing the new "League of Nations" competition designed to replace most international friendlies.
Final details of the format have not been decided, but Ford said the FAW wanted discussions to continue.
"I'm sure we'll be in favour of carrying the conversation forward," he said.
The new tournament, which will feature promotion and relegation between four divisions, will also provide countries with an extra chance to qualify for the 2020 European Championships.
Each division would be sub-divided into four smaller pools, with pool winners in the top division contesting a 'final four' competition the following summer, played as semi-finals and a final at neutral venues.
"Friendlies won't be friendlies any more," said Ford.
"There'll be no more friendly matches they'll be competitive matches and there will be more of a structured league format.
"And that league format won't just be operating in isolation there will be qualifying opportunities open as a result of where you're placed within that league."
On current world rankings, England would be in the top group while Scotland, Wales and Northern Ireland - ranked 31, 34 and 39 respectively by Uefa - could find themselves playing each other in the third of four divisions using the current national team coefficient.
While matches will be played on dates reserved for friendlies, there will still be flexibility for smaller countries to arrange high-profile fixtures with bigger European teams and for nations to play friendlies against national sides from outside Europe.
Ford added that the vote at Uefa's congress in Kazakhstan on Thursday was only to to carry on with talks over the plan, but that a yes vote probably signalled an end to most friendly internationals after 2018.