Sport England cuts FA funding by £1.6m after grassroots decline

By David Bond
BBC sports editor
Last updated on .From the section Football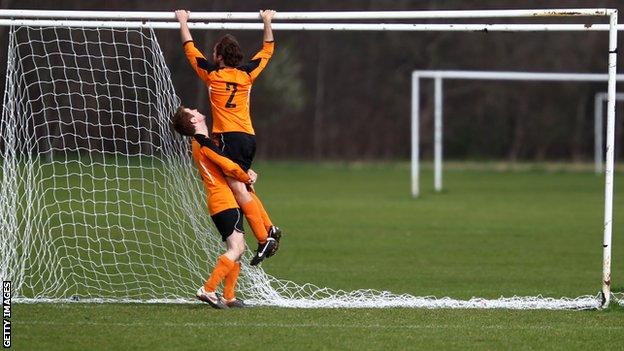 The Football Association is to lose £1.6m of public funding for the amateur game in England after failing to reverse a sharp decline in the number of people regularly playing the sport.
Sport England, the body responsible for distributing public money to increase sports participation, says the reduction is a clear message that football needs to change its grassroots strategy.
The national game is one of six sports that have had funding reduced by Sport England.
FA general secretary Alex Horne called the reduction "disappointing" and said a number of factors, including poor weather and increased costs were presenting difficulties to clubs and players.
"It's naturally disappointing to learn that Sport England is cutting its funding to football especially at a time when the challenges faced by the grassroots of our game are so acute," said Horne.
"It is especially disappointing as Sport England agreed and began funding our joint plan only in August last year, and today's decision is based on measurement undertaken just two months later in October. It will not however deter the FA's continued extensive financial commitment to the grassroots of the game, of which this is only one element.
"Grassroots football is played on facilities almost exclusively owned and maintained by local authorities.
"A combination of severe weather, increased pitch hire costs and reduced maintenance spend has made this a very difficult time for clubs seeking to complete their fixtures and for individual players to value and enjoy regular football.
"This challenge - to ensure a much better provision of quality affordable grassroots facilities - is one we are determined to address."
Golf is the second biggest loser, having £500,000 of its overall funding package withdrawn, but there are also reductions in England for netball, hockey, mountaineering and rowing.
But it is football that has been hit the worst after the latest figures, published last December, showed there had been a significant drop in the number of people playing the game for at least 30 minutes every week.
In total, there are 1.84 million people playing football regularly according to Sport England figures - a fall of 100,000 since April last year.
More than two million people were regularly playing the sport back in 2006, suggesting a long-term shift in people's behaviour and attitudes.
Sport England warned the FA last year that it could lose up to 20% of its £30m overall public funding package for the four-year period 2013-17 if it failed to halt the fall in numbers.
While the cut of £1.6m is small in comparison with the FA's overall turnover - which was more than £300m in 2012 - Sport England says it represents 10% of the remaining money specifically allocated to the FA for increasing participation. In total, the FA distributes £43m a year to grassroots projects.
Sport England's chief executive Jennie Price told the BBC: "I think this is a serious message to the FA. We've invested, over four years, £30m of public money in the FA so they have a real responsibility to spend it wisely and deliver results.
"Taking £1.6m away is a real sign they need to do something different and I think they will take it seriously."
As part of its review process, Sport England not only considered participation numbers but also each sport's plans to try to increase interest at grassroots level.
That is why other sports that have experienced a decline in participation - such as cricket, rugby union and badminton - have not had any funding removed this year.
The Lawn Tennis Association, subject to intense scrutiny over its failure to translate Andy Murray's Wimbledon win into greater numbers of people playing regularly, had a £500,000 cut in 2012 and is having £10m of its funding withheld by Sport England until the agency is convinced there are plans in place to stop the slide.
While a funding cut may not come as a huge surprise to the FA, it is nevertheless an embarrassing blow to a governing body which has identified growing the game's grassroots as one of its key roles.
But Sport England says the FA needs to follow the lead of other sports such as cricket, which have adapted the traditional form of the game to try to reach out to more people.
The news comes on the same day that the FA announced its involvement in an initiative with British Cycling called Kick Start Your Ride, which is aimed at increasing the participation of women in both football and cycling.
Grassroots funding in Scotland, Wales and Northern Ireland is governed by three different agencies - Sport Scotland, Sport Wales and Sport Northern Ireland.