Celtic boss Neil Lennon hails 'breathtaking' title-winners
Last updated on .From the section Football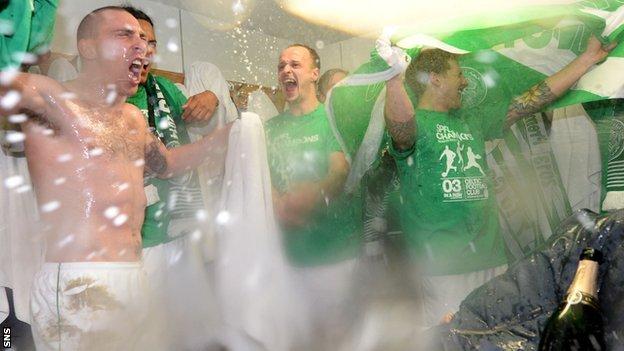 Neil Lennon hailed his Celtic side's title-winning 5-1 defeat of Partick Thistle as a "simply breathtaking" way to emphasise their Scottish dominance.
Celtic secured their 45th Scottish title with seven games to spare.
"It was a fantastic night for the club, a fantastic performance, a fantastic support," Lennon told BBC Scotland.
"Now we are really stamping our authority on the game in Scotland and want to take it further. We want to take it into Europe."
It is Celtic's third championship in a row, but the Glasgow side were knocked out of the two domestic cup competitions.
"There's room for improvement obviously - there are other competitions we want to look at and strive forward in," said Lennon.
"But it is in our DNA as a club to win championships and, since I've been involved in the club, that's nine in 14 years.
"It was our priority and we wanted to improve on last year. This is unquestionably the best league campaign I've had as a manager.
"We are the title favourites every season, but we've been emphatic this year."
It is the earliest the title has been secured since Rangers won on 16 March in season 1928-29.
Lennon was not only proud of having only lost once in 30 league games so far but also with his side's style of football, goals tally and clean-sheet record.
"We've got a very demanding support and aim to please. Certainly from the turn of the year, we have played a style of football that augurs well for the future," he said.
Celtic were unable to have a planned lap of honour at Firhill Stadium after a pitch invasion by some Celtic fans.
Lennon was not too concerned, saying they would make up for it at home to Ross County on Saturday. That was echoed by captain Scott Brown.
"We were going to do a lap of honour, but I think it's just the stewards that are left now," said the midfielder. "We're still having fun.
"We knew we had the players to do it. The first-half performance wasn't the best, but we came out guns blazing in the second half and Partick Thistle couldn't deal with us."
Scotland defender Charlie Mulgrew was disappointed not to be able to share his joy with the visiting support.
"It was a great result and a great way to end the season, but it would be nice for some fans to be here," he said.
"Sometimes you get carried away in the moment and the fans are obviously happy. These things happen."