Celtic: How Scottish Premiership champions have had to up game

By Tom English
BBC Scotland
Last updated on .From the section Football731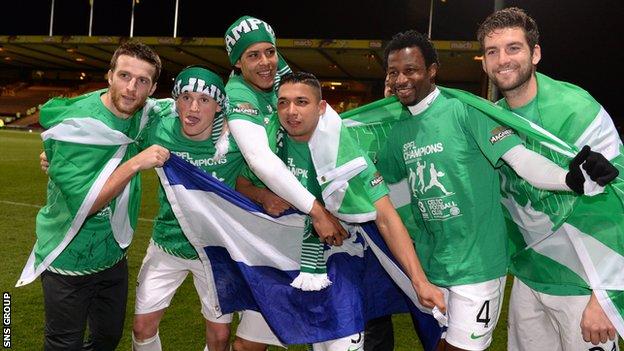 Any anxiety Celtic might have felt at having their celebration punctured by a Jag from Partick Thistle eased early at Firhill.
They didn't win it where they wanted, but they won it how they wanted.
Stokes, the seasoned campaigner, calmed the nerves with the first. Liam Henderson scored the second and brought the feel-good factor that comes with the rise of a young player nurtured in the Celtic Park nursery.
Stefan Johansen added the third and offered further evidence that his signing was an astute piece of business by Lennon.
Then Stokes again and finally Kris Commons, the goal machine who has done something that few at Celtic Park thought possible - a midfielder who has scored goals in a similar flow as their principal striker of last season, the departed Gary Hooper.
This was a typical experience for Celtic on the road to the championship. Overpowering and ruthless. Explosive at times.
In the league, Lennon's team have been strong and reliable and, on occasion, excellent. You can point out the myriad traumas in their Champions League campaign, you can flag up the embarrassment of their League Cup exit to Morton and remind them of the hurt inflicted on them by Aberdeen in the Scottish Cup.
But in the Premiership, they have ruled.
Just one loss. More points already than they had in all of last season. The player of the year in Commons. The signing of the season in Virgil van Dijk. Fraser Forster's record-busting resistance in goal.
This Celtic campaign has been better than the last one, which is an achievement given that the last one featured more than £20m worth of talent that has subsequently been sold.
And it's almost certainly going to prove better than the one that began this treble, achieved in the year of Rangers' meltdown.
Lennon's first championship was achieved with a points total of 93. With seven games left, Celtic are now sitting on 84 points. The century is not beyond them.
What is undeniable is that Celtic have upped their game. So, too, have the teams around them.
Aberdeen, Motherwell and Dundee United have made big, if not, gargantuan strides. Aberdeen and United have already out-done their points totals from last season and Motherwell are odds-on favourites to do the same pretty quickly.
The progression on the field is obvious, but the statistical manifestation of it is interesting. Aberdeen have won 63% of their games in all competitions this season. That's up from 30% last season. You have to go back 21 years before the Dons won with such regularity.
United have won 53% of the time - up from 33%. It's been 27 years since the Tannadice side won with such consistency.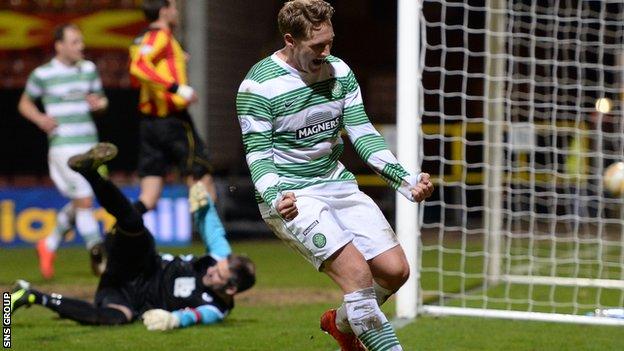 Motherwell, the same. Stuart McCall, one of Scotland's most impressive club managers, has moved things forward despite having had to rebuild his team in the summer. The Steelmen have won 54% of their games - a 14% rise. In 29 years the Fir Park side have not won as often as they have in this current season.
Of course these numbers will change. And there are nuances to all of this. There wasn't such a gulf between sides in Scotland a quarter of a century ago. The quality was distributed more evenly. Games were harder to win. Achieving consistency was more difficult when the country had multiple sides capable of big things.
The point is this, though: these clubs are winning more than they have done in many years and yet Celtic have still destroyed them in the league table.
Lennon's side are a seismic 26 points ahead of their nearest rival and have had to play some very good football to pull it off.
There are those who will argue until the cows come home - or, more the point, when Rangers come back - that Celtic's title is devalued because they haven't had to beat much. The truth is that they have beaten improving teams and they have beaten them more impressively than they have before.
The elephant in the room - or the Teddy Bear - is Rangers. The ecstatic Celtic supporters at Firhill - including those who invaded the pitch - would have little truck with the notion that their title means less because they haven't had to beat Rangers to seal it.
That's what they say in public at any rate. Defiance to a man and woman.
In private, you wonder. How could it mean the same? Would it mean the same to Barcelona if they won La Liga without Real Madrid in their slipstream? In any championship in the world where a historic rivalry exists between two behemoths, it has to matter if one of them is missing from battle.
The moment of victory has to feel different, the sense of fulfilment not what it might have been had you trampled your greatest rival underfoot.
Rangers will return, but for all the hubris we have heard from Dave King, the would-be redeemer of Ibrox, Celtic should be in an even stronger position then than they are now by the time the League One champions reappear in the top tier.
They'll certainly have another title. They may have extra Champions League millions and whatever riches they get in due course for their marketable assets like Forster and Van Dijk. They are so far ahead of Rangers at the moment that they can't even see them in the rear-view mirror.
This was a rousing victory that sealed a strong campaign. Celtic forever pine for foreign shores, for the English Premier League or some kind of European league. A modest little ground in a small corner of Glasgow was good enough, though. Paradise of sorts.