2015 African Under-17 Championship qualifiers
Last updated on .From the section Football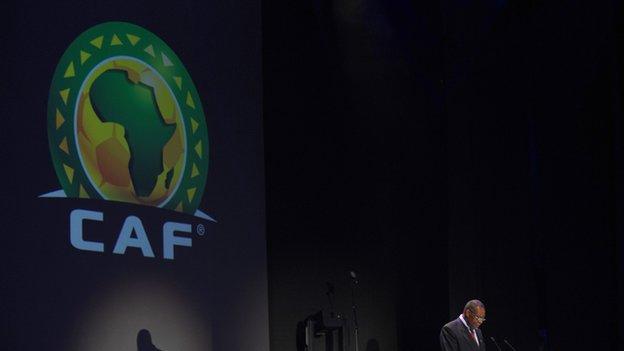 Fixtures and results for the qualifying campaign for the 2015 African Under-17 Championship finals in Niger.
The four semi-finalists from the African championship qualify to represent the continent at the 2015 Under-17 World Cup in Chile.
Holders: Ivory Coast
Qualifiers: Niger, Nigeria, Guinea, Cameroon, Ivory Coast, Zambia, Mali, South Africa.
Third Round:
NB: Overall winners qualify for the finals alongside hosts Niger.
12-14/09/2014:

Gabon

1-2

Nigeria

27/09/2014:

Nigeria

5-0

Gabon

Nigeria go through 7-1 on aggregate
12-14/09/2014:

Guinea

1-0

Togo

26-28/09/2014:

Togo

0-3

Guinea

Guinea go through 4-0 on aggregate
12-14/09/2014:

Cameroon

1-2

Ghana

26-28/09/2014:

Ghana

4-3

Cameroon

Cameroon go through after Ghana disqualified for using an overage player
12-14/09/2014:

Angola

1-1

Ivory Coast

26-28/09/2014:

Ivory Coast

3-0

Angola

Ivory Coast go through 4-1 on aggregate
12-14/09/2014:

Zambia

2-0

Uganda

26-28/09/2014:

Uganda

1-2

Zambia

Zambia go through 4-1 on aggregate
12-14/09/2014:

Mali

2-0

Tunisia

26-28/09/2014:

Tunisia

1-3

Mali

Mali go through 5-1 on aggregate
12-14/09/2014:

South Africa

2-1

Egypt

26-28/09/2014:

Egypt

2-2

South Africa

South Africa go through 4-3 on aggregate
Second Round:
26-27/07/2014:

DR Congo

0-1

Nigeria

01-03/08/2014:

Nigeria

4-0

DR Congo

Nigeria win 5-0 on aggregate
20/07/2014:

Ethiopia

0-0

Gabon

01-03/08/2014:

Gabon

3-0

Ethiopia

Gabon win 3-0 on aggregate
20/07/2014:

Togo

0-0

Senegal

01-03/08/2014:

Senegal

1-1

Togo

1-1 on aggregate Togo win on the away goals rule
20/07/2014:

Guinea

1-0

Morocco

01-03/08/2014:

Morocco

1-2

Guinea

Guinea win 3-1 on aggregate
18-20/07/2014:

South Sudan

OFF

Ghana

01-03/08/2014:

Ghana

OFF

South Sudan

Ghana progress after South Sudan withdrawal
19/07/2014:

Cameroon

2-0

Burkina Faso

01-03/08/2014:

Burkina Faso

0-0

Cameroon

Cameroon win 2-0 on aggregate
20/07/2014:

Libya

0-4

Ivory Coast

01-03/08/2014:

Ivory Coast

c-c

Libya

Ivory Coast progress after Libya withdrawal
19/07/2014:

Mozambique

2-1

Angola

01-03/08/2014:

Angola

2-0

Mozambique

Angola win 3-2 on aggregate
19/07/2014:

Uganda

4-0

Rwanda

01-03/08/2014:

Rwanda

2-3

Uganda

Uganda win with a 7-2 aggregate win
20/07/2014:

Zambia

1-0

Botswana

01-03/08/2014:

Botswana

0-5

Zambia

Zambia win 6-0 on aggregate
18-20/07/2014:

Sierra Leone

OFF

Tunisia

01-03/08/2014:

Tunisia

OFF

Sierra Leone

Tunisia progress after Sierra Leone withdrawal
19/07/2014:

Benin

1-0

Mali

01-03/08/2014:

Mali

0-0

Benin

Mali progress after Benin disqualified for fielding overage players
20/07/2014:

Egypt

1-0

Congo

01-03/08/2014:

Congo

0-1

Egypt

Egypt win 2-0 on aggregate
18/07/2014:

Tanzania

0-0

South Africa

01-03/08/2014:

South Africa

4-0

Tanzania

South Africa win with a 4-0 aggregate win
First Round:
Byes: Angola, Benin, Botswana, Burkina Faso, Congo, Ivory Coast, Ethiopia, Gabon, Ghana, Mali, Morocco, Nigeria, Rwanda, Senegal, South Africa, Tanzania, Tunisia, Zambia
13-15/06/2014:

Burundi

v

DR Congo

27-29/06/2014:

DR Congo

v

Burundi

DR Congo qualify following the withdrawal of Burundi
13-15/06/2014:

Guinea Bissau

v

Togo

27-29/06/2014:

Togo

v

Guinea Bissau

Togo qualify following the withdrawal of Guinea Bissau
13-15/06/2014:

The Gambia

v

Guinea

27-29/06/2014:

Guinea

v

The Gambia

Guinea qualify following the suspension of The Gambia from all Caf competitions
13-15/06/2014:

Kenya

v

South Sudan

27-29/06/2014:

South Sudan

v

Kenya

South Sudan qualify following the withdrawal of Kenya
13-15/06/2014:

Cameroon

v

Central African Republic

27-29/06/2014:

Central African Republic

v

Cameroon

Cameroon qualify following the withdrawal of Central African Republic
13-15/06/2014:

Libya

v

Mauritania

27-29/06/2014:

Mauritania

v

Libya

Libya qualify following the withdrawal of Mauritania
13-15/06/2014:

Mozambique

1-1

Namibia

27-29/06/2014:

Namibia

0-1

Mozambique

Mozambique qualify with a 2-1 aggregate win
13-15/06/2014:

Seychelles

1-2

Uganda

27-29/06/2014:

Uganda

3-0

Seychelles

Uganda qualify with a 5-1 aggregate win
13-15/06/2014:

Liberia

v

Sierra Leone

27-29/06/2014:

Sierra Leone

v

Liberia

Sierra Leone qualify following the withdrawal of Liberia
13-15/06/2014:

Egypt

4-2

Sudan

27-29/06/2014:

Sudan

1-3

Egypt

Egypt qualify with a 7-3 aggregate win