Cost of playing and poor pitches 'put off amateur footballers'
Last updated on .From the section Football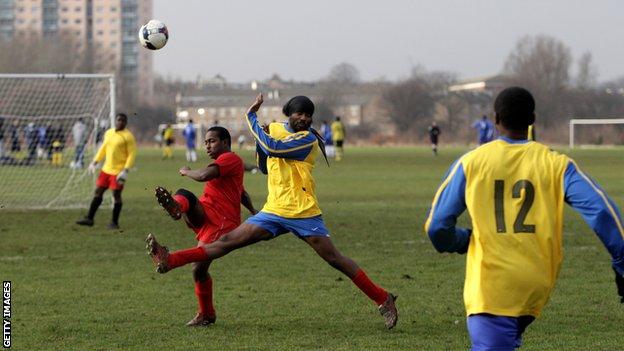 The cost of playing and poor facilities are the main factors behind the sharp decline in people playing amateur football, say grassroots campaigners.
Sport England is calling for a change in the FA's grassroots strategy.
Youth coach Kenny Saunders said: "More and more kids will walk away from grassroots football."
Saunders, who runs boys' club Woolton FC in Liverpool, has set up a Save Grassroots Football campaign aiming to convince the Premier League to contribute 7.5% of its television revenue towards grassroots facilities.
He is behind an e-petition, backed by Bolton North East MP David Crausby, which needs 100,000 signatures to be debated in Parliament.
"Over the weekend, I was watching games on other pitches and three teams - under-12s, 13s, 14s - only had nine players on the pitch; not even the full quota and no substitutes," he said.
"This is in Liverpool, which is a hotbed with two Premier League clubs.
"Even before the end of this season in junior grassroots football, hundreds and hundreds of kids and teams will end up walking away, because councils are increasing pitch fees. This is because from central government to councils, budgets are being cut."
Ted Gore, registration secretary of the Hackney & Leyton Football League - which plays its games on the iconic Hackney Marshes, also believes cost is a big issue.
"We have already lost six or seven teams this season," he said. "The teams can't get the money in from their players to pay for the pitches.
"And some of the teams are getting fed up with the quality of the pitches. We have had a concert on them with lorries driving over them. They are not in a good state."
The league has five divisions and traditionally boasts 55 teams, but Gore said only two teams have already registered for next season.
The cost of hiring a pitch on Hackney Marshes is £50, with a further £35 required to pay the referee. Teams also have to pay a one-fee of £55 to be affiliated to the FA and another £70 for insurance.
Gordon Chant posted his frustration at trying to run an adult's Sunday League team on BBC Radio 5 live's Facebook page.
He wrote: "One, it is expensive. It costs £45 for a pitch, £27 for a referee and £50 for hire of a six-a-side pitch for training. Plus footballs, kit, first aid etc. Secondly, it is a problem getting players. The lack of commitment from younger players is frustrating. Too many won't play if it's too cold, wet, or they are hungover, but that's more of a social problem."
In total, there are 1.84 million people playing football regularly according to Sport England figures - a fall of 100,000 since April last year.
FA general secretary Alex Horne admitted increased costs and poor pitches are behind the decline in participants, and suggested bad weather was also a factor.
He said: "A combination of severe weather, increased pitch hire costs and reduced maintenance spend has made this a very difficult time for clubs seeking to complete their fixtures, and for individual players to value and enjoy regular football.
"This challenge - to ensure a much better provision of quality affordable grassroots facilities - is one we are determined to address."
Pete Ackerley, the FA's senior national game development manager, previously told BBC Radio 5 live's Victoria Derbyshire programme that amateur pitches are in an "abhorrent state" and called for more artificial pitches.
The Local Government Association, which represents local authorities, countered: "The football industry is booming and, by contrast, local government is trying to protect vital services like caring for the elderly, fixing the roads and waste collection following a 40% cut in government funding over this Parliament.
"If the FA suggests that Astroturf pitches should be available for local use then councils would gratefully accept assistance from the huge profits made from football each year."
The FA did launch a three-year plan in February 2013 to improve facilities. The strategy aims to improve 3,000 natural pitches across England, build 100 artificial pitches and develop 150 all-weather surfaces.
Changing rooms and toilets on a range of selected sites are also to be refurbished. The plan is part of the £30m grassroots funding the FA is providing over the next three years.
And a caller to 5 live's Your Call suggested there are already programmes in place to increase the number of young players.
Mike Nolan, a coach in Bedford, said: "When you get kids out there, they are motivated. There are a lot of initiatives that will have a long-term benefit but they haven't been in place long enough to increase participation.
"Football is not just about the more able players. Now there are things like the FA Tesco skills programme, the Football Mesh Up and Just Play programmes that are bringing people in.
"These schemes are increasing the player base, but it will take longer to kick in than one year."
Sport England will reinvest the £1.6m it is withholding from the FA in a grassroots 'City of Football' aimed at increasing participation.
A special edition of BBC Late Kick Off on Monday, 31 March will focus on grassroots football.
The programme airs on BBC One every Monday at 23:20BST until 5 May. Watch previous broadcasts on the BBC iPlayer.