Manchester Utd: 'Chosen One' banner threatens to write off Moyes
Last updated on .From the section Football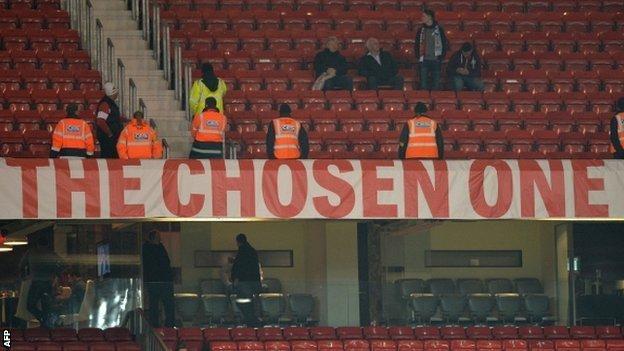 If six ravens are not kept at the Tower of London, legend has it the entire United Kingdom will fall.
If a single banner hits the floor at Old Trafford in the coming weeks, could David Moyes's Manchester United empire crumble?
Such is the significance attached to legends and symbols that, for Moyes, the future of the "Chosen One" banner draped across the Stretford End at Old Trafford could play a crucial role in his future at the club. His chances of addressing the growing issues facing the reigning Premier League champions may hinge on whether that banner stays or goes.
Fans' group Stretford End Flags (SEF) raised the money for it in the summer, in recognition of Moyes's status as the man personally selected by Sir Alex Ferguson to fill the first managerial vacancy at United for more than 26 years.
As Moyes lurches from one damaging result to another, the banner has become a parody of itself and some supporters have called for its removal.
"The Chosen One - by Liverpool", goes one replica. "David Moyes is a football genius", another proclaims sarcastically, held up earlier this month by the visiting fans during a 3-0 Old Trafford loss to a Liverpool side on their way to taking United's Champions League place and, maybe, their status as champions.
Even amongst United fans there is no consensus on Moyes's future, if internet chat rooms, social media and general conversation are any guide.
"Hindsight is a wonderful thing," says Andrew Kilduff, of SEF. "Do we regret making the banner? Absolutely not. David Moyes was chosen by the man who brought unprecedented success to Manchester United for 26 years.
"It has created banter, but that is what banners do. We had the clock that ticked around for each season Manchester City did not win a trophy. Liverpool had one that said something like 'come back when you have won 18 titles'.
"Maybe in hindsight we should have taken it down after that first home game against Chelsea, before such significance could be attached to it.
"But maybe in hindsight, David Moyes would not have got rid of all the old coaches. Maybe in hindsight, Sir Alex Ferguson would not have recommended him at all."
On Tuesday, Sir Bobby Charlton said Moyes is still the right man for the job, and that remains the word from other influential figures in the United hierarchy too.
Yet they are also monitoring supporter sentiment. And there is no more visual sign of it than that banner.
Some fans plead for patience and for Moyes to be afforded the time envisaged when he was given a six-year contract following his arrival from Everton in the summer.
A growing number want him out.

A request for donations towards the £840 cost of a light aircraft - intended to fly over Old Trafford ahead of Saturday's game against Aston Villa displaying an anti-Moyes message - was met almost instantly.
The "Wrong One: Moyes Out" banner could be towed over the stadium as the Scot and his team emerge from the tunnel.
"I can understand their feelings, but it is not the way I would do it," said Ian Stirling, vice chairman of the Manchester United Supporters' Trust.
"This is part of a bigger story about the appointment of David Moyes.
"The board laid down some criteria to Ferguson on choosing his successor and Moyes was one of the recommendations, but the owners should be taking responsibility for the appointment."
For now, the "Chosen One" banner remains, and will do so both for the visit of Villa and Tuesday's Champions League meeting with Bayern Munich.
Moyes is, of course, the central figure in discussions about Manchester United's fortunes, but Ferguson cannot escape the spotlight.
Debate did take place amongst United's powerbrokers about who would replace such a mighty figure. Club sponsors Aon even offered their expertise when it came to how the succession should be handled.
Ultimately, though, it came down to Ferguson. It was the 72-year-old who made the call, summoning Moyes to his house to give him the news he was to become Manchester United's next manager.
Moyes was Ferguson's call, his "Chosen One".
This process is being questioned. Supporters criticising Ferguson at Old Trafford this week blame him as much as they do Moyes.
Now, it appears, a banner stands as judge and jury.
"We are going to do something but we will play it by ear a little bit," said Kilduff.
"It is possible we could have a poll that will stay open for a week, which takes it past the Bayern Munich game, or maybe we will do it after the match has taken place.
"Whatever we do, we will make it clear that if the banner comes down, it will be seen as the fans turning against David Moyes. That is how it will be interpreted by the media and the fans have to understand that."
Simple logistics mean the banner will be there when Pep Guardiola brings his newly crowned Bundesliga champions to Old Trafford. The top and bottom of it is that it is tethered to the Stretford End. Realistically, only United themselves can organise its removal once SEF asks for it to be done.
Would they really sanction such an obvious slight on their own manager ahead of such a key game? Not a chance.
"The banner has become a symbol. But there are symbols everywhere at Manchester United," said Kilduff.
"The Sir Alex Ferguson Stand. All the trophies, the statues. The ground is on Sir Matt Busby Way.
"I don't see that a banner adds any additional pressure. The banner is not picking the team or buying the players."