Wrexham players' response pleases new manager Kevin Wilkin
Last updated on .From the section Football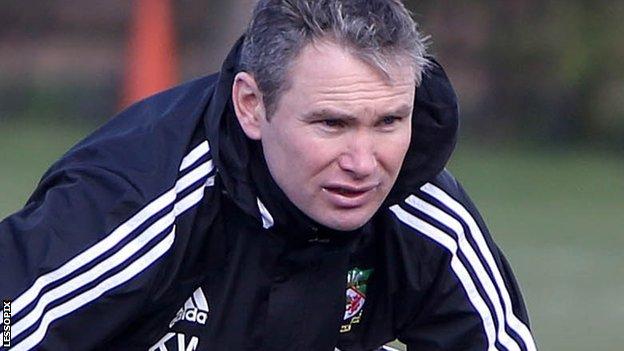 Kevin Wilkin has been pleased with the response of his Wrexham players during his first full week as manager.
Wilkin has had a full week with the squad ahead of Saturday's Conference Premier trip to Woking.
"I've enjoyed understanding and getting closer to the players and learning what they're all about," Wilkin said.
"They've shown a great application to what I've asked them to do and if we continue in that vein there's every reason to be optimistic and look forward to the future.
"If we can raise our fitness levels a degree or two that will serve us well going into the closing weeks."
Wilkin has become a co-owner of the club along with 3,000 supporters after signing up to the Wrexham Supporters Trust.
The Trust completed a successful takeover of the club in December 2011 and Wilkin is delighted to become a co-owner.
"I'm happy to be a part of it," Wilkin said.
"I think there's some 3,000 people already signed up.
"It shows the strength in depth that there is there and the passion that there for the club.
"I'm buying into everything that the club wants to do and I want to try and take it forward.
"Whatever avenues it is that needs to be looked at to do that then I'm more than happy to work with it.
"Hopefully we can finish the season on a high and take that into the start of next season."
Wrexham have re-signed 18-year-old striker Bradley Reid on loan from Wolverhampton Wanderers until the end of the season.
Wilkin was hoping to add further players to the squad before the emergency loan window closed on Thursday although he accepted that was now unlikely.
"I've spoken to people about a couple of lads that I know there's interest from teams over and above the level that we're at," Wilkin added.
"Obviously the eagerness is, as is generally the case, is for any loanee to go out to the best level they can.
"It may be that those deals don't come through and something does happen late in the day.
"But I'm not holding my breath on it and I think the likelihood is it won't happen so we'll move forward with what we've got."