Swansea City: Garry Monk's future depends on League survival
Last updated on .From the section Football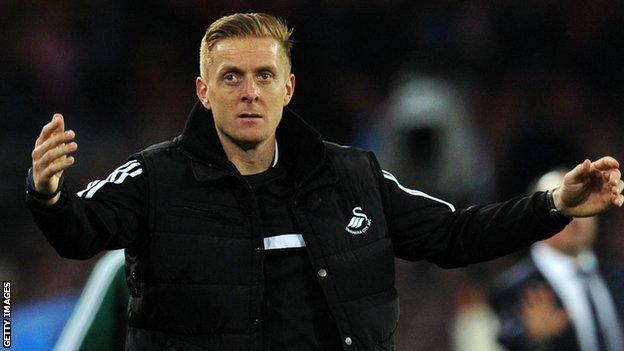 Garry Monk admits his future as head coach at Swansea City is likely to depend on whether they survive in the Premier League.
The Swans are 15th in the table, five points clear of the relegation places.
Monk took over from Michael Laudrup for "the foreseeable future" in January and said staying up would mean "probably everything" for his prospects.
"I'm not stupid, but honestly I'm not thinking about my own position," he said.
"I'm just trying to do what's right for the club and what's best for the players.
"I understand the values that the club have and the ethos that it works to and I'm one of those that wants to make sure those values stay at the forefront of the players' mind - and that's really what my job's about right now."
Swansea are winless in nine matches in all competitions, but their survival chances received a boost when they picked up a point in a 2-2 draw with Arsenal at the Emirates Stadium.
Norwich City are Swansea's next opponents at the Liberty Stadium on Saturday.
The Canaries are 13th in the table, two points ahead of Swansea in a tight relegation battle that has the bottom 11 clubs separated by 13 points.
And Monk says the team need to recapture the form they showed against the Gunners if they are to survive to play a fourth season in the top-flight.
"I thought it was a great team performance [against Arsenal] and we're going to need exactly that same sort of standard, if not better, for the remaining games of the season," added Monk.
Striker Wilfried Bony scored his 20th goal of the season in the draw at Arsenal, and Monk hopes the Ivorian's potency and the return of last-season's top-scorer Michu to the starting line up can inspire the team.
"Bony's been magnificent," said Monk.
"He's a good focal point up there and a platform for the team to try and play with an obviously he can occupy defenders and get himself goals.
"And Michu's back out there, he's fit and he's running about and he's enthusiastic and he's another one who can have an influence on the squad.
"The bigger characters you have in your team are important, the others see them doing that you know it pulls the other players with them."