On loan Wolves striker Bradley Reid targets Wrexham goals
Last updated on .From the section Football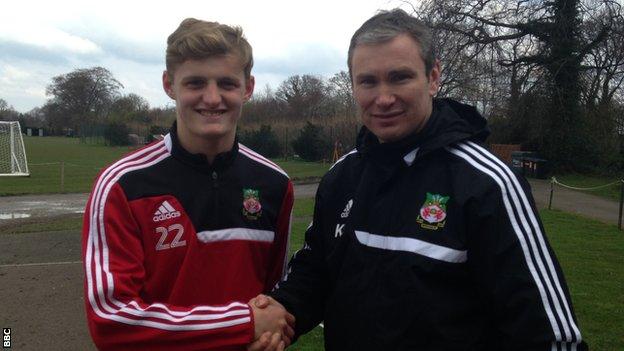 Striker Bradley Reid hopes his loan spell with Wrexham will benefit himself and the Conference Premier club.
"I feel that I have been doing well. I'm scoring goals but not having a run out at the moment in the first team," Reid said.
"Obviously I've come back here to get some first team games and hopefully first team goals as well."
Reid came through the ranks at Wrexham and made nine first team appearances before joining Wolves last September.
He has yet to make a first team appearance for Wolves but has been a regular scorer for their Under-18 and Under-21 sides this season.
"As soon as I left it was agreed in my contract that I come back for a month and I'm just glad it managed to get through and get sorted," Reid said of his return to Wrexham.
"The season hasn't gone as well for Wrexham as everybody had hoped.
"But hopefully If I can come back and start scoring some goals we can get as high up a position as possible."
Wrexham manager Kevin Wilkin says Wales Under-19 international Reid will benefit from his loan spell with the Racecourse club.
"He'll gain massively from playing first-team games," Wilkin said.
"Hopefully Bradley gets out there and plays some games, develops his game and takes himself forward.
"Coming here and showing what he's all about and the level of quality that he's got is important.
"I've had lots of players that have come to me and develop their game, stuck their neck out and had a go and it makes you man up very quickly.
"I know a couple of the chaps at Wolves so I will be speaking to them to try and get a bit more background on where Bradley's at and where I can help him develop his game.
"I know he's highly thought of here at Wrexham and I'm pleased to have the opportunity to work with him and hopefully get him out there, get some games and show what he's all about."