Swansea City: John Hartson backs Monk to be boss for the long-term
Last updated on .From the section Football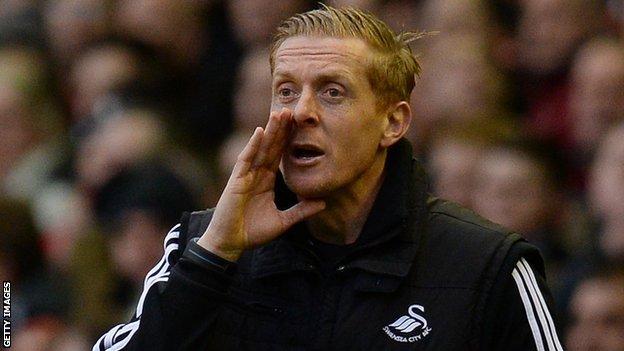 John Hartson believes Garry Monk should be made secure as Swansea City boss as long as he helps them avoid relegation from the Premier League this season.
Hartson told BBC Two's Sport Wales programme: "If Garry Monk can steer the club away from relegation, then... they should look for Garry to carry on."
Swansea lie five points above the relegation zone with seven games left.
Monk's side have not won in nine matches in all competitions, but their survival chances received a boost when they picked up a point in a 2-2 draw with Arsenal at the Emirates Stadium on Tuesday.
They host Norwich City on Saturday with the Canaries 13th in the table, two points ahead of Swansea.
This season has been one of the tightest relegation battles ever in the Premier League with the bottom 11 clubs separated by just 13 points.
However, Hartson believes the Swans can survive. The former Arsenal, West Ham United and Celtic star believes bringing in a well-known foreign manager can be a gamble.
He added: "I think one win in 10 doesn't bode well, doesn't look well.
"But they've got some opportunities to play teams in and around them between now and the end of the season.
"He will be judged on [whether] he can get the best out of the players; can he bring in the best players in Europe - has he got the contacts?
"But we won't know unless he gets the opportunity.
"If you go for a bigger name, going with experience, it doesn't always work.
"But I'm a believer in giving people a chance.
"Garry is part of Swansea City's history and he's spent over 10 years at the club.
"I think if somebody knows the club and has his heart in that club, I think that's vital.
"I think Garry Monk is ideal to take over the job, I really do.
"I think he knows the club. The fans, I think, are with him. They're singing his name - the fans want Garry Monk to get the job.
"And for the sake of bringing in a foreigner again - that, to me, is always a gamble."
Watch the John Hartson interview on Sport Wales on BBC Two Wales 1900 GMT, Friday 28 March.