Manchester United: Moyes plane banner protest explained
Last updated on .From the section Man Utd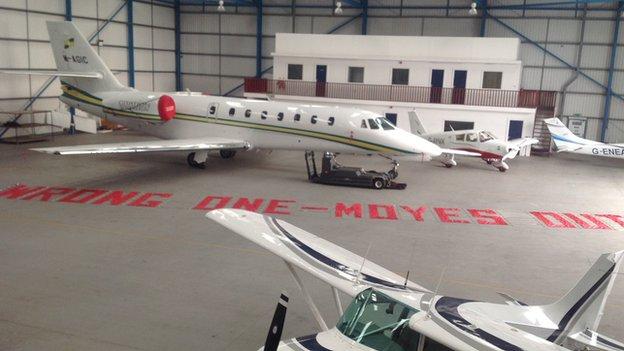 Disgruntled Manchester United fans say Saturday's controversial plane banner protest will prove manager David Moyes does not have the backing he claims.
A banner with the words: "Wrong One - Moyes Out" in seven-foot high red lettering will be flown above Old Trafford before the Aston Villa game.
"The rumblings of discontent have started in the stands," said protest organiser Wes Jones.
"We wanted to show that support isn't as 100% as Moyes would like to think."
The move has split opinion among supporters, some of whom feel the protest is heaping unnecessary humiliation on Moyes, who has endured a torrid debut campaign at Old Trafford.
The protest, which will take place before the 12.45 GMT kick-off, mocks the 'Chosen One' banner on the Stretford End at Old Trafford which refers to former manager Sir Alex Ferguson's role in Moyes' appointment as his successor.
For pilot Chris Mustow, who will be responsible for flying the light plane trailing the banner, it is just a bit of fun.
"I am not a football fan, so it doesn't bother me in that sense," he told BBC Sport.
"But of course I am aware of the situation.
"I just find it all quite amusing really. No-one is going to miss the message, that's for sure."
It has also been confirmed that a second plane has been booked to fly around the ground at the same time.
While the company involved in that venture is refusing to say who has arranged the flight, or what the second banner will say, it merely heightens an already surreal situation.
"I have heard of it and what they are saying about it, but this is a long journey," said Moyes of the 'Wrong One' protest in his Friday news conference.
"This is only the start of the journey. People are entitled to do that."
The latest developments underline the massive shift that has taken place at United following Ferguson's departure as manager last summer.
Vice-chairman of the Manchester United Supporters Trust Ian Stirling accepts the sentiments of the protest.
He told BBC Sport: "I can totally understand the feelings of the supporters that have got together to put this banner in place.
"It's a manifestation about how they feel about the seriousness of the problem. They feel passionately about the club and they see it as a way to display how they feel."
Professional Footballers' Association chief executive Gordon Taylor said he was not impressed by the supporters' plans.
"I don't think it's something you need to see or want to see," he told BBC Sport.
"Sometimes as supporters you can feel quite upset but sometimes you've also got to show a bit of class.
"Everybody can support a team when they're doing well - that's easy. But it's like life, the time you find out who your friends and supporters are is when things are going wrong.
"That is a real test of good supporters."