Leeds United's players agree to defer wages
Last updated on .From the section Football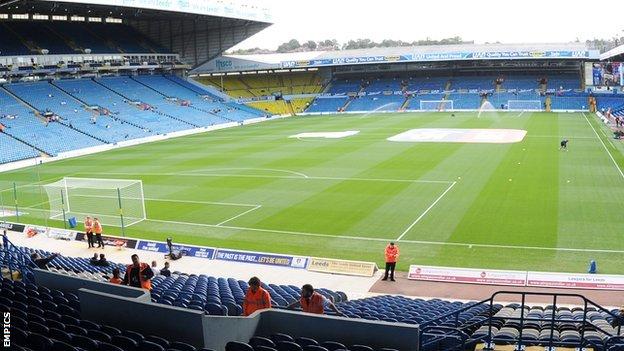 Leeds United's players have agreed to defer part of their wages for March, Professional Footballers' Association chief executive Gordon Taylor has told BBC Radio Leeds.
The players were due to receive their wages on Friday, but only the general members of staff were paid.
"Arrangements are in place with regards to payment and there is going to be some proportion of wages paid today and more next week," he said.
"The players are OK with it."
He added: "Leeds is a big club with a large fan-base and we have no reason to believe that things won't be sorted in the near future.
"I'm hoping that administration can be avoided."
On Monday, the Football League blocked Massimo Cellino's takeover of the club, although the Italian has since lodged an appeal against the decision.
Leeds owner GFH Capital believed that Cellino was contractually obliged to pay this month's wages regardless of the status of his takeover.
The 57-year-old, who has paid the last two wage bills, has invested over £6m in the club in the last two months while managing director David Haigh has put in £1.5m of his own money.
Haigh said earlier this month that there was "no chance" that the club could enter administration for a second time.
The Elland Road side are currently losing more than £1m a month.