Braintree Town motivated by Conference fixtures 'injustice'
Last updated on .From the section Braintree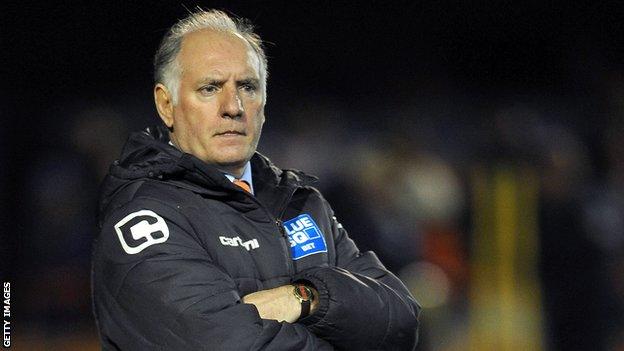 Braintree Town boss Alan Devonshire has said his side's play-off push in the Conference Premier is being motivated by a perceived injustice.
And over the next week they travel to Gateshead, Southport and Halifax.
"If we get into the play-offs, it will be an 'up yours' to the Conference. That is the motivation at the moment," 57-year-old Devonshire told BBC Essex.
"As I keep reiterating, no other club will be doing what we're doing next week.
"We've had a hard week. I've said to them 'whatever the Conference want to throw at us, let's have a go at it'."
Braintree's Amlin Stadium pitch was unable to cope with the weather over the winter, forcing the Essex side, who were unable to play a home league fixture between 28 December and 25 February, to reschedule a series of games.
Former West Ham midfielder Devonshire believes his team have had little support from the Conference, but the league insist the club should look at improving their drainage facilities.
Despite the pile-up of games, Braintree's part-time squad have this week beaten Aldershot, Welling and Nuneaton to move up to fifth in the table.
And they must travel a total of 1,374 miles by road for their next three matches.
"We'll do what we've been doing the last couple of weeks. We go again and look forward to Saturday now," said Devonshire.
"We can enjoy it now. We've got into fifth against all the odds.
"All credit to the players. We've stood firm against everything."