Newcastle United: My return will have positive impact - Pardew
Last updated on .From the section Newcastle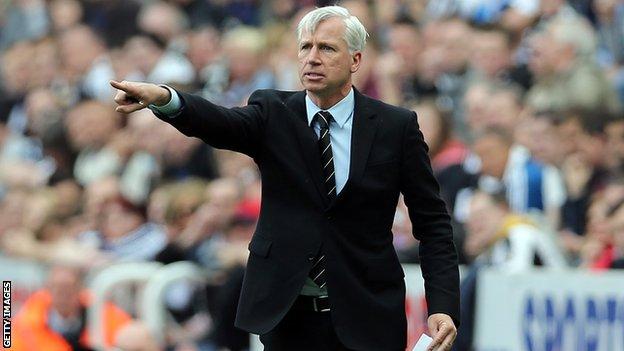 Newcastle manager Alan Pardew says his return to the dressing room can revive the Magpies' faltering season.
"If you take a personality out of the dressing room when you have a small team it's going to have an effect," Pardew told BBC Radio Newcastle.
"I'm looking forward to having some impact in there."
Newcastle, under assistant coach John Carver, have lost two of the three games Pardew has missed - at Fulham and, last Tuesday, at home to Everton.
On Saturday, Newcastle travel to one of his former clubs, Southampton, and while Pardew remains banned from the dug-out for a further four matches, he is now allowed back in the dressing room and stands.
"I've sat upstairs there before as manager of Southampton, but it's just good to be back in the dressing room," said Pardew.
"You have that relationship with the players that goes back - you signed contracts with them, or you have some personal issue with them, you have an attachment that no-one else can have.
"Put on top my personality - which we all know is a little bit of a winning mentality - and I want to make sure we want to win.
"We got beat the other night [by Everton] after a couple of errors but the bigger problem at the moment is scoring goals and we want to improve on that - albeit we have three really tough games coming up."
After Southampton, who lie one place and one point behind Newcastle in the Premier League, United face Manchester United at home before travelling to Stoke City.
"We've done better away from home against top teams, maybe because the set-up of the team against the better sides is more in line with the team coming on to us," Pardew said.
"When the emphasis is on us at home, especially without Yohan Cabaye, we've lacked that quality and having no Loic [Remy] and no Cabaye on the pitch takes away some of our flair."
Midfield playmaker Cabaye was sold to Paris St-Germain for £19m during the transfer window and striker Remy has missed the last three games through injury.
When Remy missed three fixtures through suspension in early February, the Magpies suffered three heavy defeats in a row - conceding 10 goals and failing to score.
"The bottom line is we know what we have to do during the summer - we have to bring in a bit more quality," said Pardew.
"I have a good record with strikers.
"We had Demba Ba, and we knew he was going to be a big loss, but we brought in Loic and if we don't manage to secure Loic we'll have to replace him."