Ian Holloway - Millwall can 'shut people up' with survival
Last updated on .From the section Football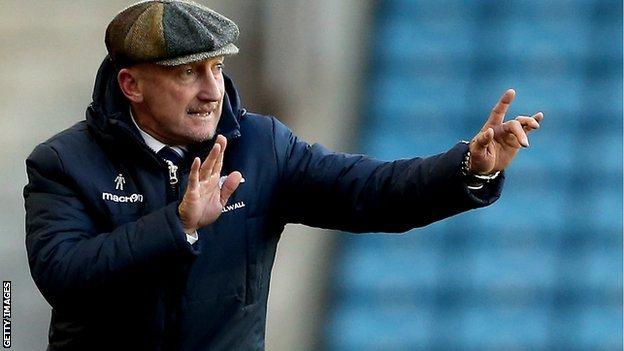 Millwall boss Ian Holloway says their slump to the bottom of the table has offered his players the chance to stun their critics into silence.
"Maybe that's what is needed, because people were getting tense," he said.
"The lads have to try to relax, and realise that it's the best opportunity we're ever going have to shut a lot of people up and come back from the dead."
The 51-year-old former Crystal Palace boss told BBC London 94.9: "The fight gets harder, but it still goes on.
"When the the going gets tough we have to get going - that is normally what I do, and that is normally what my teams do.
"Let's hope that it can kick in right now."
Millwall have won only one of their last 12 games, losing seven, and are bottom of the table below both Yeovil and Barnsley on goal difference alone.
And with 21st-placed Charlton's vastly superior goal difference, minus 18 compared to minus 32, Millwall are effectively four points from safety with eight games remaining.
Charlton also have three games in hand, while second-from-bottom Barnsley have played one game fewer.
However, as they prepare for Saturday's match against Blackburn, Holloway insists the Lions are not doomed to relegation to League One, despite admitting his side suffered a major setback at home against Birmingham in what he branded a "must-not-lose" match.
"It's horrible seeing the table now, and it's goal difference put us there," said Holloway.
"There is still a margin for error - I think 47 [points] might keep us up and 50 will definitely keep us up.
"We have got a chance to get 56 points if we win every single game.
"Now, you can say I'm a dreamer and is that possible when we have only won seven all all season?
"Who knows? But we are going to believe we can do it and die trying, it's as simple as that."