Edinburgh derby win would bring only light relief for Hearts or Hibs
By Richard Wilson
BBC Scotland
Last updated on .From the section Football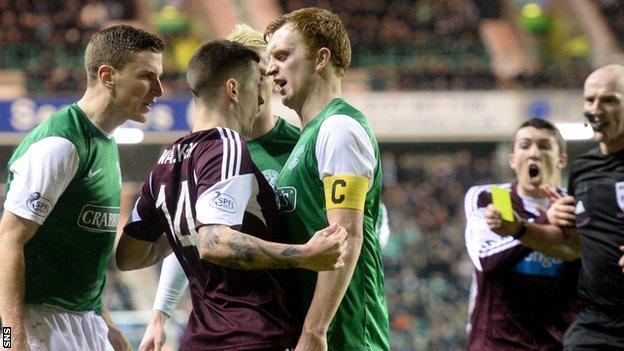 They are two clubs who share a city and a rivalry, but they are carrying their own individual agonies into the latest derby encounter.
Hearts face the most devastating outcome, since defeat by Hibernian at Tynecastle could confirm their relegation from the Scottish Premiership. There will be glee among the visiting fans if they can humiliate their neighbours, and settle some old scores, but it will feel short-lived.
There can be little triumphalism for Hibs when there remains an outside chance of them being dragged into the relegation play-offs if their own poor run of form continues.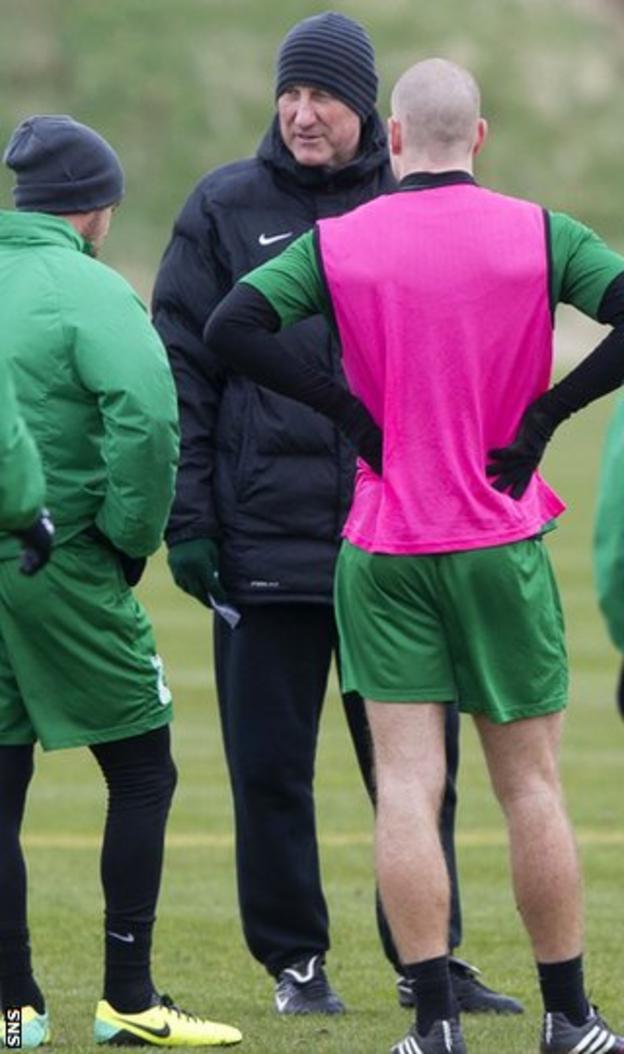 Tynecastle, with the intensity that can spill from its tight, steep stands, will reverberate to the chants and the mockery of a pivotal encounter. Should St Mirren earn a point from Saturday's trip to face Inverness Caledonian Thistle, Hearts must avoid defeat to postpone the confirmation of their relegation.
Even if they do, the derby will be poignant enough. It will feel urgent and raucous - and victory for either side will briefly quell the careworn mood of their fans.
One side, at least, can cling to the notion that their fate was inevitable, since there has been little prospect of Hearts overturning the 15-point penalty they received at the beginning of the season for the club being in administration.
Hibs had grander hopes for a campaign that began with Pat Fenlon being given one last opportunity to bring some consistency to their league form, before Terry Butcher was appointed as his successor in November to restore some substance to the Easter Road side.
The fans who cross Edinburgh in green and white on Sunday will relish the opportunity to inflict pain on their oldest rivals. Some of that will be instinctive but there are recent calamities to avenge, such as the 5-1 defeat by Hearts in the 2012 Scottish Cup final.
The prospect of relegation has hung over Hearts all season and it seems a callous act of fate that Hibs might be the team to ensure it.
"It's the fans who are reflecting more on the possibility of putting Hearts down," said Paul Kane, the former Hibs midfielder. "It's a derby, the players will want to win the game regardless, and they'll want to win it well.
"It's just circumstance and it has probably made the derby more enticing. There's an edge to it because Hibs might be able to put them down."
The egotism and hubris of the Vladimir Romanov reign has scarred the Tynecastle club and it is events in Lithuania that continue to concentrate the minds of the Hearts supporters. A meeting of creditors of UBIG, which holds a 49.47% stake in Heart of Midlothian Football Club plc, has been deferred to 7 April to allow time for the concerns of one creditor to be allayed.
So Hearts remain in a kind of limbo until their future is confirmed. That remains likely to involve the fans group Foundation of Hearts taking ownership, led by the funds and business acumen of Ann Budge, and many around the club are already looking ahead to next season in the Championship.
Current events can be disconcerting, but there is an element of psychological comfort in accepting the team's fate and focusing on an optimistic outcome.
"Supporters might not think this way because it's a derby match and they're desperate to win, but the issues in Lithuania are far more pressing for the long-term survival and well-being of the football club," said Gary Mackay, the former Hearts midfielder.
"We have massive issues off the pitch that have to be cleared so that next season we can go forward and start to be more positive.
"People will talk about the effort that will go into Sunday's game, but the effort that will go on after the situation is resolved in Lithuania will be 10-fold or 100-fold that, because Hearts will not prosper with an overnight fix, but only when the foundations are put in."
The 90 minutes might be briefly cathartic for the victorious side.
Hibs are on a wretched run of form, having won only one of their last 12 games, and a young, inexperienced Hearts team has proved itself capable of rising to the pressures and conflict of the derby occasion, winning at both Easter Road and Tynecastle earlier in the season.
What is at stake might yet provoke another spirited display.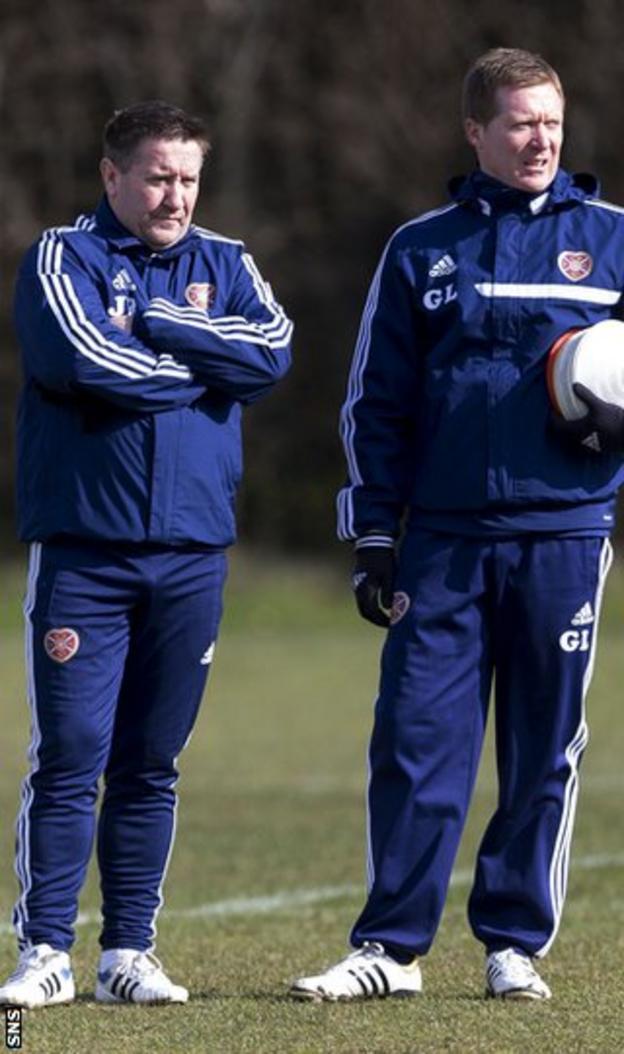 "If they channel the vibe that's coming across from the media then that could be the case," said Mackay. "But if they don't channel that will to win, adrenaline and fighting spirit properly [they could struggle].
"I didn't channel it well at times in derby matches, resulting in three sendings off. So I hope the players who take to the field in Hearts jerseys are better able to handle it than I was.
"And I hope the build-up doesn't allow it to become a powder keg game. Hibs supporters will be there to laugh and make Hearts the butt of their jokes and songs. Hearts supporters have to understand that. It's unfortunate."
Just as Hearts have their pride to defend, Hibs can be motivated by their own misfortunes.
Butcher has been unable to radically alter the form of the players he inherited from Fenlon and it will be the summer before he can affect the changes that will likely deliver the same kind of motivated and stoutly effective team that he built at Inverness.
"Finishing in the bottom six for four years in a row is not good enough," said Kane of his former club.
"If it was Hearts doing the same to Hibs, it would be their day, but it still doesn't take away from the fact that the two clubs are in the bottom half of the table and it's not good enough for Scottish football.
"If Hibs win on Sunday and then take Hearts to Easter Road and beat them there [when the sides meet after the league splits] then it's a quick fix, but when you analyse the whole season, it's not been great for either of the two sides."