Rangers: Ally McCoist defends summer signing spree
Last updated on .From the section Football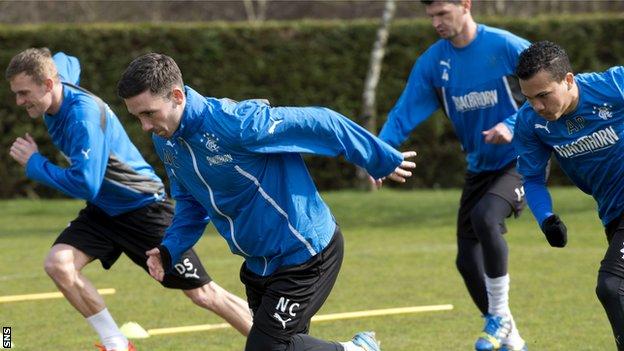 Rangers manager Ally McCoist has defended himself against chairman David Somers' criticism of the decision to bring in nine players last summer.
But McCoist said the influx was necessary to ensure they won League One while competing in the three domestic cup competitions this season.
"I'm led to believe the wages came down from the previous year," he stressed.
McCoist's squad won the third tier with nine games to spare, face Raith Rovers in next week's Ramsdens Cup final and will take on Premiership side Dundee United in the last four of the Scottish Cup.
However, Somers said that having the second highest wage bill in Scottish football while playing in the third tier could not be sustained by the club's revenue.
When asked if he agreed with Somers' assessment of the summer recruits, the manager said: "I don't know, I don't do the accounts, I don't do the finances.
"We felt we needed to bring a lot of players in to win the league, to get to the final of the Ramsdens, to get to the semi-final of the Scottish Cup. And we did that."
McCoist's plans for next season have been delayed while chief executive Graham Wallace carries out a review of the club's finances that is expected to be completed by the middle of next month.
The manager is still unclear if he will be allowed to sanction more new arrivals.
"I'm not sure," said the former Scotland striker. "We brought players in last year and that is evident.
"We have won the league, we're in the final of the Ramsdens Cup and semis of the Scottish. I don't think we would have achieved that if we had not brought them in.
"In an ideal world, we have got to keep moving forward, progressing, and we are certainly looking to make changes to the squad if we can.
"Will we sign another nine? No.
"But Graham and I are in regular contact to discuss the obvious need for scouting and development, player recruitment, sport analysis, sports science. We are in constant dialogue to move the football department forward."
McCoist insisted he was not panicking about Rangers' continued money worries.
"Until Graham tells me they are going to affect my plans for next season, there is no use me worrying about them," he said.
McCoist refused to criticise the Union of Fans, which has called for fans to withhold season ticket money until receiving assurances about the club's future, despite Somers saying it caused "material uncertainty" over Rangers' ability to continue as a going concern.
"The supporters have done the right thing and supported the club for well over 140 years and that won't change," added the manager.