Hearts: UBIG delay adds to uncertainty at Tynecastle

By Brian McLauchlin
BBC Scotland
Last updated on .From the section Football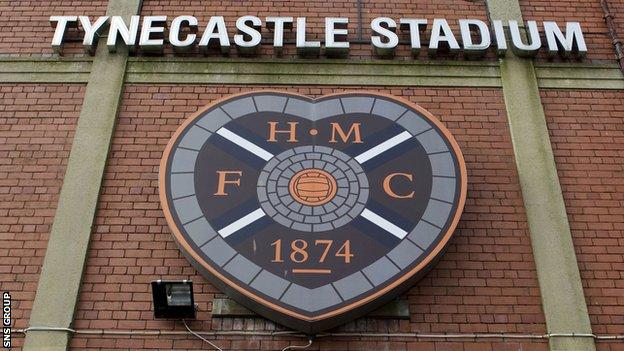 A meeting that could take Hearts a big step closer to exiting administration has been rescheduled for 7 April.
Creditors of UBIG, the failed Lithuania-based company with a 50% shareholding in the club, were due to gather this month.
And it was hoped they would ratify an agreement to transfer UBIG's stake in the Tynecastle club to fans.
A further delay would cause serious problems as Hearts only have enough money to trade until the end of April.
Even if agreement is reached, a 20-day period has to subside before a deal can be concluded.
The Foundation of Hearts and its financial backers are offering about £2.5m for the club, with the majority going to Ukio Bankas, which has a 28.79% stake in the club but also holds a charge on Tynecastle Stadium.
Creditors of Ukio were expected to meet on Friday.
For the purpose of negotiations, Ukio's holding has been collated with UBIG's, and Ukio representatives have previously served notice to Hearts administrator, BDO, that they agree with a draft proposal to transfer the combined stake.
But BBC Scotland has learned that one major creditor, Sauliu Bank, is unhappy with the money being offered for shares and the delay is to allow further talks to take place between the relevant legal teams.
And the delays have prompted Lithuania's UK ambassador David Hunt to say he will do "anything possible" to help speed up the process.
Hearts, who are edging closer to relegation from the Scottish Premiership, entered administration on 19 June with debts close to £30m and started this season with a 15-point deduction.
UBIG, which was controlled by former Hearts owner Vladimir Romanov, had its assets frozen in April 2013 after declaring insolvency and is now in the hands of liquidators, while Ukio collapsed more than a year ago.