Motherwell delay contract talks amid budget uncertainty
Last updated on .From the section Motherwell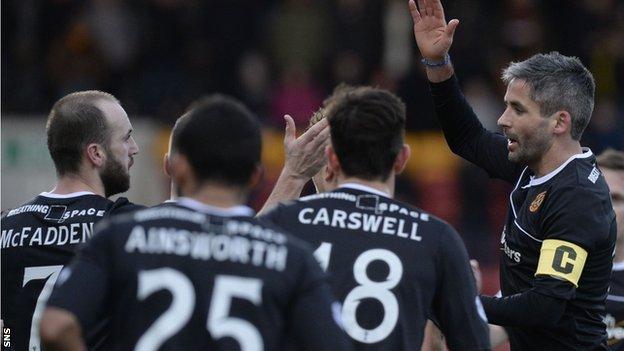 Motherwell have delayed offers to their out-of-contract players until the club has a better idea of their Scottish Premiership prize money.
But boss Stuart McCall insists he will not leave it as late as last summer.
"I will explain to the boys that there will be nothing happening in the next week," he said.
"But we won't be leaving it until the end of the season like we did last time. Is that a gamble? Well, the lads whose deals are up know the position."
Early exits in the Scottish Cup and League Cup have limited Motherwell's budget, but they are now chasing a second-place finish in the league table.
McCall had hoped to have already begun talks with forward James McFadden, captain Keith Lasley, defenders Stevie Hammell, Stephen McManus, Shaun Hutchinson, Fraser Kerr and Craig Reid, midfielder Lionel Ainsworth and goalkeeper Lee Hollis.
But those will be delayed following a meeting this week between the manager and chief executive Leeann Dempster.
"I had a brief meeting with Leeann this week, mainly to discuss the young players who are out of contract," said McCall.
"But we will discuss the other lads later, mainly because the size of the budget we will have depends on where we finish in the league.
"It won't make a massive difference though. The higher up we finish, the more money the club will get and slightly larger budget we will have."
Motherwell sit third in the table, a point behind Aberdeen ahead of Saturday's visit by Kilmarnock to Fir Park.
McCall has told those players still waiting for a deal that a victory against Allan Johnston's men will help boost the cash pot he has got to work with.
"We'd like to give the lads the best offer we can," he said. "So there's a carrot in it for them. If we can finish higher up then there might be a few more quid in it for them."
McCall had already admitted that he expects to be unable to match Hutchinson's wage demands.
However, he recalled that he persuaded Lasley and Hammell to agree new contracts two years ago after plying them with drink on a trip to Magalluf.
"The likes of Las and Hammy, we had to take them to Magalluf to nail them down and get them signed," he said. "That was well after the season had finished.
"I'm now just waiting to decide where we are off to now for the contract talks.
"If I have to be dragged off to some place in Spain then so be it."