Man Utd: David Moyes says Sir Alex Ferguson would struggle
Last updated on .From the section Man Utd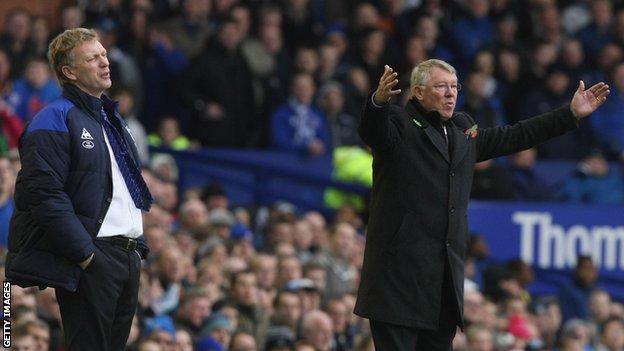 Manchester United manager David Moyes says predecessor Sir Alex Ferguson would have struggled this season.
The defending champions are seventh in the Premier League, 26 points worse off than at the same stage under Ferguson last year.
Some supporters have organised for an anti-Moyes banner to be flown over Old Trafford before Saturday's home game against Aston Villa.
"If Sir Alex was here it would be difficult for him as well," said Moyes.
"It could have been the case no matter what this season. But it has been so un-Man United, which is why we have to look to continue a policy of building, improving, getting better."
Ferguson retired at the end of last season after United won the Premier League by 11 points. He won 38 trophies, including 13 league titles, during his 26-year reign and played a key role in Moyes' appointment.
Moyes, 50, gained an impressive reputation at Everton despite not winning a trophy in 11 years.
However, he has been heavily criticised for United's poor form this season, and both he and Ferguson - now a director and ambassador for the club - were abused by some supporters following the 3-0 home defeat by Manchester City on Tuesday.
Moyes said after the game that he took responsibility for United's decline, and insisted on Friday that he has the support of the majority of fans.
He highlighted the number of players approaching the end of their career as evidence that even Ferguson - the most successful manager in the history of British football - would have struggled to improve United's form.
Midfielder Michael Carrick and defenders Patrice Evra and Nemanja Vidic are 32, centre-back Rio Ferdinand is 35 and 40-year-old Ryan Giggs is in his 24th season at the club, now as a player-coach.
Moyes said: "People are aware there is a squad that is ageing, so I think it would have been a tough season for whoever was in charge of Manchester United this year."
A banner with the words "Wrong One - Moyes Out" in seven-foot high red lettering will be flown above Old Trafford before United face Villa.
Protest organiser Wes Jones said: "We wanted to show that support isn't as 100% as Moyes would like to think."