League of Nations positive for Scotland, says Stewart Regan
Last updated on .From the section Football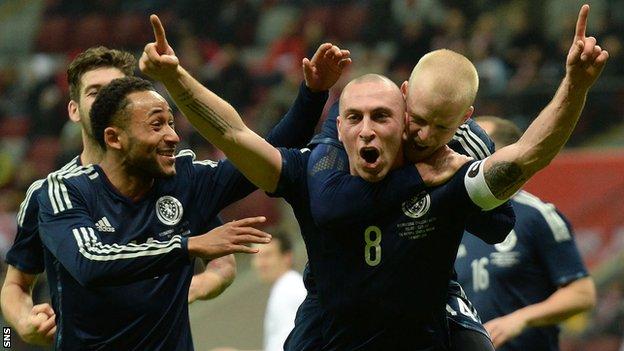 Scottish FA chief executive Stewart Regan has hailed the onset of a League of Nations as "positive" for Scotland.
The European competition, which starts in September 2018, will replace most friendly fixtures and provide four qualifying spots for Euro 2020.
Uefa is finalising the details but there will be four divisions, sub-divided into four smaller pools.
"There's an incentive, not just from a football point of view but from a financial point of view," said Regan.
"The higher up you finish, the more money you will earn so it's a great incentive for all of us," the SFA chief executive added.
"What's made it even more interesting is that from 2018 onwards, there's going to be four wildcard places for the winners of the play-offs of each of the four leagues and they will go straight through to the European Championship finals.
"From Scotland's point of view, that's obviously a positive place to be."
The tournament's pool matches will be played between September and November 2018 with the 'final four' competition played the following summer.
As well as promotion and relegation between the divisions, the opportunity to qualify for the European Championships is intended to make the League of Nations competitive.
The best four teams in each division who have not already qualified for Euro 2020 will play off for the final four places in the tournament.
On current ranking, Gordon Strachan's Scotland, Wales and Northern Ireland - ranked 31, 34 and 39 respectively by Uefa - could find themselves playing each other in the third or fourth divisions using the current national team coefficient.
While matches will be played on dates reserved for friendlies, there will still be flexibility for smaller countries to arrange high-profile fixtures with bigger European teams and for nations to play friendlies against national sides from outside Europe.
"Gordon has often criticised the friendlies for not really giving the players the opportunity to play against the type of opposition that they need," added Regan on BBC Radio Scotland's Sportsound programme.
"He likes the idea of competitive matches. He likes the idea of being able to bring in younger players and give them a chance.
"This has something for everybody."