Celtic boss Neil Lennon praises title-winners despite draw
Last updated on .From the section Football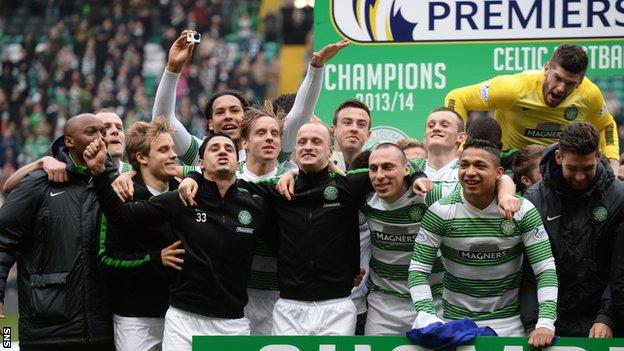 Neil Lennon was unfazed by Celtic's "academic" draw with Ross County and said his side's title celebrations were more important.
"It was more about the celebration of what's been a terrific season for us," Lennon told BBC Scotland.
"We had the luxury today of playing two academy players and giving them some fantastic experience."
Lennon conceded his side were "a little bit flat" but was more inclined to focus on the squad's achievements.
"We could've won the game, we could've lost it but that's really irrelevant," he explained.
"In terms of our attacking play it could've been better. We weren't at our brilliant best and you could see there wasn't an edge there really.
"That was totally understandable; now we build for the remainder of the season. We'll look at rotating the squad a little bit and giving other players opportunities to play.
"It's been our best year [in the league] and we've show incredible consistency; to have one defeat after 31 games is brilliant. It's disappointing we conceded today but you can't have everything.
"The players can certainly enjoy their celebrations tonight."