Robbie Savage: How flexible Rodgers has put Liverpool on top
Last updated on .From the section Football

In his regular BBC Sport tactics column, Robbie Savage looks at Liverpool's convincing win over Tottenham that sent them to the top of the Premier League.
The Reds were helped by a shambolic display by Spurs at Anfield, but Liverpool boss Brendan Rodgers still got his tactics spot on, again.

His side are flying right now and gave another demonstration of why they are such an exciting force going forward.
The flexibility Rodgers has with his formations, and his attacking outlook, is a big reason why they are back at the front of the title race for the first time since Christmas.
Widemen find Spurs' weakness
Rodgers alters his team depending on which area of the pitch he thinks he can get at the opposition.
When he wants his team to dictate play, he puts Philippe Coutinho in the hole behind his strikers.
Joe Allen keeps things ticking over if he needs more numbers deeper in midfield and, if he wants to add pace in the centre, he can put Raheem Sterling at the top of a midfield diamond, which is what he did with great success against Manchester United earlier this month.
In terms of personnel, most of Rodgers's team is basically the same each week, but he rotates those three players depending on who they are playing.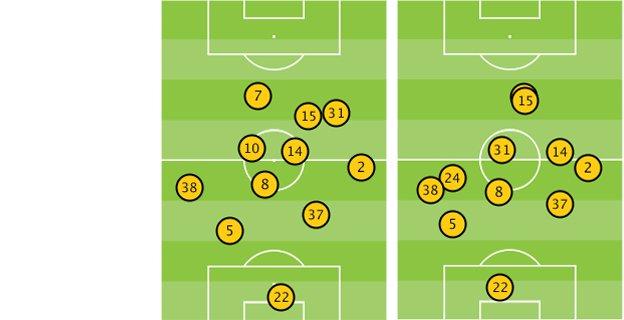 Rodgers played with a diamond in midfield in each of Liverpool's four games before they faced Spurs, and they won all of them.
Against Tottenham, he changed his shape completely, bringing Sterling back in for Allen and going with a 4-3-3 formation.
Rodgers saw Spurs' weakness as being out wide when they try to play with a high line, and he went for their full-backs, particularly Danny Rose at left-back.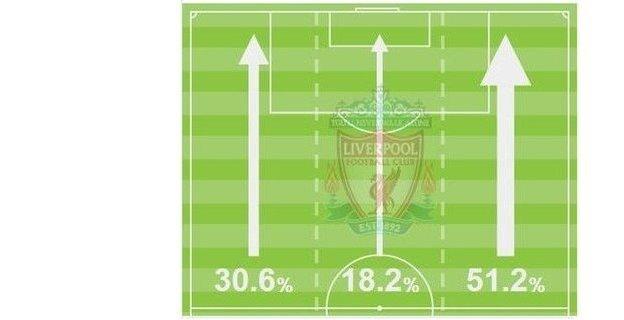 Liverpool attacked mainly down their right in the first half, and their first goal came from down that side, when Christian Eriksen failed to track Glen Johnson's run on the overlap.
Sterling spent most of his time on that wing and caused Rose a lot of problems, but he did his share of defensive work too.
Because Liverpool were so dominant, they were playing 4-3-3 the majority of the time, but they also had Sterling working back on either flank to make that a 4-4-2 when Tottenham attacked.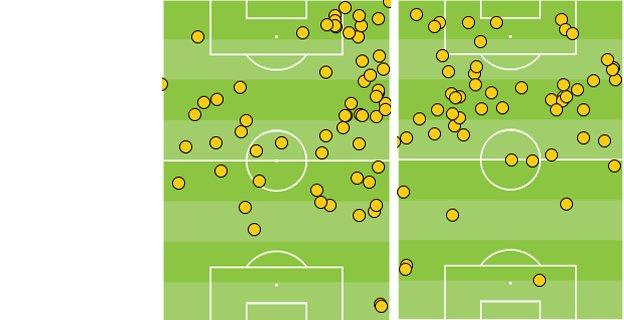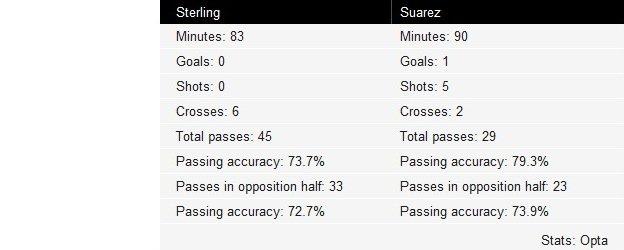 Luis Suarez was switching wings with Sterling but did not track back as much. That meant Liverpool always had two men up front when they looked to break.
Rodgers switched back to a diamond formation midway through the second half when he replaced Coutinho with Allen. By then, the game was already won.
Reds results down to plan of attack
I have talked a lot this season about how strong Chelsea boss Jose Mourinho is tactically, but the results Rodgers is getting mean he deserves to be given as much credit.
He and Mourinho are the best two coaches in the Premier League at the moment, and not just because they are in charge of the top two teams in the table. The way they organise their teams is very impressive.
They are doing it in different ways - Chelsea's strength is in their defence, and they do not take enough of their chances, while Liverpool are clearly all about going forward and are not as strong at the back.
2013-14 Premier League (and ranking)

Team

Shots

Shots on target

Goals scored

Shots faced

Shots on target faced

Goals conceded

Liverpool

440 (1)

219 (1)

88 (1)

413 (12th best)

129 (6th best)

39 (=6)

Chelsea

414 (2)

188 (2)

62 (3)

333 (3rd best)

99 (1st best)

24 (1)
The Reds look to overwhelm teams from kick-off and have scored 53 of their 88 Premier League goals this season before half-time.
Chelsea operate best on the break but, at home, Liverpool start on the front foot and go at teams. They shut the opposition down high up the pitch and do not give them room to breathe.
2013-14 Premier League leading scorers in the first and second half

First-half goals

Second-half goals

1. Liverpool: 53

1. Manchester City: 46

2. Manchester City: 34

2. Arsenal: 37

3. Chelsea: 27

=3. Chelsea: 35

=4. Manchester United: 24

=3. Everton: 35

=4. Southampton: 24

=3. Liverpool: 35

Stats: Opta
Liverpool's title bid is a team effort, starting with their manager, because they are well drilled no matter how they are set up, and a lot of that must come from the training ground.
Even when there are changes in formation from game to game, everybody always knows their job.
It is no surprise that Rodgers is so sharp tactically, though. He worked under Mourinho at the start of his coaching career.
Gerrard a key man in title bid
Liverpool are top of the table because Rodgers has got the game plan and Daniel Sturridge and Suarez have got the goals.
Going forward, Liverpool have lots of options: they have fast forwards when they break, overlapping full-backs and a threat from set-pieces too. No Premier League team has scored more goals from free-kicks or corners.
2013-14 Premier League goals from set-pieces

Team

Set-piece goals

% of total goals from set-pieces

1. Liverpool

30

34.1%

2. Manchester City

26

32.5%

3. Chelsea

17

27.4%

=4. Everton

15

30.6%

=4. Southampton

15

30.6%

Stats: Opta
But having Steven Gerrard sitting deeper in his quarterback role gives Liverpool a different dimension on top of that.
Against Spurs, Gerrard and Coutinho were pinging long passes through for their runners to go behind Tottenham's defence. Not all of them came off, but it helped keep Tim Sherwood's team under pressure no matter where the ball was on the pitch.
Coutinho sometimes operates further forward, and Gerrard can do the same too. He is a man for the big occasion and is going to play a massive part in Liverpool's title run-in.
Yes, Gerrard sits deep, but he can still join the attack if Liverpool need a goal and he is a big threat whenever he is in the opposition half.

He is a danger from set-pieces too - and when Liverpool needed a goal in midweek against Sunderland, he put that free-kick in the top corner.
Winning the title would be a fitting way to crown his career and, with his vast experience, he is undoubtedly Liverpool's leader on the pitch.
He will be needed when the pressure is on between now and the end of the season, which it will be at some point.
But there were no nerves at Anfield on Sunday because Tottenham never looked like testing Liverpool. Their record against the top-four teams shows why they are not up there themselves.
Liverpool's win means the title is in their hands. On the back of eight straight league wins, they have the momentum for the run-in, and their brilliant home form will mean they are full of confidence too.
But it is not as straightforward as saying Liverpool will beat Chelsea and Manchester City just because they have to go to Anfield, and that the title is theirs. There are plenty more twists and turns to come.
Robbie Savage was speaking to BBC Sport's Chris Bevan