Motherwell and manager Stuart McCall seem an ideal match
By Richard Wilson
BBC Scotland
Last updated on .From the section Motherwell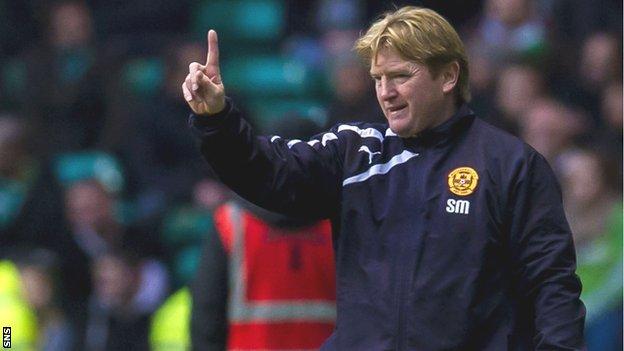 A setback won't be able to have a lasting effect at Fir Park.
There were pangs of frustration when Kilmarnock scored a late winning goal on Saturday, but Motherwell's season remains a testament to the worth of a shrewd manager and a strategy that balances common sense with reasonable ambition. Occasional disappointments can be fleeting when there is an overall feeling of progress.
Fir Park has seen the damage that can be wrought by misadventure. John Boyle, the former chairman, once talked boldly of a third way, of building a side capable of challenging Rangers and Celtic by buying a handful of expensive players and trying to attract bigger crowds.
In the end, it took a bout of administration to overcome the subsequent financial crisis.
Working within their means has not reduced the scope of Motherwell's aims, though. A succession of managers have found this good-natured, modest but confident club to be an ideal place to work.
In recent years alone, Mark McGhee and Craig Brown earned moves to Aberdeen on the basis of impressive progress at Fir Park. Stuart McCall, though, can claim to be one of the most enduringly accomplished managers in the Scottish Premiership.
He has seen his budget cut each year since his arrival in 2010, following a maiden managerial spell at Bradford, but has still delivered third- and second-place finishes in his two full seasons in charge, as well as a Scottish Cup final and a sojourn in the Champions League qualifiers. In terms of budget, Motherwell should drift far behind the likes of Aberdeen and Dundee United, yet they are battling hard to finish second again.
Aberdeen are only two points clear, but they are gathering all the attention in a campaign that has already brought the League Cup and could yet deliver the Scottish Cup. The sense around Pittodrie is of a reawakening of the club's old potential, but the self-effacement of Motherwell should not be considered a weakness.
More than 14,000 watched Aberdeen draw with Dundee United at Pittodrie, while a little more than 4,000 were at Fir Park for the game against Kilmarnock. There should be a significant gap between the capabilities of the two sides, but Motherwell remain doggedly relevant. The resourcefulness is endearing.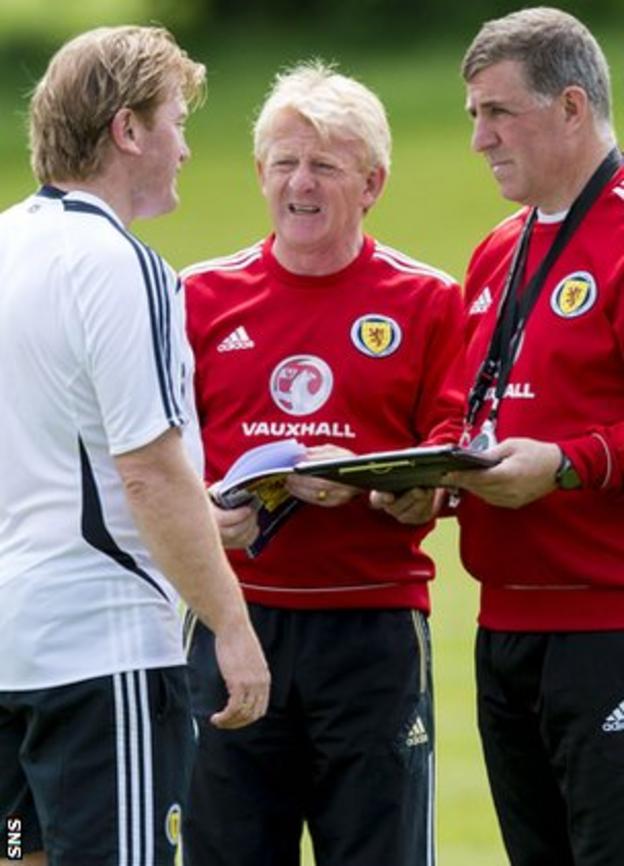 McCall manages with a light touch. He is a witty, ebullient figure and a highly-rated coach. His teams are built around good organisation and improving individuals, since the likes of James McFadden, John Sutton and Stephen McManus have been rejuvenated this season, while Lionel Ainsworth, Iain Vigurs and Craig Reid have become better players under his influence.
The focus remains on Aberdeen, since they are expected to progress further and narrow the gap to Celtic. That seems dismissive of Motherwell, but there will be little indignation at Fir Park. The sense around the club is of a group of staff, coaches and players who prefer contentment over being in the limelight.
Leeann Dempster, the chief executive, talks of community initiatives and the social and health benefits that Motherwell can bring to the people who live nearby and those who follow the club. Managers are selected for their ability to work with limited resources and find unheralded or undervalued players in England.
McCall's work with the likes of Darren Randolph, Nicky Law and Michael Higdon earned them moves to bigger clubs last summer. They were part of an exodus, since most of McCall's leading players were all out of contract. By delivering another team capable of challenging for second place, McCall has once again emphasised the range of his talents.
His squad is limited, but there is seldom a period of crisis. Instead, consistency is often within reach and their run of six consecutive victories around the turn of the year was their best series of wins in 77 years. Only Celtic and Dundee United have scored more league goals this season, but no side in the top six has conceded more goals.
It seems telling that Motherwell have won all but two of their games against bottom six teams this season, yet won only twice against the teams around them in the top six. This highlights the sense of being an able side but without the kind of individual accomplishment of the likes of Aberdeen's Adam Rooney, Peter Pawlett and Niall McGinn or Ryan Gauld, Stuart Armstrong and Gary Mackay-Steven at Dundee United.
Even so, a fit and dynamic McFadden remains a potential matchwinner. McCall is punching above his weight in the Premiership, and being knocked out of both cup competitions in early rounds directly impacted on the resources he could call upon to strengthen in January.
There remains, though, a sense of impudence about the manager and his side. They will not settle for accepting a more modest target than finishing second, and they might yet find the perseverance to overhaul Aberdeen. McCall can be gritty as well as droll, and he is an increasingly sought-after manager.
Loyalty prompted him to turn down various potential interviews in the past two seasons, then he thought hard about the chance to return to Sheffield United last summer. Some Rangers supporters believe that he could yet be a future Ibrox manager. The interest is a reflection of the impressive body of work he has built up at Fir Park.
He was manager of the year last term, and will be among the candidates again at the end of this campaign. Motherwell, in their understated style, and the plain-speaking, unpretentious McCall complement each other. It is an effective partnership, and one that could still deliver the prize of European football.